Kabengele leads No. 11 FSU to 95-81 win over North Florida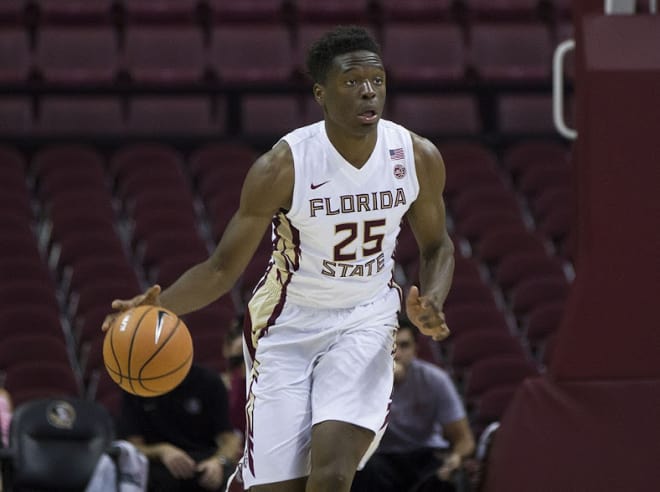 No. 11 FSU 95, North Florida 81
North Florida head coach Mattthew Driscoll wasn't even asked about Mfiondu Kabengele after the game on Wednesday night.

Following No. 11 Florida State's 95-81 win at the Civic Center, he began talking about the Seminoles' redshirt sophomore forward unsolicited.
"That 25 is a beast," Driscoll said. "He is a beast. And he is from the old school. He ain't from the new school. And praise God he ain't listening to anybody and praise God he doesn't get caught up in all that minutiae on Twitter and all that.
"I told him after the game, 'If you stay this way, you are going to make as much as you ever want to make. If you stay and do what you do.'"
If Kabengele keeps scoring 24 points a game, Florida State figures to have a very nice season in 2018-2019.
He came off the bench to hit seven shots from the floor and go 10 of 10 from the free-throw line as the Seminoles held off a hot-shooting North Florida team, specifically Tallahassee native A.J. Escobar (27 points on 6 of 6 shooting from 3-point range), to improve to 10-1 on the season.
"I'm not the type of person that overtly overtalents somebody," Kabengele said. "I have to work for everything I have. All of my success comes from my hard work. So I have to feed that and continue to work on my game."
Said FSU head coach Leonard Hamilton: "Mfiondu is an emotional young man. He enjoys playing. And he has a lot to prove. He was 6-6 coming out of high school. I think he had one Division I offer. Went to prep school, he didn't have a lot of teams recruiting him. He has a burning desire to be successful.
"And once the game starts he kind of turns into another person."
Kabengele scored 12 points in each half for the Seminoles, who were able to win by 14 points despite shooting just 3 of 23 from 3-point range.
Florida State did shoot 37 of 56 from 2-point range, though, with most of those buckets coming right at the rim - the Seminoles had 15 layups and 11 dunks in the victory.
After leading by seven at halftime, FSU jumped all over the visitors to start the second half - continually turning turnovers into buckets on the other end.
Terance Mann scored 17 points for the Seminoles. P.J. Savoy added 11 and Christ Koumadge and Trent Forrest had 10 points each.
Forrest also had seven assists and four steals.
"I thought our effort was good," Hamilton said. "I thought we had just as good as perimeter shots as they did. ... We seem to have gotten into a little bit of a shooting slump, but I'm not worried about P.J. and M.J. (Walker). I think they're really good shooters.
"But when you're not shooting well you're going to have games where you still have to find ways to win. We got a lot of shots on the board. ... Overall, the most positive thing about this team is we're not even coming close to reaching our potential and we're finding ways to have a measure of success."
Florida State once again played without senior forward Phil Cofer, who saw five minutes of action on Monday night against Southeast Missouri State in his season debut after suffering a broken foot in October.
Hamilton said Cofer might be available against St. Louis in Sunrise, Florida on Saturday but again reiterated that he didn't want to rush him back too soon.
"He could've probably played tonight," Hamilton said.