Karp sharp but FSU falls in 4-2 loss to USF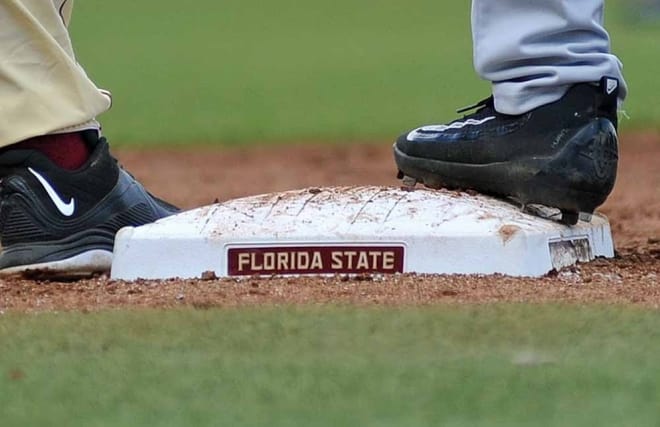 Box Score: South Florida 4, Florida State 2
----------------------
Andrew Karp's impressive start to the season was wiped away in the Florida State baseball team's 4-2 loss to South Florida on Tuesday at Dick Howser Stadium.
Karp, who recorded 14.1 innings in nine games last season, struck out nine batters and allowed three hits across seven innings. Despite Karp's outing, the Seminoles (2-2) ran into trouble late with the BUlls scoring four runs in the ninth inning.
"The guy was absolutely gorgerous," head coach Mike Martin said of Karp. "Nine K's, first outing of the year."
Karp escaped the only real damage he faced in the second inning, when a pair of two-out singles put runners on the corners. Karp responded by striking out right fielder Cameron Montgomery to end the inning.
Thanks to a first-inning double play to erase a baserunner who reached on an error and a caught stealing from Cal Raleigh to Taylor Walls, Karp and the Seminoles faced just 23 USF batters through seven innings.
FSU scored a run in each of the first two innings and held a 2-0 lead heading into the ninth inning. A two-out double from right fielder Rhett Aplin plated Walls in the first inning. Walls recorded two more walks in the game and now has six in four games this season. For Aplin, it was his second hit of the year after mashing a two-run home run against VCU last weekend.
J.C Flowers knocked in FSU's second run of the game on a fielder's choice to third base.
USF starter Ryan Valdes went three innings, allowed two runs and walked three while giving up just one hit. In relief of Valdes, the USF bullpen went six innings, allowing no hits, one walk and striking out eight. The only Seminole to reach base in the final seven innings of the game was Walls' walk with one out in the eighth inning.
He was subsequently erased on a double play.
USF used three walks, two hit-by-pitches, a single and sacrifice fly to score four runs in the ninth inning. Mark Savarese (1-0) pitching a scoreless eighth inning for the win, and Andrew Perez threw a perfect ninth for his first save.
Alec Byrd (0-1) earned the loss, walking his only batter on five pitches.
Florida State returns to the diamond Friday at 4:00 p.m. when they host Samford.
--------------------
Talk about this story with other FSU Baseball fans on the FSU Baseball Forum