No. 12 Seminoles cruise to 93-78 win over No. 21 Virginia Tech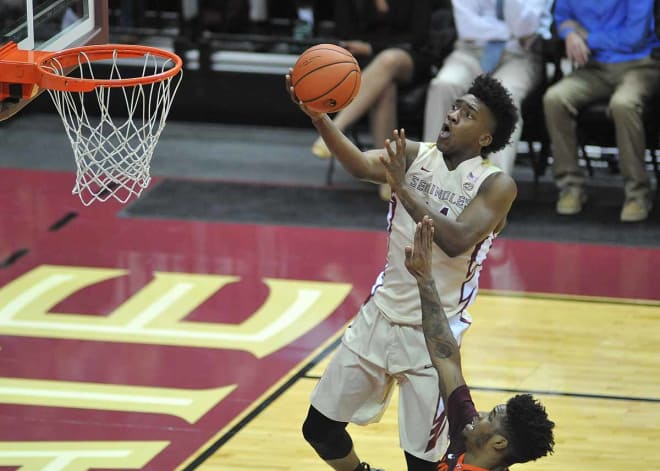 Box Score FSU 93, Virginia Tech 78 | Photo Gallery: FSU-VT
Leonard Hamilton went with another "line change" switching out his second unit and putting in his starters midway through the second half.
Minutes after his second team received an ovation, freshman Jonathan Isaac blocked a shot. Isaac's block led to his team getting in transition and Braian Angola-Rodas launching an alley-oop to Dwayne Bacon for what was then an 18-point lead.
Florida State's men's basketball team has shown all year it has athleticism, depth and the ability to make something from nothing. Getting a 93-78 win over Virginia Tech on Saturday creates the idea what FSU is achieving could be sustainable.
The Noles are now 15-1, they're 3-0 to start ACC play and will face another massive test when they host No. 8 Duke (14-2) on Tuesday evening.
Virginia Tech, which upset Duke last weekend, got out to a six-point lead about three minutes into the game. From there, however, FSU wore down VT with its depth using 10 players who logged five or minutes.
FSU's second unit was so powerful it outscored Tech's bench 20-0 in the first half. For the game, the Seminoles' bench finished with 35 points to the Hokies' eight.
Sophomore Terance Mann led FSU with 22 points while veterans Phil Cofer and Jarquez Smith provided experience to a second group led by first-year players in Trent Forrest and C.J. Walker. Smith scored 12 points while Walker finished with seven.

The second unit not only inflated FSU's lead but it took pressure off the starting five.
When the starters did come in, they appeared fresh as evidenced by Angola-Rodas' alley-oop to Bacon. For Bacon, the basket gave him his 25th consecutive game with 10 or more points.
Bacon finished with 17 points and six rebounds. He was followed by Isaac, who had 13 points and eight rebounds.
----------------------------------------

Talk about this story with other FSU basketball fans on the Seminole Hoops message board