Martin, FSU not worried after 3-0 loss to VCU to open the season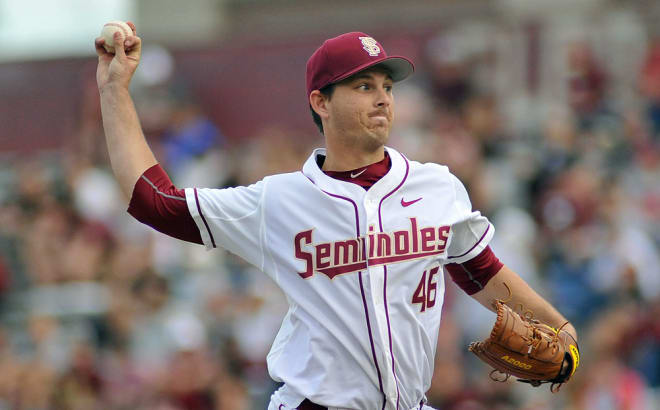 BOX SCORE: VCU 3, FLORIDA STATE 0
-----------------
By Mike Martin's own admission, if this was a year ago, there would be some cause for concern. Even then, it would only be concern as opposed to all out worry.
Ranked No. 2 in the nation by Baseball America, the Florida State baseball team opened the 2017 season with a 3-0 loss to Virginia Commonwealth on Friday at Dick Howser Stadium.
Whether it be preseason polls or college baseball experts, it's become a popular thought to suggest this could be the year for the Seminoles. And it still can be. The last time FSU lost a home opener was in 1998 to Notre Dame. Martin and the Seminoles made the College World Series that season. Actually, the Seminoles have reached the CWS in the last two seasons they've lost their season opener.
Getting to Omaha is still months away and FSU has two more games against VCU at 1 p.m. Saturday and 12:30 p.m. Sunday. This is why Martin, who is entering his 38th season as FSU's coach, is not worried.
College baseball isn't like football where one loss can alter a season in extreme regard.
One loss is, well, one loss.
"It has no effect. If I thought losing the first game had an effect on us going to the College World Series, I'd lose every first game of the year we ever play. I'd take a dive," Martin said with a laugh. "So no. The reason ... what if that was last year's club with four or five freshmen in the lineup? Now you got a different feeling.
"This ball club? Experienced. Had a guy that's pitched in two Super Regionals. It's just one of those things we will get over and be ready to play tomorrow."
Martin handed the opening day start to junior right-handed pitcher Drew Carlton. His experienced No. 1 went 5 2/3 innings and gave up two earned runs while striking out four batters.
Carlton, however, wasn't at his sharpest, allowing nine hits.
The Rams, who return 25 players from last season's 38-19 team, took a 2-0 lead in the fifth inning. It was 3-0 at the end of the seventh.
"I take away they are a very good hitting team," said Carlton, who was 8-3 with a 3.94 earned-run average last year. "They came out ready to swing the bat. Looking to drive fastballs anywhere they could. Looking to try to hurt us in anyway they could."
Carlton said one of the biggest takeaways was this game should provide a map for starters Cole Sands and Tyler Holton for the rest of the weekend.
Sands is scheduled to start Saturday against Michael Dailey, while Holton will start the series finale Sunday against Brooks Vial.
Rams starting pitcher Sean Thompson, who was 6-1 with a 3.28 ERA last season, anchored a staff that only allowed one hit over nine innings.
VCU committed three errors, but FSU was 0-for-10 with runners on base and 0-for-7 with runners in scoring position. FSU's strongest chance to score came in the bottom of the seventh inning.
Freshman Nick Derr reached on a throwing error and senior second baseman Matt Henderson took a hit-by-pitch to give the Seminoles runners on first and second with no outs. Speedy freshman outfielder J.C. Flowers then grounded into a double play, and the inning ended with Hank Truluck striking out.
"Credit to their staff. They were very good and mixed pitches well," said junior shortshop Taylor Walls, who was 0-for-3 with a walk. "Guys were a little antsy the first game of the year. Everybody's out there wanting to hit everything. We chased some stuff we shouldn't have swung at.
"He found out we were chasing it, and he kept throwing it there."
Walls said it's normal to be anxious to begin the season but viewed the loss as a potential positive.
"All the hype surrounding this team, for us to just get hit in the face one time, knock us back on out feet. I think it can be a good thing," Walls said. "There's no doubt. I have no doubt in this ball club at all. We're going to come out ready to play tomorrow."
------------------------------------
Talk about this story with other FSU Baseball Fans on the FSU Baseball Forum