UPDATE: Norvell apologizes for word choice, praises Wilson for speaking out
3 P.M. UPDATE
FSU released the following statement from head coach Mike Norvell.
I'm proud of Marvin for utilizing his platform to express his reaction to my comments in an earlier interview. Last Saturday evening, I sent a text to each player individually to present an opportunity for open communication with me. Many members of our team chose to respond and have more in-depth conversations about issues and feelings. Marvin is right. It was a mistake to use the word "every". Particularly at this time, words are important, and I'm sorry. Once again, I am grateful for the opportunity that I was given to speak to our team more in-depth as a result of Marvin being willing to express his feelings. We will continue to communicate and work together to be part of the solution making our world a better place for ALL.
***
Below is the content of the text message sent by Coach Norvell to each player Saturday evening:
Good evening (name) I wanted to shoot you a short message sorry I can't send video cause I'm driving. I wanted to let you know that Maria and I are praying for every coach & player as well as for our country. For all those that have been victims of hateful actions, discrimination, prejudice and disrespect we lift them up in our thoughts and seek justice. We live in an unfair and volatile world but I want you to know that you are loved & counted on to make a difference for our country's future. I know there is anger and strong feelings that come with each day and every experience but please know better days are ahead because of YOU. Be safe and please always know we are here for you as coaches and staff if you ever need to talk. You have a tremendous platform as member of our Nole Family. Let's be different and let our actions be heard in Service, Sacrifice, and Respect. Thank you for opportunity to coach you and stand by your side can't wait to see you tomorrow night in zoom meeting!
EARLIER UPDATE
Florida State head football coach Mike Norvell spoke with his team Thursday morning to discuss the controversy surrounding his comments about communicating with players over the weekend.
FSU athletics director David Coburn, who was previously scheduled to speak to the FSU Board of Trustees on Thursday morning, gave a brief recap of the meeting and said that it went well.
"I want to tell you that Coach (Norvell) just finished a closed team meeting with the football team," Coburn said. "I'm told that the dialogue was open and very candid and that it went well. So I believe we're moving on there."
Based on a couple of early posts on social media from players, including this one below by linebacker Kevon Glenn, the meeting was well-received.
Stay connected for more updates.
FIRST REPORT
In his first six months on the job, Florida State football coach Mike Norvell has won nearly universal approval from people inside and around the Seminoles' program.
Today, he apparently will deal with his first major misstep. And it's a big one.
During an interview this week with The Athletic, Norvell reportedly said he communicated "individually" with every player on his team about racial injustice and inequality following the police killing of an unarmed black man, George Floyd, last week in Minneapolis.
Early Thursday morning, team leader Marvin Wilson posted on Twitter that such conversations never took place.
Wilson added that he and his teammates will not continue participating in the team's voluntary workouts, which started on Monday, "until further notice."

Don't miss our great FSU sports coverage. Get your 30-day FREE trial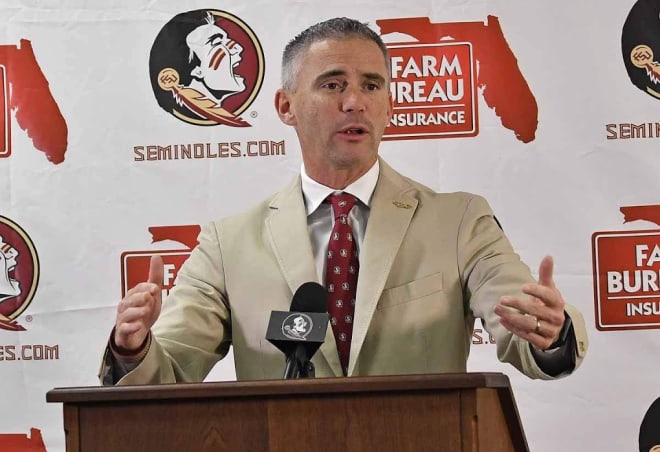 "We got a generated text that was sent to everybody. There was no one on one talk between us and coach," the senior defensive tackle tweeted. "This is a lie and me and my teammates as a whole are outraged and we will not be working out until further notice."
Wilson's comments were then retweeted by numerous players on the team and quickly went viral. Within about five hours, it had been retweeted more 3,500 times and "liked" nearly 10,000 more.
Likely because Wilson's post was made after midnight, there has been no public response from the university or Norvell, who is in his first season after a stellar four-year run at Memphis.
But Wilson's tweet was still active several hours later, so the situation clearly was not quickly resolved.
Athletic reporter Tashan Reed, who posted Norvell's original comments on Tuesday, responded to the controversy early Thursday morning on social media by confirming that the coach's statement was made during a telephone interview and that it was recorded.
Since being hired in December, Norvell has received virtually across-the-board praise from players and university staff members for his work on the field and in dealing with various other aspects of the program.
His first major victory came shortly after getting the job, when he convinced Wilson and star receiver Tamorrion Terry to return for another season instead of declaring for the 2020 NFL Draft. Both players said they wanted to help turn the program around after three consecutive sub-par seasons and that they believed in Norvell's vision.
Since then, it has been an entirely happy honeymoon period, with players buying in to Norvell's offseason conditioning program, the team posting its highest grade-point average ever during the spring semester, and a run of recent success on the recruiting trail.
Norvell, 38, was introduced as FSU's head coach on Dec. 8 after a search that lasted several weeks to replace former head coach Willie Taggart. During his four years at Memphis, Norvell posted a 38-15 record and led the Tigers to an American Athletic Conference championship and a Cotton Bowl berth in 2019.
Norvell is not the first prominent college football coach to become embroiled in controversy this week as protests calling for racial justice and equality have taken place in cities across the nation, including Tallahassee.
Former Clemson player Kanyon Tuttle publicly criticized head coach Dabo Swinney on Tuesday for not supporting his African-American players and for not disciplining an assistant coach who used a racial slur during a practice. The assistant coach, Danny Pearman, has since issued a public apology.
Warchant has reached out to FSU seeking comment from Norvell on Wilson's statement.
Stay connected with Warchant.com for more on this story.
----------------------------------------------------
Talk about this story with other Florida State football fans in the Tribal Council