Maturity, patience help Holton take center stage for FSU Baseball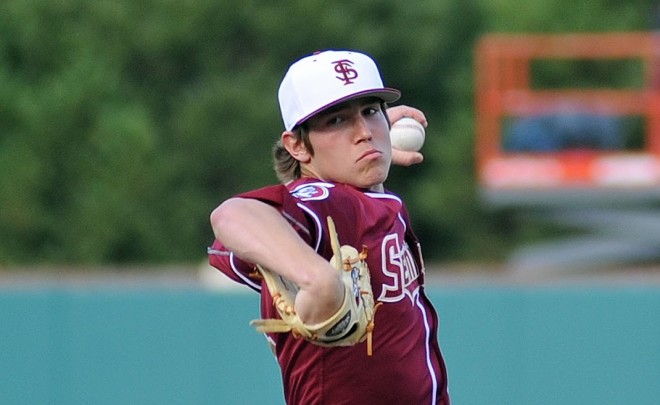 Pen and paper in hand, Jon Cole walks around asking everyone the same question: "Do you want Holton?"
As Florida State's baseball sports information director, Cole is used to wrangling players to meet with reporters whenever the team has media availability. Usually, there might be two or three reporters who speak with each player at one time.
The big crowd typically is reserved for Seminoles coach Mike Martin.
This is not a typical day.
Once pitcher Tyler Holton walks into the dugout, the beeps from every camera and recorder echo in the tiny space.
"Hey Tyler," Cole says. "I want you to know you drew a bigger crowd than [Martin] is going to. No pressure, OK?"
Right now, Holton is the big story. He's the latest freshman to stake his claim on a Florida State team that is hosting Southern Miss, South Alabama and Alabama State this weekend in the NCAA Tallahassee Regional.
Starting pitching has been a question for FSU (38-20) all season, and it appears the fresh-faced lefty could be an answer.
Of Holton's eight career starts, it's his last two that have people buzzing. He allowed one run on two hits in six innings to help pace FSU in a 3-2 win in 11 innings over Miami to end the regular season. A week later, Holton tossed seven innings and allowed two runs in the Seminoles' 5-4 win over the Hurricanes to help them reach the ACC Championship Game.
Miami is the national No. 3 seed and could very well end its season at the College World Series in Omaha, Neb.
"Incredible. Coach has given me the opportunity to start against a great team in Miami," Holton told reporters Wednesday. "It just happened. They were back to-back starts. I'm just trying to go out there and do my job and put my team in a position to win.
"Fortunately, I have been able to do that."
Holton will start Saturday evening in a winners' bracket game against Southern Miss. The No. 2 seed Golden Eagles trounced South Alabama, 14-2, in the first game of the regional Friday.
FSU has relied on many of its freshmen this season.
Catcher Cal Raleigh became one of the team's most consistent performers while freshman outfielder Jackson Lueck emerged as an everyday player and now leads the team with a .405 batting average.
Right-hander Cole Sands is tied for the team lead for starts by a pitcher with 15. Meanwhile, Chase Haney has been one of the team's most consistent relievers. He's pitched in 28 games and is 5-0 with a 1.78 earned-run average.
Holton is 2-3 with one save and a 2.89 ERA. He also leads the Seminoles with 72 strikeouts over 56 innings.
While FSU's coaches hoped Holton would push his way into the weekend rotation earlier in the year, they're excited about the possibilities now that it's happened.
"The biggest thing that I've seen is most of your freshmen at the start of the year are true freshman," said Seminoles pitching coach Mike Bell. "And they're still trying to find their way. What you saw was the accumulation of innings were logged, and there was a learning experience each and every time he goes out there.
"You're talking about a guy that I believe is his first collegiate start was down in Gainesville against the University of Florida after two relief appearances."
Bell said one of the challenges for Holton this season has been getting on a consistent schedule. He has bounced between being a reliever, a mid-week starter and now a weekend starter.
But there is no denying his talent. Whether it's Bell, Raleigh or Holton's former high school coach, Joe Vallese, they all say he has the ability to be a force.
"Early in the spring, he was one of our best pitchers," said Raleigh, who has a .301 batting average with nine home runs and 47 RBIs. "I remember facing him and I hated facing him. I hated facing him. He made me feel so uncomfortable in the box.
"He has three really good pitches he can throw at any time in the count. He mixed them up I well. I saw [Holton's late-season surge] coming."
Holton's fastball has been clocked at over 90 mph, and he also possesses a sharp curve. Yet it's his change-up that's his most devastating pitch.
It helped him absolutely dominate opposing lineups back in high school. As a junior, he threw a perfect game against Gainesville High, striking out 17 batters. He finished the game with 14 consecutive strikeouts.
"He's a learner. He's listens. He's coachable," said Vallese, who recently stepped down as Lincoln's baseball coach to become the school's athletic director. "Tyler's been dedicated to the game and his body since he arrived at Lincoln. He's lifting weights. He's in a long-toss program.
"He's doing speed training and quickness training. He's been doing that stuff year-round because he's dedicated year-round."
Vallese, who coached Lincoln for 15 seasons, said Holton always took a mature approach toward his craft. He added that his former pupil was one of the smarter players he's ever encountered.
Holton graduated Lincoln with a 4.1 grade-point average and was rarely, if ever, a player Vallese had to worry about.
The veteran coach said Holton was driven. He said Holton understood early on he had to be a pitcher and not "a gunslinger."

"I've done very little," Vallese said modestly. "Tyler has done it all."
No matter how dominant in high school, all players have adjustments to make in college. For Holton, it has been mastering his location.
While high school teams might have one or two hitters who can take advantage of a pitcher's mistakes, practically everyone in a college lineup can punish them.
"He's kept the ball low in the zone," Raleigh said of Holton's improvement. "Earlier in the year, he kept balls up. In high school, you can get away with leaving balls up and getting ground balls. At the college level, you can't get away with just leaving balls up. He's learned that and starting to locate the ball down in the zone."

There's no denying this is a coming-of-age moment for Holton.

After making his first career start against rival Florida and then making a name for himself against Miami, Holton now will make his first postseason start against a potent Southern Miss lineup.
"To have coaches have your back and trust you says a lot," Holton said. "I'm grateful, and I want to try to keep doing my thing."
Saturday night inside Dick Howser Stadium, where he and his friends watched so many games growing up, all eyes will be on Holton.
"Now, my kids at Lincoln want to be at FSU and he's living the dream," Vallese said. "He now has an opportunity to pitch this weekend and he's earned it. That means so much more than some kids might understand for our program.
"So many people are rooting for him besides me. We all are."

----------------------------------------
Talk about this story with other FSU Baseball fans in the FSU Baseball Forum