Schoffel: Some good, some bad ... FSU's NCAA tourney draw is mixed bag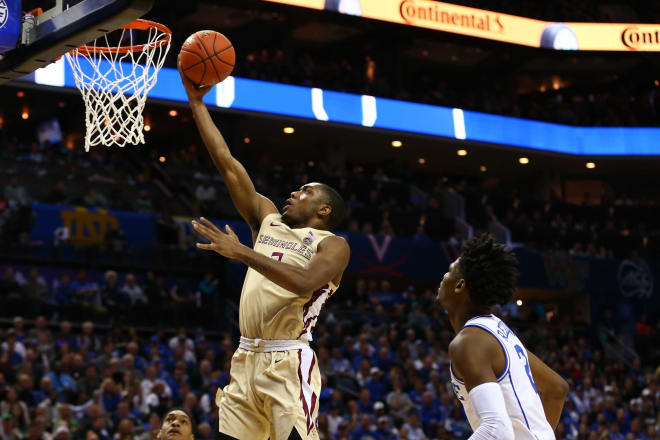 Most of them wanted to stay closer to home and play their opening games of the NCAA Tournament in Jacksonville.
But it wasn't unanimous.
Several of them were bothered by being passed over for a No. 3 seed and given a No. 4, even after last week's impressive run to the championship game of the ACC Tournament.
Some didn't seem to care.
One assistant coach pumped his fist when the CBS announcers revealed that Florida State would be facing Vermont in the opening round of the West Region.
Another shook his head with a look of disgust.
It was that type of Selection Sunday for the Florida State men's basketball team. The only consensus was that there was no consensus.
That's not usually how these things work. College basketball teams typically are either ecstatic about their seeding and the way their bracket lays out, or they're furious about being slighted. They're either glad to be staying close to home, or they're angry about being shipped off to another part of the country.
In this instance, the Florida State men's basketball team would probably have to choose, "All of the above."
At first glance Sunday, it appeared that FSU was being wronged by the NCAA's selection committee. Not only did the Seminoles not get to stay close to home and play in Jacksonville, but they were given a lower seed than two teams they beat during the regular season -- LSU and Purdue.
The Boilermakers (23-9) and Tigers (26-6) each finished in first place in their respective conferences -- the Big Ten and the SEC -- during the regular season, but they also were bounced in the first games of their conference tourneys. Florida State, meanwhile, is 27-6 and reached the championship game of the ACC Tournament.
And did we mention that the Seminoles beat both of them during the regular season?
That apparent injustice led reporters to ask FSU's players whether they would have a chip on their shoulder heading into the Big Dance.
"It definitely gets bigger," senior guard Terance Mann said. "Especially after what happened [in the ACC title game]. We're just taking it in and try to add more fuel to the fire."
Even Mann was conflicted, however.
While he undoubtedly would like to see his team treated with more respect, he also privately was thrilled to see the Seminoles sent to Hartford, Conn., for the opening weekend. As the son of a college basketball coach, Mann moved around a lot in his youth, but his family always resided in the Northeast -- whether that be New York, Connecticut, Rhode Island or Massachusetts.
So playing in Hartford will be a bit of a homecoming.
"I'm gonna have a lot of people there," Mann said with a smile. "It's gonna be a great experience for me."
He's not the only Seminole feeling that way.
Sophomore forward Mfiondu Kabengele said he expects several family members to be in attendance as well. They'll be coming from Ontario, Canada, which isn't exactly a short trip -- it likely will mean a six- or seven-hour drive. But it's a lot easier than making their way down to Florida.
Graduate transfer guard David Nichols should feel a sense of familiarity as well. He played the first three seasons of his college career at Albany, which squared off at least twice each year with the Seminoles' opening-round opponent, Vermont. He'll likely get a kick out of it when the Catamounts' players see him this time, as he'll be sporting a Florida State uniform.
But for most of the Seminoles, this will be nothing more than a business trip. Another chance to prove themselves -- something they feel is always near the top of the agenda.
And the opponents in these first two rounds will give them every opportunity to make a statement.
Vermont is 27-6 overall, with two of its losses coming on the road against big-name, non-conference opponents -- the Catamounts lost by eight points at Louisville and were beaten by 16 at Kansas. They have been to the NCAA Tournament seven times in school history, with their lone victory coming in an upset of Syracuse back in 2005. Their star player is 6-foot-6 junior forward Anthony Lamb, who averages 21.4 points and 7.8 rebounds per game.
If the Seminoles get past Vermont as expected -- they're favored by 10 points -- they will face the winner of the matchup between No. 5 Marquette and No. 12 Murray State.
Marquette doesn't own a glossy record, but the Golden Eagles (24-9) have played an incredibly challenging non-conference slate to go along with being in the Big East. They beat Louisville at home early this year after getting beat by nine at Kansas and getting blown out by Indiana. Then in December, Marquette beat three Top 15 non-conference opponents at home -- Kansas State, Wisconsin and Buffalo.
The Golden Eagles boast one of the country's top players in guard Markus Howard. He averages 25.1 points per game and is shooting 41.8 percent from 3-point range. On the flip side, Marquette has absolutely limped into the postseason, losing five of its last six games.
Murray State earned its spot in the field by stunning Belmont in the Ohio Valley Conference championship game. The Racers are 27-4 but don't exactly have an impressive resume. Before knocking off Belmont, their two most impressive games might have been narrow losses to Alabama and Auburn on the road.
Murray State is led by high-scoring guard Ja Morant, who had 36 points in the win over Belmont. The sophomore averages 24.6 points, 10 assists and 5.5 rebounds per game, and is projected to be a lottery pick in the 2019 NBA Draft.
So, how should we feel about FSU's draw for the opening weekend? Once again, it's a mixed bag.
On paper, Vermont shouldn't be a major challenge for the Seminoles. But the game will be played only about three or four hours from the Catamounts' campus, and they also had the luxury of playing the America East Tournament on their home court. So while FSU was battling three of the nation's top teams in Charlotte, N.C., this past weekend, Vermont's players might have been sleeping in their own beds each night after beating Maine, Binghamton and UMBC.
Then when it comes to Marquette and Murray State, it's fair to say that Florida State is an overall more talented team than both. Both have dynamic individual players who can take over a game, but the Racers haven't beaten any opponent of Florida State's caliber, and the Golden Eagles have really been struggling in recent weeks.
When you take it all in, I think it's fair to say that making it through this weekend will be a solid test for Florida State. At the same time, it could definitely be more daunting.
Of the four No. 4 seeds in the tournament, Florida State is the only one who is guaranteed to not face an opponent from a Power 5 conference in either of the first two rounds. And if the Seminoles win those two opening games and reach the Sweet 16, they likely will face a Gonzaga squad that is viewed as the least imposing of the four No. 1 seeds.
So, in that regard, the committee might actually have done the Seminoles a favor.
Sure, the 'Noles would rather be in Jacksonville. And they'd definitely prefer to have a 3 on their seed line, instead of a 4.
But all things considered, this draw isn't half-bad.
It could be better, but it could definitely be worse.
Contact managing editor Ira Schoffel at ira@warchant.com and follow @IraSchoffel on Twitter.
---------------
Discuss this story with other FSU fans on the Seminole Hoops Message Board.