No. 14 FSU falls in 84-72 loss at Notre Dame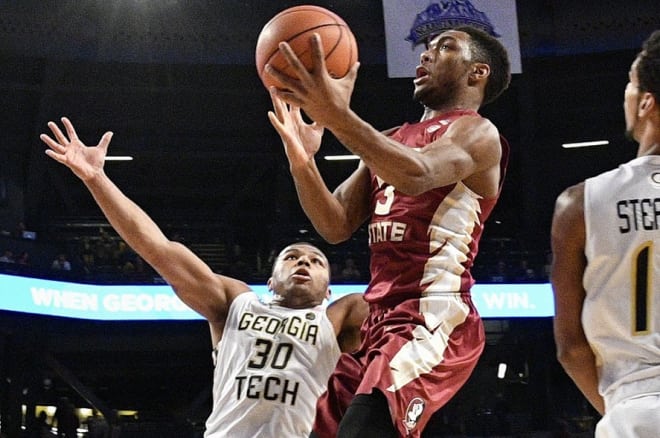 BOX SCORE: Notre Dame 84, Florida State 72
------------------
The No. 14 Florida State men's basketball team fell behind early and failed to catch up in a 84-72 defeat to Notre Dame at the Joyce Center in South Bend, Ind.
A win would have given FSU (21-5, 9-4 Atlantic Coast Conference) a chance to hold a tie for first place in the ACC by day's end. Instead, the Seminoles fall to 5-5 away from the Tucker Center.
FSU's chances of mounting an early comeback was already in peril less than five minutes into the second half. Down by seven at half, the Seminoles would go down by 17 with the Fighting Irish going on a 11-2 run for a 53-46 lead with 15:36 remaining.
The Seminoles came as close as 12 points off a layup from freshman guard Trent Forrest with the Fighting Irish leading 60-48 with 10:22 left. FSU struggled to convert on point blank chances at the rim and, in turn, Notre Dame would get into transition and pad its lead.
FSU got within 12 points for a second time with less than eight minutes left only to have Notre Dame go on a 6-0 run in two minutes for a 73-55 lead. The Seminoles' comeback efforts were also hindered by poor shooting.
The Seminoles were 3 of 15 from the 3-point line and shot 7 of 22 from the free throw line. Four players finished in double figures with Terance Mann scoring 15 points and four rebounds. Forrest and sophomore Dwayne Bacon each scored 12.
FSU will get the following week off and will play next Saturday at Pittsburgh with five games left in the regular season. Three of those final contests will come on the road including back-to-back games at Clemson on Feb. 25 and Duke on Feb. 28.
How FSU has performed on the road has been a concern this season. The Seminoles entered Saturday 5-4 away from the Tucker Center. Adding to those issues are the slow starts the Seminoles have encountered.
FSU has trailed by halftime in every ACC road game it has played this season.
The Seminoles shot 48.3 percent from the field in the opening half yet struggled severely in a variety of offensive areas. FSU shot 16.7 percent on 1 of 6 shooting from 3 and was 2 of 9 for 22.2 percent at the free throw line.
Although FSU's field goal percentage was strong, it was a bit misleading. Twenty-four of the team's 31 points by the end of the half came inside the paint. Notre Dame, which held a 40-31 advantage, shot 47 percent from the field and was 33 percent on 4 of 12 shooting from beyond the arc.
The Seminoles are now 1-1 in the season series against the Fighting Irish. FSU took Game 1 with a 83-80 win on Jan. 18 at the Tucker Center. At the time, Notre Dame was ranked 18th and was the fifth opponent in FSU's six consecutive games against ranked teams.
FSU escaped with a win after Notre Dame shot a remarkable 71 percent from 3 after going 15 of 21. Since then, the Seminoles would win four of their next six games having lost two consecutive road games at Georgia Tech and Syracuse.
Notre Dame, however, began a mid-season slide by losing four of its next six. After beating the Orange, the Fighting Irish lost four straight to Virginia, Georgia Tech, Duke and North Carolina. Three of those defeats - Duke, UNC and Virginia - came to ranked opponents. Notre Dame snapped its skid with a win over Wake Forest earlier in the week.

-------------------------------
Talk about this story with other FSU Basketball fans on the Seminole Hoops Talk board