No. 15 FSU men take control in 2nd half to pick up win at Tulane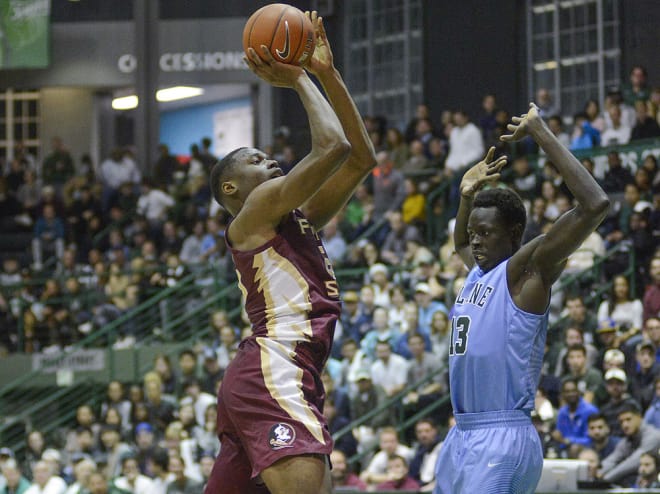 It wasn't a rout like the season-opener, but it was still an impressive win for the Florida State men on Sunday night.
The No. 15 Seminoles improved to 2-0 on the season with an 80-69 win over Tulane in New Orleans. It's the only true road game of the non-conference season for FSU, which once again got balanced scoring from up and down the roster.
Senior Terance Mann led the way with 21 points, 10 rebounds, three assists and zero turnovers. In all, four players scored in double figures for Florida State, which played 12 players total in the game.
Trent Forrest added 13 points, seven rebounds, five assists and three steals. P.J. Savoy finished with 14 points on 3 of 6 shooting from 3-point range and 5 of 6 from the free throw line. Sophomore forward Mfiondu Kabengele came off the bench to add 12 points and four rebounds for the Seminoles, who led 39-34 at the half.
Tulane actually hit 10 of its first 15 shots from the floor to hang with the Seminoles for much of the first 20 minutes. But the Green Wave were just 13 of 37 the rest of the way as the FSU defense forced Tulane into tough shots and 22 turnovers.
"I thought they had an excellent game plan involving their center and having him step away from the basket and it was very effective," Florida State head coach Leonard Hamilton said. "You have to give them credit. It wasn't as much about what we didn't do, but it was about them having an excellent game plan and keeping their composure and not allowing us to speed them up."
The Seminoles likely would've cruised to a much bigger victory if not for the play of Tulane freshman Kevin Zhang, who scored 17 of his game-high 24 points in the second half. He hit 4 of 5 from 3-point range and also pulled down seven rebounds, but his one-man show wasn't nearly enough to offset the balanced play of a Florida State team that is still without last year's leading scorer, Phil Cofer (foot).
The Seminoles' biggest lead was 16 with just under six minutes left. Tulane never quite went away, but couldn't cut the deficit under eight down the stretch.
Florida State doesn't play again until next Monday night at home against Canisius.