No. 15 FSU snaps two-game losing streak with 75-57 win over Miami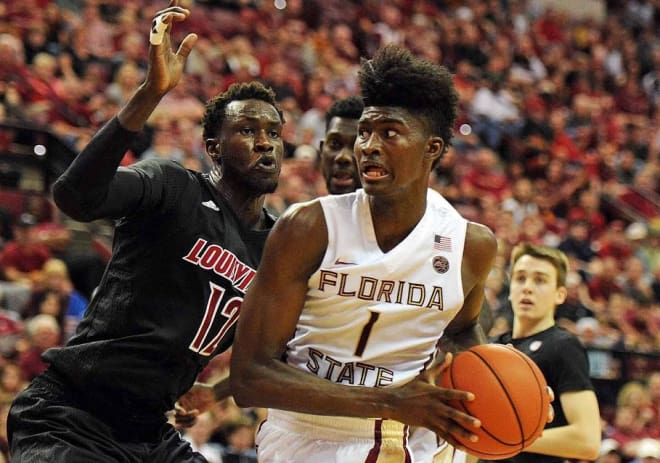 BOX SCORE: Florida State 75, Miami 57
-----------------------
The Florida State men's basketball team exploded for 44 points in the second half and cruised to a 75-57 win on Wednesday over Miami at the Watsco Center in Coral Gables, Fla.
No. 15 FSU (19-4, 7-3 Atlantic Coast Conference) ends its two-game, road losing streak which started last week against Georgia Tech and continued against Syracuse. At 7-3, the Seminoles remain third in the conference standings behind No. 12 North Carolina (20-4, 8-2) and No. 9 Virginia (17-4, 7-2 ACC)
Slow starts have been both chronic and problematic for FSU in conference play. Against Tech and Syracuse, the Seminoles fell behind by more than 18 points by halftime in both games.
Miami held a 34-31 halftime lead before FSU forced the Hurricanes into submission.
The Seminoles held the Hurricanes to 23 points on 8 of 19 shooting for 42 percent from the floor while forcing nine turnovers in the second half.
Miami did its best to confuse FSU by switching out of different systems. Whether it was press, zone or trap, the Seminoles found holes en route to having four players finish in double figures.
Freshman forward Jonathan Isaac and sophomore swingman Dwayne Bacon each led FSU with 15 points. Junior point guard Xavier Rathan-Mayes scored 13 while sophomore guard Terance Mann chipped in with 11.
FSU, after a 1-2 trip, returns Sunday for a 12:30 p.m. tip against Clemson.
-------------------------------
Talk about this story with other FSU Basketball fans on the Seminole Hoops Talk Board