Louisville snaps FSU's 28-game home win streak, 73-69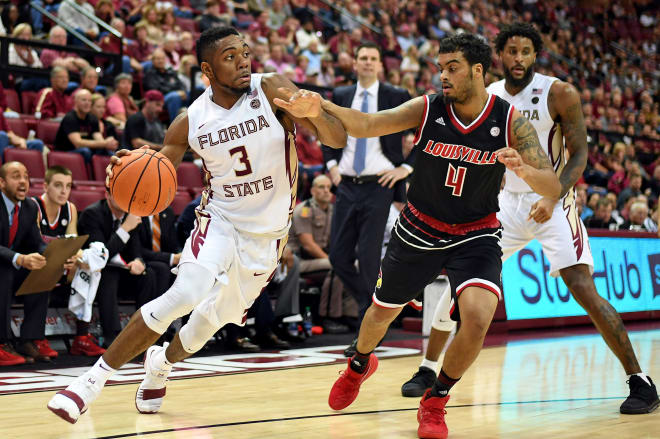 Box Score: Louisville 73, FSU 69
The streak is over.
After reeling off 28 consecutive victories inside the Donald L. Tucker Cemter, the Florida State men's baskletball team finally lost one Wednesday night -- and it happened in painful fashion.
Despite leading by 13 points at halftime, the No. 23 Seminoles were dominated for practically the entire second half and suffered a 73-69 loss at the hands of Louisville.
It marked FSU's first home loss since February 2016, and it took a brutal second-half offensive performance to make it happen.
After shooting 46.2 percent from the field in the first half, FSU connected on just 8 of 26 attempts (30.6 percent) in the second. Louisville (12-4, 2-1) outscored the Seminoles, 41-24, after halftime.
Other than several drives to the basket by junior guard Terance Mann, the Seminoles looked extremely tentative against a zone defense employed by the Cardinals.
"We weren't playing to win," said Mann, who scored 15 of FSU's 24 points in the second half. "They hit a couple shots, and we were kind of getting passive. We were playing not to lose."
The Cardinals were paced by junior forward Deng Adel, who scored 16 points and grabbed six rebounds. Louisville also got 15 points and six boards from junior forward Ray Spalding.
FSU (12-4, 1-3 ACC) led by as many as 17 points late in the first half, but the Cardinals tied it up midway through the second period. They eventually led by five points in the final minute before FSU senior guard Braian Angola drilled a 3-pointer to make it a two-point game with 46 seconds left.
Mann would eventually get a chance to tie it up with a driving attempt in the final seconds, but the shot missed the mark; and there was no whistle despite apparent contact on the shot.
"I got all the way down to the halo, and I just didn't finish it," Mann said. "It's a bang- bang play. You can't really call a foul on that."
"That's the nature of the game. You're not going to get all those calls," Seminoles head coach Leonard Hamilton said. "I thought there was contact ... but that didn't lose the game for us."
Mann finished with 25 points and eight rebounds, and the Seminoles also got 18 from Angola.
FSU returns to action this Saturday at 2 p.m. against visiting Syracuse.