No. 9 'Noles push streak to 12 wins with 88-72 win over No. 7 Duke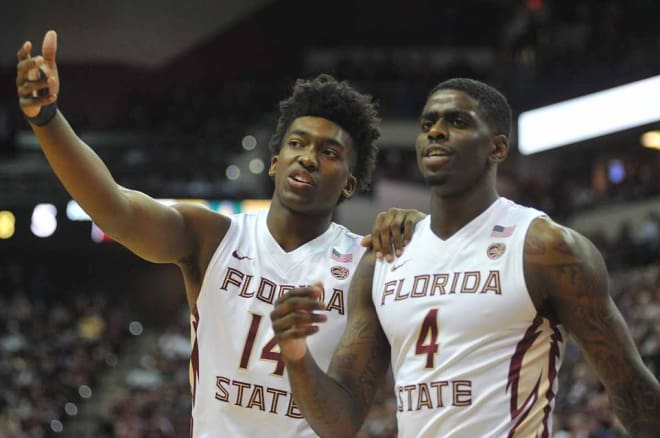 BOX SCORE: Florida State 88, Duke 72 | Photo Gallery from FSU's victory
------------------------
There's the Florida State men's basketball team's streak. And then there's what Xavier Rathan-Mayes did.
Rathan-Mayes, over the next four minutes, would score 16 straight points to help No. 9 FSU both upset and pummel No. 7 Duke in a 88-72 win on Tuesday in front of the first sellout crowd in four seasons at the Tucker Center.
FSU (16-1, 4-0 ACC) pushes its win streak to a school-record 12 games while continuing to hold on to first place in the ACC standings. FSU holds a half game lead over Notre Dame, which is 3-0 in conference play.
Everything went FSU's way. Four players surpassed double figures while 10 Seminoles recorded at least one basket. FSU made a point of bullying Duke (14-3, 2-2) inside by shooting 64 percent and scoring 56 points in the paint. FSU's bench scored 22 points and also picked up 22 points off turnovers.
Then, of course, there's what the artist known as XRM achieved.
Rathan-Mayes missed a free throw, grabbed his miss and drained a 14-foot jumper for a 69-59 lead with 8:12 left in the second half.
A Duke miss led to Florida State getting into transition with the junior point guard getting the ball. He went end-to-end and finished by splitting the defense for a lay-up while drawing an and-1. Rathan-Mayes, following a Blue Devils time out, hit a free throw.

He would hit two, 3-pointers while sinking two free throws. By that point, FSU was well in control with a 80-66 lead with 3:31 remaining. Rathan-Mayes finished 21 points and three assists.
Down 50-48 with 15:03 remaining, the Seminoles went on a 8-0 run which began with a Dwayne Bacon jumper and the next four baskets all coming within feet of the rim for a 58-50 lead with 12:17 left.
Pretty soon, the Seminoles expanded their fortune. They kept attacking the paint and scored three more buckets at the rim increasing their edge to a 16-4 run and a 64-54 lead with 9:15 left. By then, the Seminoles were shooting 72 percent in the paint with 46 points coming from inside.
* Warchant TV: Watch postgame interviews with Hamilton, Bacon, Rathan-Mayes
*ALSO SEE: A deeper, stronger bench proving vital in FSU Basketball's early success

The Seminoles began making a move late in the first half when Bacon, who scored 13 points, six rebounds and five assists, came up with three straight assists for a 30-23 lead. Bacon found P.J. Savoy for a 3-pointer and used his vision to spot Terance Mann cutting to the basket for an easy two points. His final helper once again went to Savoy, who drained a 3-pointer off the wing for a 30-23 lead with 6:06 left.
Duke chipped away by reaching the free throw line. The Blue Devils' last six points came at the charity stripe as they did not make a field goal in the half's final three minutes and five seconds.
Bacon, who scored nine points, four rebounds and three assists in the first half, scored three of the Seminoles' final five baskets for a 41-37 halftime lead.
-------------------------------
Talk about this story with other FSU basketball fans on the Seminoles Hoops Talk board