Ojo's and Koumadje's progress shows in FSU's 100-86 win over Winthrop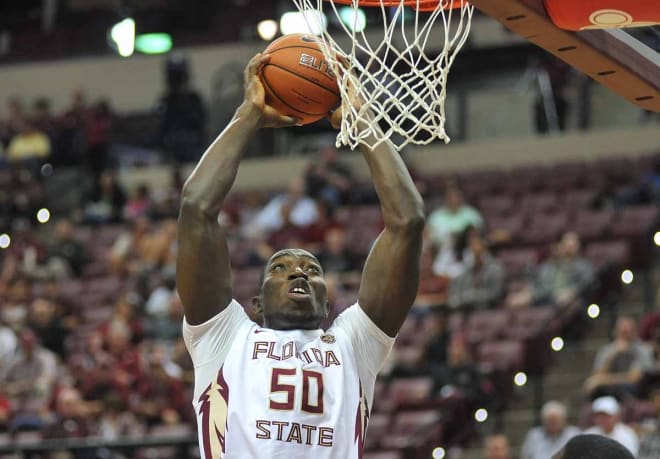 Box Score: FSU 100, Winthrop 86
Asked about his first career double-double, center Michael Ojo flashed a big grin before giving a pretty good response.
"It only took five years for me to get a double-double," Ojo said. "That would be the surprise I would say."
The fifth-year center scored 13 points and grabbed 10 rebounds in the Florida State men's basketball team's 100-86 win over Winthrop on Friday at the Tucker Center. As Ojo joked, it took five years. Or 13 minutes, if viewed through the context of this one game.
Ojo was 2 of 4 from the floor yet was 9 of 12 from the free-throw line. It's a bit of a shocking statistic given he entered the 2016-17 season a career 40 percent free throw shooter off 102 attempts.
Career landmark aside, Ojo's game brought a few things to the forefront, such as the team's depth.
FSU had 11 players finish with 10 more or minutes. Five of those 11 player exceeded the 20-minute barrier. Sophomore Dwayne Bacon, who logged 29 minutes, also led FSU with 15 points on 5-of-14 shooting. Bacon was 3 of 7 from beyond the arc and has converted 47 percent of his 3-pointers through three games.
"I think a lot of it is we wore them down a little bit with the quality of our depth," Seminoles coach Leonard Hamilton said. "Then we got some good looks in the second half."
FSU actually shot the same percentage -- 48.6 percent -- in both halves.
Winthrop, however, fell off in the second half. The Eagles shot 53.3 percent from the field and were 5 of 9 from 3-point range before halftime. Those numbers plummeted in the second half.
The Eagles were 12 of 34 for 35 percent from the floor and 2 of 14 for 14 percent from long range.
The Eagles were only down four points at 58-54 with less than 16 minutes remaining. But FSU pulled off a quick 9-0 run, and Winthrop could never get within striking distance again.
"They wear you down because they're so big and strong and physical," Eagles coach Pat Kelsey said. "We were close enough to be dangerous. I have to watch the tape. But I feel like during that stretch in the second half, there's a group of open looks we needed to go down."
Kelsey, a former Wake Forest assistant, was both colorful and glowing of FSU in his post-game remarks. He joked how Hamilton has turned the Seminoles into "Noah's Ark" because they have two of everything.
Take the play Hamilton received from his centers for example. Certainly Ojo's double-double was a bit of a surprise. So was the 14 points turned in by sophomore center Christ Koumadje.
Koumadje finished the night 7 of 8 and also had three rebounds and a block in 17 minutes.
"In practice, we just go at each other and a guy like Ojo is very strong in the post," Koumadje said. "Going at him every day in practice, it gets everybody better in the post."
Hamilton, Koumadje and Ojo all touched on how the Seminoles are working to develop their post presence.
FSU struggled through the 2015-16 season with its identity in the paint. Ojo suffered a meniscus tear last October, which kept him out for the rest of the season. An ankle injury to then-sophomore forward Phil Cofer saw him miss the remainder of the campaign.
It left FSU with a less-than-physical center in Boris Bojanovsky and still-developing Koumadje. Hamilton was forced to turn 6-foot-9 and 236-pound forward Jarquez Smith into a makeshift center.
The Seminoles appear as if they have a plan in place to rotate Cofer, Koumadje, Ojo and Smith in the post.
For now, the rotation will be limited to three players. On Friday, Cofer landed on the same ankle he needed surgically repaired. The injury came in the first half and Cofer returned to sit the bench. Hamilton said Cofer had a sprain and he could be rested Sunday against Detroit.
"But the fact all three of them had foul trouble, we were able to keep them fresh and finish the game," Hamilton said of Ojo, Koumadje and Smith, who combined to commit 10 fouls. "It's another example of us having quality depth.
"We're not anywhere close to where we'd like to be. But we are making progress."
----------------------------------------------
Talk about this story with other FSU basketball fans on the Seminole Hoops Talk