Players, Fisher react to Stoops leaving for UK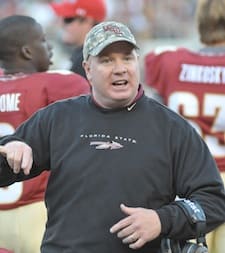 Stoops was tapped as the head coach at Kentucky on Tuesday and will be formally introduced during a news conference on Sunday in Lexington, Ky. He will coach Florida State through the ACC Championship game on Saturday night as the Seminoles take on Georgia Tech.
"Everybody was happy for him," Werner said. "No one was sad that he's leaving because everybody has to look out for themselves at one point and he did everything he could have done, turned a great defense into an even better one."
Stoops has also produced great results at FSU.
Florida State's defense ranked 108th among 120 FBS teams in 2009, the season before Stoops took over. The Seminoles improved to 42nd nationally in 2010 and fourth in 2011. This year, the Seminoles rank No. 2 in the country in total defense. Stoops is also a force on the recruiting trail in Southeast Florida, a fertile area where he's helped the Seminoles accrue players in his recent run of top recruiting classes.
Stoops, 45, is the first assistant from Fisher's original staff in 2010 to leave the program.
Stoops did not talk publicly on Tuesday per FSU team policy - assistant coaches are not permitted to speak to the media - but he released a statement through Kentucky.
"I am thrilled to be named the head football coach at the University of Kentucky," Stoops said in a statement released by UK. "My family and I are excited and looking forward to becoming a part of the Big Blue Nation.
"First of all, I want to thank Jimbo Fisher and Florida State University for allowing me to be the defensive coordinator at Florida State. It has been three of the greatest years of my life. I am grateful for the support of all Seminole fans as we focus on the ACC Championship.
"I want to thank President Capilouto and Mitch Barnhart for this opportunity. I promise the faithful of the Big Blue Nation I will be focused and driven to create a positive, winning atmosphere for the program and an environment that all of Kentucky can be proud of."
"I'm very proud of him. Very happy for him," Fisher said following the team's practice on Tuesday. "He got an opportunity to go on and further his career and do what he wants to do and I'm happy for him. I'm elated for him and like I said, those are things that I think are very indicative of the players which we have that he's coached and our program."
Mark becomes the third Stoops brother to land a major Division I-A head coaching job, joining Bob Stoops (Oklahoma) and former Arizona head coach Mike Stoops, who has since joined Bob as an assistant at Oklahoma.
"I'm excited for Mark, happy for him and proud of him. He's earned it," Bob Stoops said in a statement on Tuesday night. "He's done really well everywhere he's been. I know he's really prepared for the job. I believe that Kentucky, as he does, has a lot of potential, a lot of resources to build, so I know he's excited about the opportunity."
As far as Stoops' replacement, Fisher deflected questions about the next defensive coordinator on Tuesday, saying he remains "solely focused on Georgia Tech." Asked if any of FSU's current assistants could leave with Stoops, Fisher said: "None of those things have been done. We haven't even talked about those things." Fisher also did not rule out the option of promoting a coach that is currently on his staff to defensive coordinator.
Fisher said earlier this month that he keeps a running list of potential replacements for each coaching position on his staff. Fisher said he hasn't started a search for a new defensive coordinator but that the search will start next week.
"I'll look at my list and see what we have and what's available out there," he said.
Until then, its one more week with Stoops, a coach who has the respect of his players and will be remembered for turning around the Seminole defense before moving on to bigger things.
"Everybody wishes the best for Coach Stoops," Joyner said. "We're going to play hard for him. We believe that he deserves that and we're going to play hard for him before he (heads) out. We're going to end this on a good note for him."