Something bigger than ourselves:' How FSU came through agony even stronger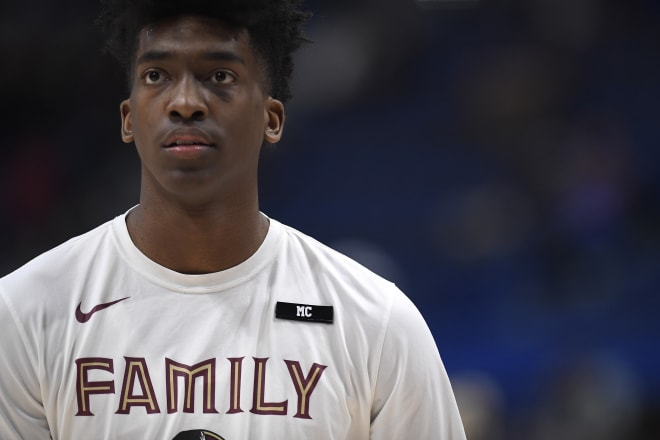 HARTFORD, Conn. -- Tournament basketball typically calls for super-quick turnarounds.
Once one game is in the books, the winning team has to begin preparing for the next one immediately. Scouting reports have to be finalized. Players must get treatment to prepare their bodies for a rapid recovery. Coaches need to begin communicating strategies and points of emphasis for the next opponent.
That is usually what happens, anyway.
The Florida State men's basketball team had to take a slightly different approach following their victory Thursday in the opening round of the NCAA Tournament.
With senior forward Phil Cofer devastated by the news of his father's passing and several teammates rocked by seeing the way the news floored him, the Seminoles had to put their Murray State preparation on pause for a little while.
"It was never about basketball once we found out about Phil's dad," FSU assistant coach Dennis Gates said. "It was about making sure Phil -- who is an integral part of our program and was an integral part even when he wasn't playing at the beginning of the season -- we wanted to make sure his spirits were lifted up."
The team met as a group and individually.
With the guidance of renowned sports psychologist Dr. Joe Carr, the Seminoles' players were encouraged to talk about their emotions. To work through their feelings, instead of letting things stay bottled up.
Meanwhile, assistant coach Charlton Young stayed by Cofer's side into the "wee hours" of Friday morning, Gates said. Young was the assistant coach who recruited Cofer to Florida State five years ago, so their bond is uniquely close, even on a tight-knit team.
Then throughout all of Friday, when the Seminoles were going through their meetings, practice and other routines, FSU athletic trainer Amanda Robinson kept a close eye on Cofer to make sure he was eating and staying hydrated.
"And the guys did a good job of stopping in and stopping by his room at all times," Gates said. "Just to be around him, and having him be around us. Not even talking, just letting him be in the presence of people who know him and love him."
Once FSU's coaches felt comfortable that Cofer's needs were being met, the Seminoles then dove head-first into Murray State preparations.
On the defensive end, they felt comfortable with their ability to guard nearly every player on the Racers' roster. The lone exception, of course, was star guard Ja Morant, who is expected to be one of the first players selected in this summer's NBA Draft.
"We came to the conclusion that Morant was almost basically unguardable," FSU head coach Leonard Hamilton said. "So we had to make sure we defended the other guys that fed off of him."
And when it came to Morant, the 'Noles decided they were more willing to let him shoot from the perimeter than drive into the paint. They felt he was much more dangerous dribbling toward the basket -- either attacking the rim or kicking the ball out to his teammates for open jump shots.
So when one of Morant's teammates would come over to set a screen for him on the perimeter, the player guarding him would run "under" the screen to cut off his driving lanes. Each time they did that, however, Morant stepped back and launched a 3-pointer.
He was 3-for-3 from long range in the first five minutes.
"Did we plan for him coming out and hitting three straight 3s? No, we did not plan for that," said Gates, whose task it was to devise the scouting report for the Racers. "But what we did not want was for him to have five assists in the first five baskets and get everybody going. That's a team that's hard to stop when everybody else gets going."
So FSU made an adjustment. After discussing it as a staff during the game, the Seminoles decided to start going "over" the screens to prevent Morant from getting open 3-point attempts. And then they stationed their post players further away from the basket to stop Morant before he got too deep into the paint.
The revised plan worked to perfection.
While Morant was able to score 28 points and hit 5 of 6 3-pointers for the game, he hit only 3 of 15 shots inside the arc. And two days after dishing out 16 assists in the Racers' rout of Marquette, Morant was credited with only four on Saturday. As a team, Murray State finished with just seven.
The Racers also shot 26 percent from the field (8-for-31) in the second half of the Seminoles' 90-62 blowout victory.
"We've been fifth in the country this year in two-point percentage, up around 58 percent," Murray State coach Matt McMahon said. "They've been one of the top teams defending the two-point shot. And they just made it extremely difficult on us to finish plays around the basket. I think we were under 30 percent from two. So that's a great credit to them. They're an elite defensive team."
The Seminoles actually were dominant in every phase of the game.
They out-rebounded the Racers by a margin of 45-33, with 15 of those rebounds coming on the offensive end. "They just crushed us on the glass there in the second half," McMahon said.
The Seminoles also blistered Murray State's defense, connecting on 50 percent of their shots in the first half and 51 percent in the second. Despite playing without Cofer and backup point guard David Nichols, who was nursing a sprained ankle, FSU opened an 18-point lead at halftime and eventually led by as many as 31 despite being favored by just five points.
It was total domination.
"This game was for Phil -- Phil and his family," said redshirt freshman forward RaiQuan Gray, who started in Cofer's place and scored 11 points with 5 steals and 3 rebounds. "We came out motivated. We knew we had to win this game for him. He was in our mind the whole game. So we just wanted to play through him, play for him and just get a win for him."
Said Gates: "Whenever you go through a traumatic situation, it either bonds a team or it breaks a team up. I think we have so much team camaraderie -- we've worked on our team dynamic so much -- that it can only get us closer."
That appeared evident on Saturday as the 28-point margin of victory was FSU's second-largest in NCAA Tournament play. The 1993 Seminoles squad, which went on to advance to the Elite Eight, holds the school record by beating Tulane by 31 in the second round.
Saturday's performance was particularly rewarding for Hamilton because he believes his players elevated their effort and execution to honor their teammate Phil Cofer and to pay proper respect to his late father, Mike, a former Pro Bowl linebacker in the NFL.
"Through all of the challenges that he went through, he stood tall, and he fought it with such toughness and aggressiveness," Hamilton said in regards to Mike Cofer's lengthy illness. "And when you see the way Phil plays, the way he acts, the way he responds to challenges, you see Mike Cofer. And I thought that our kids tonight decided that's what we wanted to play for -- something bigger than ourselves and bigger than the game. And I think that's why you saw our guys so focused. ...
"They're brothers. They're family. And I think that we feed off each other. And when one's hurting, I think that we all hurt."
Hamilton went on to say that the Seminoles have dedicated the rest of their season to honoring the Cofers. The players and coaches wore black ribbons with the initials, "M.C." on them during Saturday's game. Some players wrote motivational messages on their shoes.
Senior guard Terance Mann also found other ways to pay his respects.
Before the game started, it was Mann who first comforted Cofer when he became emotional during the playing of the national anthem.
Then once the game began, Mann played with a ferocity that could only be described as inspired. He and sophomore forward Mfiondu Kabengele combined for 40 points and 15 rebounds, and Mann also dished out six assists.
After one of his second-half dunks, Mann gave a glimpse of his emotions by snarling in the direction of Murray State's players. It might not have been a direct salute to the memory of Mike Cofer, but then again, it might have been.
When Mann was going through his own mental preparation for Saturday's game, he actually went online and started watching old video clips of Cofer with the Detroit Lions. He had heard stories from Phil about how hard the older Cofer played; how relentless and physical he was.
And the more Mann watched, the more he wanted to bring that tenacity to the XL Arena against Murray State.
"What I did the night before was Google and YouTube Mike Cofer, my teammate's father who passed, and just saw how hard he played, how much fight he gave on the field," Mann said. "And I just wanted to bring that with me. And I feel like that's what I did today. I played my heart out for that."
He wasn't alone.
And, more importantly, neither was Mike Cofer's son.
---------------
Discuss this story with other FSU fans on the Seminole Hoops Message Board.