Preseason magazine reviews - Phil Steele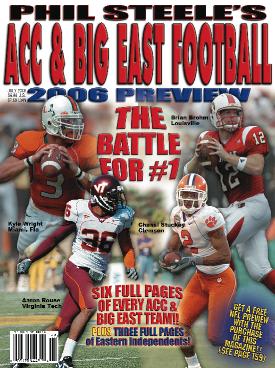 In our first three preseason magazine reviews we took a close look at Athlon's and Lindy's ACC editions, as well as the Sporting News, and gave our recommendations. In our final review, the target is Phil Steele's preview magazine.
Phil Steele's 2007 Football Preview





Total pages: 328
Price: $8.95
National Edition Cover - Miami's Kenny Phillips, FSU's Myron Rolle, and Florida's Tim Tebow
Total pages devoted to FSU: 2
Ad space: 2 pages
Web site: www.philsteele.com
Once again Phil Steele is the hands-down winner of our preseason magazine showdown. His no nonsense approach to previewing the upcoming college football season is refreshing. Even though I enjoy sharp photos and snazzy graphics as much as anybody, it's all about the the content and Steele delivers.
At 328 pages, the publication is chalk full of material, and with very few ads (2 pages) and just a few small photos, 90 percent of the pages are pure content. And it's not only the amount of content that makes this magazine the best buy on the market, it's the unique way Steele delivers it.
Generally, when I peruse through a preseason magazine, I'm rarely surprised by what's contained between the covers. With the influx of information, especially on the web, anybody that follows college football these days is pretty savvy and knows a lot of detailed information about his or her favorite team and conference. As a result, it's hard for a magazine to give most readers something interesting to chew on. But with Steele, there are away a few pleasant surprises and insightful analysis that gets you thinking. Now, if you are more of a casual fan, than something like Lindy's or Sporting News might be the way to go because Steele is for diehards.
Highlights from the national section:
Right of the bat on page two Steele goes the extra mile that nobody else does by predicting all the bowl matchups. In case you are wondering, he has FSU in a rematch with Penn State in the January 3rd Orange Bowl. Other bowl matchups include LSU and USC in the BCS national title game in New Orleans, Texas vs. Michigan in the Rose Bowl, Oklahoma and Louisville in the Fiesta, and Notre Dame vs. Miami in the Gator Bowl.
Player rankings
Steele goes very in-depth giving extensive rankings for players at each specific position on the field. It's great to get a more comprehensive list of rankings for each position but with probably four times as many players named, there are bound to be a few questionable picks.
One of those is third string cornerback JR Bryant being listed as the #45 cornerback. Maybe he will turn it around in his senior season but to be ranked at this point is a stretch. Also, I have a hard time believing there are 31 outside linebackers better than Geno Hayes. I would also flip-flop Everette Brown and Alex Boston in the defensive end rankings. Finally, Michael Ray Garvin should have been included among the top kick returners. With the way he came on at the end of last season, Garvin proved himself to be a major threat on kickoffs.
On the positive side, it's great to see that somebody did a little research and discovered that Paul Griffin is pretty good. While a couple of the preseason magazines totally left the dominating nose guard off their depth charts, Steele rates him as the nation's #7 defensive tackle, with Andre Fluellen right there at #10. Also, Myron Rolle get a lot of respect coming in at #3 for strong safeties.
QB - Drew Weatherford #18, Xavier Lee #51
RB - Antone Smith #37
WR - Greg Carr #16, De'Cody Fagg #39
C - John Frady #28
OG - Jacky Claude #40
OT - Shannon Boatman #37
DT - Paul Griffin #7, Andre Fluellen #10
DE - Alex Boston #42, Everette Brown #52
ILB - Derek Nicholson #21
OLB - Geno Hayes #32, Marcus Ball #47
CB - Tony Carter #22, JR Bryant #45
FS - Roger Williams #11
SS - Myron Rolle #3
Unit rankings:
With Griffin and Fluellen ranked so highly it's not surprising to se the 'Noles' defensive line ranked highly at No. 4. Also, FSU's defensive backs are way up there at No. 4 as well. Even though they come in at No. 22, it's refreshing to see the Seminole offensive line being ranked at all.
FSU rankings: QB #16, RB #27, WR #9, OL #22, DL #4, LB #11, DB #4, special teams #22.
Preseason Top 40
Every year you can count on there being a few surprises in Phil Steele's preseason rankings. But you can't argue with success. According to preseason.stassen.com, Steele was the most accurate with his rankings last year and has been the most accurate over the past five years.
Seminole fans are probably hoping his track record of success continues this year since FSU is ranked all the way up at No. 8. While I don't disagree that FSU will field as much talent as anybody, with their onerous schedule it's hard to see the 'Noles finishing with a good enough record to be a top 10 team.
Almost as big a surprise as FSU being in the top 10, is seeing Florida all the way down at No. 14. Steele points out that Urban Meyer's club returns just eight starters while losing 9 NFL draft picks and a starting quarterback. Other surprises include Penn State (#10), Hawaii (#12), South Carolina (#13) and USF cracking the top 25 (#24).
Top 10 and rankings of note:
1. USC
2. LSU
3. Oklahoma
4. West Virginia
5. Michigan
6. Texas
7. Louisville
8. Florida State
9. Virginia Tech
10. Penn State
14. Florida
27. Miami
Most improved teams
In the early part of the magazine, Steele spends three pages talking about which teams will be surprises this year. Based on his high ranking of FSU, it's not a surprise to find the 'Noles being mentioned, but what is a surprise is what this section says. Steele says Florida State is his No. 1 surprise team because he is "enthused by the coaching additions" and because FSU is the only team to rank in the top 25 at all eight positions (unit rankings). In addition, FSU comes in at No. 2 overall in his talent rankings behind only USC and one of his power rankings even says FSU will have an unbeaten season!
Not sure if I'm ready to guzzle down that much Kool-Aid, but it is interesting to see somebody talk so highly of a team that finished 7-6 last season and one that has arguably toughest schedule in the nation.
Highlights from the ACC section
Unlike Sporting News, Phil Steele has true ACC edition (actually an ACC/Big East edition), but unfortunately, it does not come out until July 17th. As a result, our review is limited to the national edition rundown of the ACC and Florida State. If you can holdout a few more weeks, I'm sure it will be well worth it.
Because this is a national edition there isn't a whole lot to chew on in the conference sections. Steele does give his all-ACC teams and a forecast of where the teams will finish in their respective divisions but that's about it.
Florida State is picked to win the Atlantic Division followed by Clemson, which would make the season opener a huge matchup for both teams. In what may come as a surprise to some, Steele has Wake Forest resuming its role as a below average team with the Deacons finishing at No. 5 in the Atlantic. An even bigger shock is seeing Boston College, who some have picked to win the division, in the cellar at No. 6. There aren't as many surprises in the Coastal Division with Virginia Tech on top followed by Miami, Virginia and Georgia Tech.
All-ACC team
Florida State is well represented on Steele's all-ACC team as follows:
First team: Greg Carr, Paul Griffin, Myron Rolle
Second team: De'Cody Fagg, Andre Fluellen, Derek Nicholson, Tony Carter, Roger Williams
Third team: Drew Weatherford, Antone Smith, John Frady, Gary Cismesia
Fourth team: Jacky Claude, Shannon Boatman, Alex Boston, Graham Gano
FSU section
As with the ACC section, space is limited to cover individual teams due to this being a national edition. Even though the Florida State breakdown is only two pages, Steele does a nice job throwing a few interesting tidbits at us.
One of those interesting tidbits was the quarterback rundown. Steele points out that FSU has not had a completion percentage higher than 57.6% since 2000 while Jimbo Fisher's QBs have completed at least 60% of their passes in three of the last four years. Steele expects "dramatic improvement" here.
On the depth chart breakdown, newcomer Jonathan Hannah is listed as a starter at tight end, and David Overmyer is a first stringer ahead of Dumaka Atkins at right guard. There aren't any other significant surprises on Steele's projected starting lineup.
Outside of the position breakdowns and depth chart, the second page of the team outlook is primarily statistics and a brief look at each game on the 2007 schedule.
To buy or not to buy?
A definite buy, especially if you can hold out until the ACC/Big East edition comes out.

href="http://floridastate.rivals.com/forum.asp?sid=1061&fid=1079&style=2">Football Message Board or on the
Tribal Council