Q&A with new FSU Basketball commit and Top 25 prospect Taylor Bowen
The Florida State men's basketball team got its 2023 recruiting class going with a bang on Saturday as top-25 national prospect Taylor Bowen announced he would be a Seminole.
Shortly after announcing his commitment, the four-star forward spoke with Warchant.com about his decision, his goal of helping Leonard Hamilton win a national championship, how Florida State won him over and more.
Stay connected to all of your favorite FSU Sports Coverage!
*** Get the FREE Warchant App in the Apple Store or on Google Play
*** Subscribe to our YouTube Channel for fresh new videos every day
*** Sign up for our exclusive Newsletter to never miss important FSU news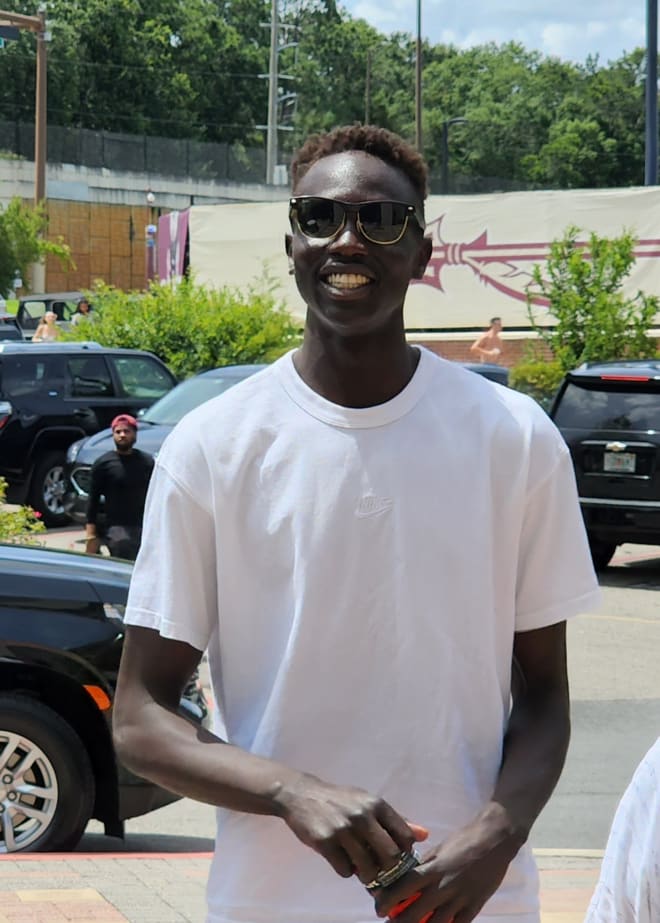 Q: This was a huge day for you, Taylor. So tell me what was it about Florida State that led you to choose them over schools like Providence, Iowa, Duke and others in the mix for your decision?
A: It was really the environment as a whole. I really felt a part of the community when I was there with the basketball team and coaches. I definitely saw myself as a Seminole, and I'm ready to get to work.
Q: You've mentioned how much you like head coach Leonard Hamilton and associate head coach Stan Jones. What is it about the FSU staff that you like so much?
A: I liked the way they all communicated. And they have so much experience with guys like me that play my position. It was the same relationship from the time they came to Brewster and saw me in the fall to now. We built such a great relationship.
Q: Switching gears for a second, I know you got to come over to the Moore Athletics Center during your visit and talk some football with FSU head football coach Mike Norvell. How was that experience for you?
A: How did you know about that (laughing). Yeah, I know some stuff on football. Like the Heisman winners in Charlie Ward and Chris Weinke and all the other top players. I even know Randy Moss was there for a bit, which I don't think a lot of people remember. So yeah, I'm hipped to a lot of the college football breakdown. I'll be a huge fan of the team, and I can't wait to get there.
Q: Moving back to hoops and that official visit last week, what were one or two things that really jumped out to you about the school or the team?
A: I would definitely say the campus and the staff. Then on top of the staff as a whole, it was the atmosphere around the players and the competitive environment that they all brought. I really enjoyed my time while I was there.
Q: I had some time to watch your film, and I've seen where you really spread the floor and knock down shots. Then other times you finish at the rim and get active on defense. Have the coaches explained how they want to use you in a certain position?
A: Really, at the end of the day, I'm just a ball player. I don't want to say I'm a stretch-four or a pick-and-pop ... I'm just a ball player. And you see the different plays I can make. Whether that's in transition or off the bounce.
Q: In your commitment announcement, you mentioned how FSU has had success with guys like Scottie Barnes, Jonathan Isaac and others that have similar skills to yours.
A: It definitely is such a great fit, and they have taken a lot of guys and developed them and done a lot of great things. And hopefully I can do the same.
Q: I was curious, when did you actually commit to FSU? Did you know it after the visit? And what was Coach Hamilton's reaction to you jumping on board?
A: I actually committed on the visit before I left. I told Coach Hamilton and the staff that this is where I want to be. I was very picky about what schools I wanted to visit. I didn't take every option I had on visits. I was picky on that. With FSU, they just did all the right things, and ultimately that led me to committing.
He (Hamilton) was really excited. It was really great seeing a coach that excited because obviously he's recruited a lot of great players. So that was great.
Q: Instead of asking you about your strengths, I was wondering what areas of your game are you most focused on improving?
A: I can just continue to build my guard skills. Then keep building off the skills I have. I think I have the tools with height, strength and speed, and I just need to keep working on those skills and keep improving every part of my game.
Q: You made your commitment on live television. Were you nervous when you were doing that?
A: It was nerve-racking but exciting at the same time. When you are committing to a program like FSU, that makes it so special.
Q: Lastly on FSU, the 'Noles have emerged as an elite program in recent years. So what do you envision for the future and where do you see the program going with you there?
A: I just want to continue to work. Coach Hamilton has the same goal in winning a national championship, and that's what I want to help. I'm going to do everything I can to help that going forward. I'm excited to be a part of this program.
*SCOUTING REPORT: What FSU is getting in Taylor Bowen
-----------------
Don't miss out on our exclusive podcasts! Subscribe Today!
*** Wake Up Warchant -- Apple | Google
*** Seminole Headlines -- Apple | Google
*** The Jeff Cameron Show -- Apple | Google
Or just search for "Warchant" on your favorite podcast provider.
----------------------
Discuss this with fans on Warchant's Seminole Hoops message board