Rhodes glad he didnt speak up about move to CB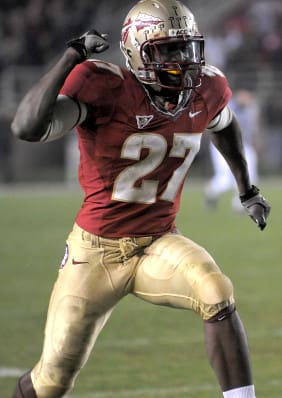 Florida State redshirt junior
Xavier Rhodes
vividly remembers the first time he lined up at cornerback. It's a moment that was memorialized as front-page news in the Miami Herald.
Rhodes was mostly an offensive weapon for Norland High in Miami, but with his team's top corner injured and a matchup with North Miami Beach looming, Rhodes was told he would be playing defense.
"They had this receiver and nobody could guard him. Rhodes said with a laugh. "The first play they called he caught a fade route on me, and that made the (Miami) Herald. They took a picture of it on the front page. I was embarrassed. I didn't like it."
As a senior Rhodes was named All-Dade County on both sides of the ball, but he was most happy when he got to line up on offense. He played varsity for three years, and his senior season he amassed more than 1,000 all-purpose yards and scored 10 touchdowns. Still, he was rated as a three-star athlete by Rivals.com.
The summer before his senior season, when Rhodes traveled to recruiting camps across the country he would work as a wideout.
"He was pretty good. I was better, he was pretty good though," jokes fellow Miami native and FSU receiver
Rodney Smith
. "He was making plays at the camps we were going to."
Rhodes played mostly receiver, but also split time with true freshman
Duke Johnson
, now starring for Miami as a college freshman, at running back. Because of his size and physicality, Rhodes was constantly compared to another Norland High grad in former LSU receiver and current Kansas City Chief
Dwayne Bowe
.
According to his Norland coaches, Rhodes was so physical that at times he would almost hurt himself as he tried to go all on out on each and every play.
"As an offensive player he was really good," said Norland receivers coach Torriano Brooks of Rhodes. "As a young kid he was really strong for him to be such a young kid. Was well developed, his body was really developed almost like he was a man amongst boys. Very physical, vey strong, pretty much would do whatever you wanted him to do.
"He had a lot of natural ability. With some proper coaching he turned out to be a pretty good receiver and athlete for us. Offensively he probably could have played quarterback for us. His senior year he did play a little quarterback for us when our starter was injured."
A defensive future
When college coaches called Rhodes during his recruitment, they'd ask whether he wanted to play offense or defense. Considering his body of work as an offensive threat, Rhodes thought that answer was simple.
But FSU's offensive coordinator
Jimbo Fisher
had an eye on turning him around to cornerback.
"Size and athleticism, the ability to play big receivers, ball skills," said Fisher on what made him think Rhodes could play corner. "He was in our camp that summer and he was just on that air ball stuff we play he's just jumping up and dominating with his athleticism. You just saw a big raw athletic guy that could run, jump, play, and had ball skills and instinctive to play. Very natural."
Fisher asked Rhodes about how committed he was to receiver. Not thinking there was any chance of moving - all of his game film was offense - Rhodes said he didn't care.
"It was my fault because they asked me what I wanted to play, receiver or corner. I told them it was up to them, I'll play anything," Rhodes said. "But I'm thinking 'I've never played corner so obviously I'm a receiver.' They fooled me."
Rhodes even showed up to Tallahassee with the idea he was playing receiver. That was before veteran defensive backs Patrick Robinson and Jamie Robinson informed Rhodes that he was in fact now a cornerback.
"I didn't want to accept the role of playing corner," Rhodes said. "I didn't want to go it. I was like "I don't want to play it. I don't want to learn nothing about it.' I wanted to play receiver."
After coming to terms with the fact that Rhodes would only be catching passes from opposing quarterbacks, he leaned heavily on Brooks and former FSU star cornerback Terrell Buckley, who was a defensive graduate assistant in 2009 and stayed on the staff until 2011 as a weight room assistant.
"He was out of his element, he had been playing receiver all of his life. He just played DB sparingly to help the team out. For it to go to something that he had to do on a day-to-day basis it was something different," said Brooks, who still speaks with Rhodes on the phone at least once a week."It was a transition for him, but it made him grow up a little bit… He had his mistakes and what have you, that was his thing he didn't want to embarrass himself or anybody, but at the end of the day he was willing to learn and take on the challenges that they were giving him."
Rhodes worked with Buckley throughout fall camp. Not so much on the technique of playing cornerback, but more so on getting into the mindset of becoming a defender.
"He helped me out a lot. My freshman year we did a lot of stuff," Rhodes said. "He got me mentally ready. That was the first step, because I wasn't mentally ready because I was still stuck on playing receiver. He had to get me out of that phase to get ready to play-'You're a corner now. Forget that receiving thing you did in high school. You're in college now and you play corner and you have to accept it'-it was hard for me to accept that."
An ever-fierce competitor, Rhodes still wasn't fully committed to playing the position, until a teammate challenged his prowess as a defender in fall camp. During a drill in practice Rhodes was going against speedy - and talkative - FSU receiver Bert Reed. The always-brash Reed continually was getting the best of Rhodes in the drill.
"Being a real competitor I kept going against him." Rhodes recalled. "I'm going against him, I'm saying 'Man Bert I'm going to get you.' The last time Bert said '(Xavier) get out, I need a real corner.' When he said that it hit me in my heart. I took that very seriously."
The traditionally quiet Rhodes said nothing about the exchange vocally to any of his teammates, but on the inside he was fuming. He worked tirelessly with Buckley and defensive coordinator and DBs coach Mickey Andrews the rest of camp on his technique. It was during this time that Rhodes discovered his biggest advantage as a 6-foot-2 corner was his reach.
Around four weeks later he lined up across from Reed and new that if he was physical with him at the line he would be able to combat Reed's speed advantage.
"I came back and Bert lined up and I jammed the crap out of Bert," Rhodes said. "Bert didn't even get an inch off the line and everybody else that came up I jammed them. Ever since then I gained confidence, and once I gained confidence it was a rap. I was good ever since."
Laugh about it now
As a true freshman Rhodes appeared in two games in 2009, before suffering a hand injury that forced him redshirt.
Rhodes considers the injury a blessing because he was able to continue to work on his technique as a corner and get ahead in the classroom. When he returned to the field for FSU in 2010, it was obvious that Fisher had made the right decision putting Rhodes on defense.
After defending 16 passes, hauling in four interceptions and accumulating 58 tackles Rhodes was named a consensus Freshman All-American, and was voted the ACC Defensive Rookie of the year.
Brooks always figured that Rhodes would excel at the next level, but he even he was a bit surprised by Rhodes' success at corner.
"When they first approached him about playing DB I figured this might be something good for him," Brooks said. "I didn't know he would be this good, but I figured he could make it there. He was one of the kids-hopefully he gets the chance to make it to the NFL-he just needed a shot, a foot in the door to get there and he would be ok. I didn't know he would take off like this, but I figured he would be good."
The Miami native was so good as redshirt freshman that Seminole fans wondered how they would be able to keep Rhodes from going pro after his redshirt sophomore season.
In 2011 Rhodes played through a few nagging injuries as teams mostly stayed away from him when throwing the ball. Still he registered 43 tackles, defended five passes and had one interception. Now fully healthy, Rhodes leads FSU with two interceptions and seven passes defended this season.
As Rhodes prepares to return home to Miami this weekend for an 8 p.m. tilt against Miami on Saturday, he and Fisher can now look back and laugh about how timid he was about the move to defense.
"He was mad at me for about a year," Fisher said. "Now he hugs me, we laugh about that now. I say 'See I told you. I wasn't doing that to be detrimental.' I thought he had a great future there. It was funny and we laugh about it. It's like anything else. You come in and you've got to trust somebody you've never trusted and that's hard to do. He could have been a great receiver but there's not many big corners like that."
NFLDrafscout.com rates Rhodes as the No. 28 overall prospect for the 2013 NFL Draft, and the third-best corner available. Rhodes downplays the attention he's received from the NFL, saying he's only focused on becoming the best cornerback in college football.
Now those front pages showing Rhodes as a corner don't look so bad.
He's also working to become a more vocal player, thankfully for FSU just a few seasons too late. Imagine if he had spoken up four years ago, he'd be probably be playing wide receiver instead of shutting them down.
"Thank God I didn't say receiver," Rhodes said. "Because now as you see I'm a great corner."