Schoffel column: FSU defense still hard to figure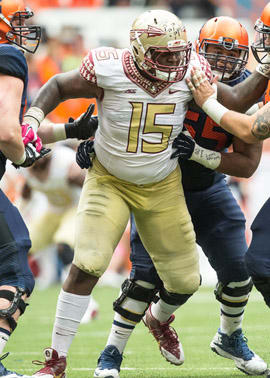 It's never dull with this Florida State defense, is it?
One minute, they're making a highlight-reel interception. The next, they're giving up a 40-yard completion.
There are bone-rattling hits followed by perplexing missed tackles.
Perfectly executed fourth-down stops followed by obviously busted assignments.
Some good. Some bad. Some great. And some in between.
Which is why after six games, and heading into the biggest game of the season this Saturday against Notre Dame, no one seems to know what to make of them.
We can all agree that they're not in the same league of the 2013 Florida State defense. The chart that accompanies this column illustrates that quite clearly. At the midway point of the season, this defense lags behind that one in nearly every relevant category. In several areas, the statistical comparisons are not even close.
But as Jimbo Fisher and many others have argued, that's certainly an unfair standard. That 2013 defense was among the best in school history. The 2014 version doesn't necessarily have to reach that level for the Seminoles to win the ACC, reach the College Football Playoff or even win a second consecutive national title.
You can win an awful lot of football games without being dominant in all three phases - and FSU is playing at a very high level on offense and special teams. But at the same time, we know this Florida State defense has the talent to be better than it appears right now. Much better than it played on Saturday.
Facing a Syracuse team that was breaking in a new offensive coordinator and had just lost its starting quarterback to injury, the Seminoles gave up 412 total yards; the Orange surpassed their season averages in several categories, including yards per play, passing yardage and third-down conversions.
Orange wide receivers won numerous one-on-one battles with FSU defensive backs, and the Syracuse offensive line seemed to have its way at times with the Seminoles' defensive front. Four different Orange ballcarriers broke loose for runs of more than 10 yards.
Check out the post-game comments of Syracuse head coach Scott Shafer.
"I thought we ran the ball well," Shafer said. "I thought our kids up front blocked well and had some good push and got some good movement. We had some opportunities to have some even bigger gashes up in there, where I saw us knock the No. 1 team in the country back extremely well."
Now flash back to what Shafer had to say about Florida State when the teams met last November: "That's one of the best football teams I've seen in my 23 years coaching. They are big, they are fast, they are talented and they know what they're doing. Great tackling bunch."
That's some difference in the span of a year.
But is the dropoff as great as we think? And if so, is there a chance that the struggles will continue all year?
Like everything else with this defense, it's difficult to get a very good read. On the one hand, we're only six games in, so it's too early to say that they'll never come around. But on the other, we're six games in, so it's not as if they haven't had time to develop.

What makes things complicated is there are a number of excuses you can use to rationalize many of the problems.
In the opener, several players were making their first career starts, and the 'Noles didn't know what to expect from a rebuilt Oklahoma State offense. Against The Citadel, there was the unorthodox option offense and the controversial cut-blocking. N.C. State sprung a bunch of new looks on them. And Syracuse did some of that as well.
There also have been a slew of depth chart changes due to injuries and suspensions. At least 10 different defensive players on the two-deep have missed major parts or entire games, including star defensive end Mario Edwards Jr. (concussion, 1 1/2 games), defensive tackle Nile Lawrence-Stample (pectoral, lost for season), linebacker Ukeme Eligwe (foot, five games) and linebacker Matthew Thomas (suspension, six games).
But at the same time, there have been troubling miscues that cannot be explained away due to circumstances. Too often, this defensive front has lost its gap discipline, allowing large cut-back lanes for opposing ball carriers. Equally disturbing has been the number of total breakdowns in pass defense, which has allowed quarterbacks to find wide-open receivers for big gains.
Those lapses are tough to understand when they involve talented players with a good deal of experience.
Of course, it hasn't been all bad.

Around and around we go with this defense. Plenty good, plenty bad, and plenty in between.
I asked several FSU players this week whether they believe they are close to being consistently solid on defense. To a man, they said they are. Defensive linemen Eddie Goldman and Edwards Jr. said the key will be sticking with their responsibilities and not leaving their gaps in an effort to make a big play. Defensive backs Tyler Hunter and P.J. Williams insisted the secondary's problems are minor communication and technique issues.
Every player we spoke with said the issues can be corrected immediately. Fisher is confident as well.
They'd better be right, or Jameis Winston and the FSU offense will have to win a number of shootouts in the second half of the season. The opponents will only be getting better.
Fifth-ranked Notre Dame, which visits Doak Campbell Stadium this Saturday, is led by a potential Heisman Trophy candidate in Everett Golson. Louisville coach Bobby Petrino has one of the best offensive minds in college football, and the Cardinals have plenty of talented skill players. Miami is only 4-3, but the offense has been a pleasant surprise; the Hurricanes rank second in the ACC for yards per play. Even Boston College can do damage; the Eagles have one of the nation's top rushing offenses at 317 yards per game. To add to the degree of difficulty, all three of those opponents will have a bye week before facing the Seminoles.
So in four of their last six regular-season games - sorry Virginia and Florida, I can't go there - the FSU defense will have to be better than it has shown so far to avoid the threat of upsets.
Can the Seminoles keep winning if the defense doesn't get great? For sure. But with every missed tackle and blown assignment, the pressure only increases on the offense and special teams. It's simply impossible to control games and win comfortably if you can't play consistent defense.
The hunch here is that Charles Kelly's group is about to turn things around. They're getting healthier. Some first-year starters appear to be growing more comfortable in their roles. And I'm still convinced that the talent is closer to what we perceived before the season than what we've seen in the first six weeks.
If I'm wrong, go ahead and strap in for what might be a wild ride during the second half of the season. This team can indeed keep winning with outstanding offense and impressive special teams, but it certainly won't be dull.