Schoffel: For Jarrett and FSU Baseball, love (and hard work) conquer all
Florida State has had scores of great coaches through the years. In every sport. From football to baseball to basketball to tennis to golf to track and everything in between.
FSU also has had scores of coaches who love the university. Either because they played here as student-athletes or because they gained an affection for the school through their time on campus.
And it can be refreshing, and incredibly gratifying, when the two groups overlap. Especially in this age of college athletics, when coaches -- and now even players -- seem to be available to the highest bidder.
Few fanbases have experienced both ends of the spectrum more than those at Florida State.
Stay connected to all of your favorite FSU Sports Coverage!
*** Get the FREE Warchant App in the Apple Store or on Google Play
*** Subscribe to our YouTube Channel for fresh new videos every day
*** Sign up for our exclusive Newsletter to never miss important FSU news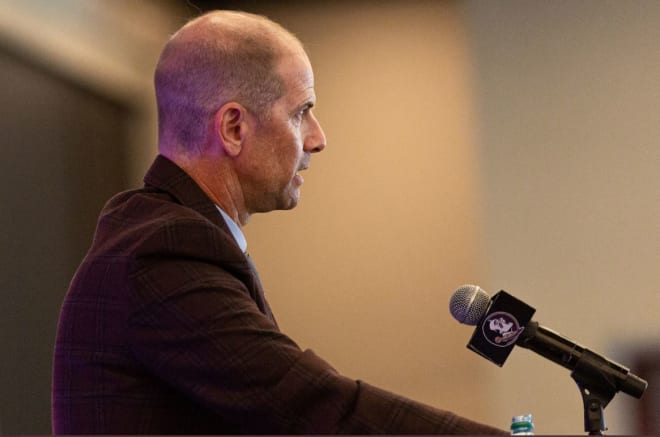 They were so blessed to have absolute legends like Bobby Bowden, Mickey Andrews and Mike Martin Sr., who could have left for more money from a bunch of different schools, but were happy to finish their careers as Seminoles.
They also saw a highly successful coach like Jimbo Fisher leave for a lot of reasons, not the least of which was a $75 million contract and unlimited resources from Texas A&M.
Then this past December, they watched a star football recruit -- a phenomenal player who had been committed for literally years -- throw an FSU hat on the ground on National Signing Day and sign with another school, at least partially because of a financial opportunity related to Name, Image and Likeness. Travis Hunter has since denied that he received a seven-figure deal to go along with his commitment, but that doesn't change how FSU supporters feel.
So with all of that as a backdrop, there might not be a better possible tonic for what ails this fanbase than the man who was introduced this week as FSU's next head baseball coach: Link Jarrett.
Most FSU fans know him from his days as an All-America shortstop at Florida State in the early 1990s. They know he starred on a team that made three College World Series appearances in four seasons. They watched him win National Coach of the Year honors a couple weeks ago while leading Notre Dame to the CWS for only the third time in school history.
But if that is all one knows about Jarrett, they might believe he is some sort of golden child. One of those rare and fortunate prodigies who was so naturally gifted that they found instant success at everything they tried.
And that is so absolutely, completely, 100 percent not Link Jarrett.
When you talk to the guys who grew up with Jarrett, who played with him at Florida High or at Florida State, they will tell you he was the ultimate grinder. A self-made man in every aspect.
Never the biggest or the strongest or the fastest. But an ultimate competitor who never lacked confidence -- no matter what anyone else might have thought of him -- and who was driven internally to be better than the competition.
It's what has led him to Florida State twice now.
As a high school player, Jarrett only had two real offers coming out of the powerhouse Florida High baseball program: Mercer and the University of West Florida. That was still the case until the summer after graduation when he -- and FSU -- got a very fortunate break.
As Jarrett told the story Wednesday on the Jeff Cameron Show, then-FSU coach Mike Martin called him up after the Seminoles lost a couple of prospects to the MLB draft in the summer of 1990, and they wanted to see if Jarrett was still available.
There wouldn't be a huge scholarship offer. There might not be a guarantee he would last on the team multiple years. But Martin and assistant coaches Jamey Shouppe and Chip Baker had seen enough of him that they thought he might be able to help at a position where they were suddenly thin.
"He (Martin) presented me an opportunity to be on the team," Jarrett explained Wednesday. "And that's all I really wanted."
Jarrett wasn't bitter that he was Plan B ... or C ... or D. He didn't resent the fact that he wasn't the Seminoles' first choice.
How could he be?
As a kid growing up in Tallahassee, he lived within walking distance of Dick Howser Stadium. His family was filled with die-hard Seminole fans. His school was basically on Florida State's campus. Jarrett often hopped the fence at Howser to take ground balls. He watched more games there and in Doak Campbell Stadium than he can remember.
His parents loved the university with every ounce of their being.
Resentment that he wasn't FSU's first choice? Link Jarrett was simply honored to be the Seminoles' choice at all.
"You didn't learn a lot if you watched me one game," Jarrett told Cameron on Wednesday, when asked about his recruitment. "I think my strength as a player was more the long haul. So I think they saw that."
Of course, it didn't take Jarrett long to earn Martin's respect once he got on campus. He immediately was among the hardest workers on the team, and he was inserted into the second game of the 1991 season as a pinch hitter. Then he started the third game, went 2-for-4, scored a run and recorded nine assists at shortstop.
He would stay in the lineup for the next four years.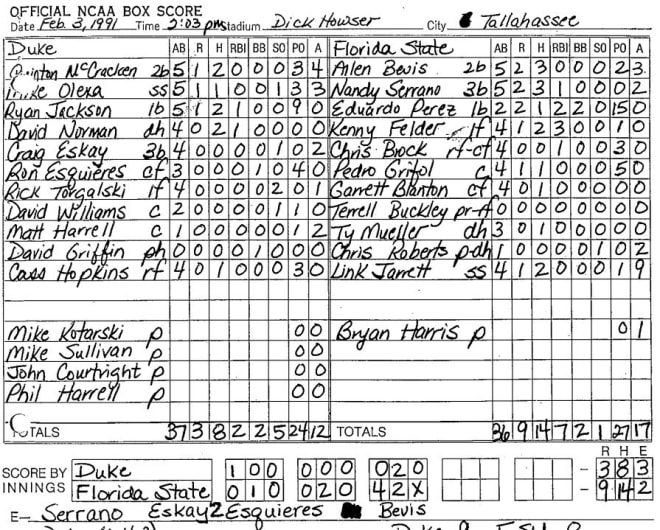 And if you look closely, there are obvious parallels to Jarrett's coaching career.
His first assistant position after playing pro ball for several years was at Flagler College. Then after one year at FSU, he went to Mercer and East Carolina. His first big break came a decade after he got into the business when Auburn came calling. And after a successful three-year run there, he got his first head coaching gig at UNC-Greensboro.
That wasn't a quick ascent either. Jarrett was at Greensboro for seven years before his next big opportunity would come along ... and even that wasn't the one he truly wanted.
When Mike Martin Sr. retired following the 2019 season, Jarrett had just finished that seventh year at UNCG. And the word at the time was that Jarrett wasn't even going to put his name in for the FSU job because he assumed Mike Martin Jr. would be stepping right in.
And at the end of the day -- after a search process that probably wasn't as open as some were led to believe -- that's exactly what happened. Jarrett's old college teammate and roommate, Mike Martin Jr., got the job as expected.
So what did Link Jarrett do? He took a different opening at Notre Dame and immediately turned the Irish into a winner.
They went to a Super Regional in his first full season. Then they put together their stunning 2022 run to the College World Series in his second.
Then just like Mike Martin Sr. had to do at the 11th hour 32 years ago, the Seminoles had to see if Jarrett would be willing to help them out once again.
In the nearly two weeks between the time Martin Jr. was fired and Notre Dame played its final game in Omaha -- opening the door for FSU athletics director Michael Alford to formally begin contract talks -- there was much discussion among fans and media about whether FSU could bring Jarrett home.
Notre Dame undoubtedly was going to try to keep him with promises of more money and improved facilities.
Clemson and Southern Cal had strong interest as well, with promises of contracts in excess of a million dollars a year.
Then there was Florida State.
Even if they hadn't been passed over by their alma mater three years earlier, 99.9 percent of the coaches in big-time college athletics would have chased the money and gone to USC or Clemson.
Truth be told, if Jarrett played his cards right, he could have strung all three schools along and fueled a bidding war. That's how the game is usually played in 2022.
Instead, he really only talked to one. And he gave them a hometown discount.
Jarrett's contract starts out at $875,000 and doesn't reach $1 million until the seventh year. That's less than he could have made in Year 1 at Clemson or USC.
But Link Jarrett didn't grow up loving those schools. He didn't dream of one day playing and coaching for them.
And Jarrett has never been bothered when people ask him to prove himself.
He believes that's exactly what he did these last three years at Notre Dame. Working at a school with little baseball tradition, with substandard facilities and limited ability to practice outdoors because of the weather, he led the Irish to perhaps their greatest season ever.
He believes that experience made him an even better coach.
Yet even after all of that, you could hear the humility in Jarrett's voice as he spoke with Jeff Cameron on Wednesday -- two days after being introduced as FSU's next head baseball coach.
He reflected on his recruitment as a player and described himself as lucky that he grew up in Tallahassee. If not for that fact, he said, there's little chance Martin, Baker and Shouppe would have ever known who he was.
That may be true.
But one could also make the case that Florida State was the luckier party in that relationship.
And three decades later, after very similar circumstances, it feels like the Seminoles just got lucky again.
Contact managing editor Ira Schoffel at ira@warchant.com and follow @IraSchoffel on Twitter.
Don't miss out on our exclusive podcasts! Subscribe Today!
*** Wake Up Warchant -- Apple | Google
*** Seminole Headlines -- Apple | Google
*** The Jeff Cameron Show -- Apple | Google
Or just search for "Warchant" on your favorite podcast provider.
----------------------------------------------------
Discuss this story with other FSU fans on our Seminole Baseball Message Board