Schoffel column: Taggart takes hands-on approach after awful start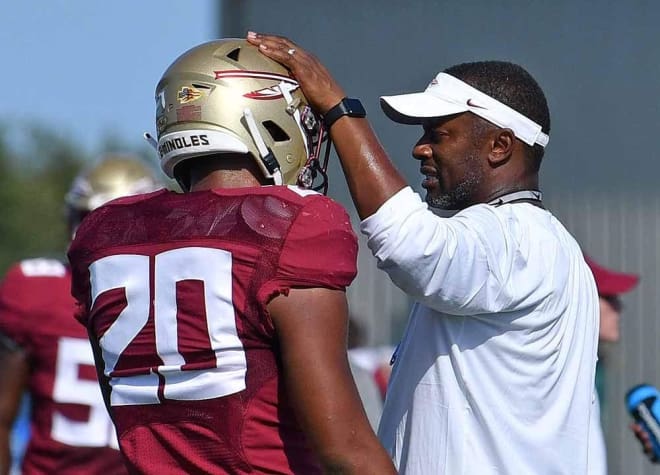 With just over three minutes remaining in Saturday's 30-7 loss at Syracuse, Florida State's fatigued and frustrated defense surrendered a 13-yard touchdown run right up the gut.
It was a fitting capper to a miserable afternoon for the Seminoles.
On a second-and-9 with the game pretty much decided, Orange running back Dontae Strickland snatched the hand-off from backup quarterback Tommy DeVito, burst through the line of scrimmage and was barely touched until he went barreling into the end zone.
If there was any hope left on the FSU sideline, that score erased it. The Seminoles were about to lose to Syracuse for the first time since 1966, and they were about to fall to 1-2 in Willie Taggart's first season as head coach.
As I considered the significance of the moment, I grabbed my binoculars in the Carrier Dome press box and quickly focused them on Taggart, who was down on the FSU sideline, close to the end zone where Syracuse had just scored.
I wanted to see how Florida State's first-year head coach would handle the moment.
Would he throw his hands up in disgust at the way his defense caved in the final few drives? Would he rip into any of the defensive players when they came back to the sideline? Would he just sigh in hopeless resignation?
As it turned out, he did none of the above.
Taggart waited calmly in that spot as several players walked past him on their way back to the bench area. He then stopped junior linebacker Dontavious Jackson for a brief, yet important, conversation.
On the touchdown, Jackson had committed a costly mistake -- one that might not have changed the outcome of this game, but certainly could be disastrous in a close contest down the road.
When Syracuse right tackle Koda Martin sprinted toward him to make a block on the second level, Jackson tried to elude the 310-pound lineman by jumping to his left and attempting to run around the block. All that did was allow Strickland to cut back into the gap Jackson vacated and pick up the easy touchdown.
Taggart had some teaching to do.
By balling up his fist and punching into an open hand, Taggart showed Jackson that his job on that play was to take on the block, not avoid it. By maintaining his gap, he likely would have forced Strickland to run to the right and into the arms of one of FSU's other defenders. Instead, three Seminoles ended up on the outside of the blocker, and Strickland enjoyed a free inside lane to the end zone.
When Jackson nodded in agreement, Taggart gave him an encouraging pat and let him go on his way.
"I always think that no matter -- as long as [time is on the clock] -- every opportunity you get to teach and help your guys, you've got to do it -- no matter what the situation is," Taggart said, when I asked about the exchange on Monday. "And hopefully, he will take that and run with it, and it might be a situation this week where he does it right and it helps us in the game."
That, in and of itself, was a pretty cool moment -- to see a coach find important teaching moments in the final minutes of a blowout loss. That told me something about Willie Taggart.

But honestly, what made the interaction cooler was watching the person who was standing about five feet away and listening to the entire conversation. At first, the man looked on intently without any discernible expression. Then the more he heard, a smile started spreading across his face. He then began nodding his head in agreement.
The person who was watching the interaction was none other than Florida State legend and Pro Football Hall of Fame linebacker Derrick Brooks.
I called Brooks this week to discuss what he saw.
"I know the rules of the defense, and I saw what was going on through my linebacker eyes," he said. "So that's why I was nodding my head in agreement. For one, obviously he was giving him the proper information. And in the bigger picture, he was letting the kid and the world know that he is always competing."
*ALSO SEE: Observations and notes from FSU's Wednesday practice
Brooks quickly acknowledged that he is not an unbiased observer when it comes to Taggart. His son, DeCalon, is a redshirt freshman linebacker who racked up nine tackles at Syracuse. The elder Brooks also has known Taggart since he was hired at USF in 2013. And Brooks was one of the many FSU program insiders who supported the hiring of Taggart when Jimbo Fisher left near the end of the 2017 season.
"A good friend of mine, Coach Tony Dungy, was part of the search committee that endorsed Coach Taggart here at USF," Brooks explained. "So seeing him from day one here and then over the years, building a relationship with him, I've had a rare opportunity to see him work.
"I've seen him bring teams out of the struggle. I've seen him grind with young men when there was no other way to get them out of their situation. I've seen the maturation of him growing as a coach. And I'll put my full support behind him."
One of the things Brooks loves most about Taggart is that he's not just a former quarterback who focuses entirely on the offense and play-calling. In fact, Brooks said, it bothers him when fans and media members act as if those are the only areas of the team Taggart directly influences.
"I think it's important for everyone to know that Coach Taggart is coaching the entire football team, not just the offense," Brooks said. "He's watching everything that's going on, each call, each play. And he knows what each guy's responsibility is on each play.
"He is a complete head coach that is involved in everything when it comes to this team. I know he gets the label of being an offensive head coach, but that's not the case. He's the head coach of the entire football team."
That definitely was on display during the interaction with Jackson at the end of the Syracuse game. Without being up in the coach's box or seeing the play from a television monitor, Taggart knew exactly what the middle linebacker had done wrong. And he wasn't content to let linebackers coach Raymond Woodie address the issue later; Taggart handled it himself right then and there.
And with FSU struggling in several areas through three games -- on offense, defense and special teams -- it appears we'll be seeing more of that in the near future.
During the Seminoles' practices on Tuesday and Wednesday, Taggart spent extensive time with the offensive line. He observed what OL coach Grey Frey was teaching and frequently pulled players aside for one-on-one instruction.
On Wednesday, Taggart also drilled the wide receivers repeatedly on lining up correctly. While that might seem like a very basic assignment to be working on three weeks into the season, Brooks said that detail-oriented approach is exactly what Taggart and his staff need to be doing right now.
"That is the key," Brooks said. "Every team that I was a part of that went through tough times -- obviously more in the pros than in college -- that was the critical focus. The key thing I learned from Coach Dungy and from Coach [John] Gruden was you can always go back to your fundamentals. That's why you spend so much time on them and you develop them -- because things happen and you get away from them. So you go back to those fundamentals, and that sets the foundation.
"I haven't talked to anyone [on the FSU staff this week], but just taking an educated guess, that's probably going to be what they're going to start re-emphasizing now that they have three weeks' worth of games to look at."
While many fans, former FSU players and media have criticized Taggart for the 1-2 start -- some national outlets are labeling him a "bust" and saying he's already on the "hot seat" (both of which are ridiculous statements after three games) -- Brooks said he understands the criticism. But he also believes it's way too early to make any long-term judgments.
Like other Taggart supporters, Brooks points to the tough starts being experienced by other proven college coaches -- most notably Chip Kelly at UCLA (0-3) and Scott Frost at Nebraska (0-2) -- and he remembers difficult first seasons for Nick Saban at Alabama and Kirby Smart at Georgia, among others.
"They have every right to be disappointed," Brooks said of the fans and alumni. "But being disappointed and being non-supportive is two different things. Their disappointment is valid, but I really hope we don't lose any support."
The challenge facing Taggart the rest of this season is daunting. The early part of the 2018 schedule was supposed to be the easiest. The Seminoles are an 11-point favorite this week against Northern Illinois, but if they don't show major improvement, they could be underdogs in six or more of their remaining eight games.
This isn't the first time Taggart has gotten off to a slow start in a new job, and Brooks takes solace in that fact. As a Tampa resident, he watched closely as Taggart took over a woeful USF program and went from two wins in 2013 to 10 wins in 2016.
He saw a head coach who was willing to change his schemes and philosophies to suit his personnel. He watched as Taggart got down in the trenches and worked to help each player develop their skills individually and as part of the greater group.
It's why as much as he hated the result of Saturday's game, Brooks loved seeing Taggart's actions in the final minutes.
"I have 100 percent confidence in Coach Taggart," Brooks said. "I believe our program is in good hands."
For the foreseeable future, it appears those hands will be reaching out to every aspect of the Seminoles' program.
Contact managing editor Ira Schoffel at ira@warchant.com and follow @IraSchoffel on Twitter.
-------------
Talk about this story with other Florida State football fans in the Tribal Council