Seminoles bounce back with 72-61 win over Illinois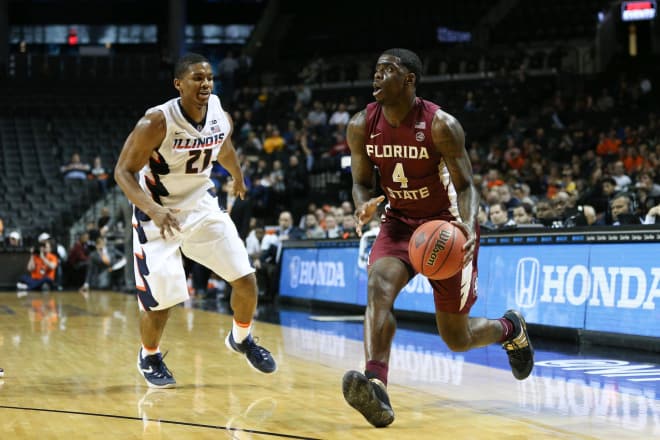 Box Score: FSU 72, Illinois 61
NEW YORK -- Sophomore guard Dwayne Bacon scored 17 points to lead No. 25 Florida State to a 72-61 win over Illinois in the consolation game of the NIT Season Tip-Off on Friday.
Freshman forward Jonathan Isaac had 15 points and seven rebounds for Florida State (5-1), which bounced back from its first loss of the season Thursday. The Seminoles led that game against Temple by 18 points in the second half before faltering down the stretch.
Freshman guard CJ Walker helped FSU on Friday with 13 points, and junior guard Xavier Rathan-Mayes added 10.
Despite getting a game-high 18 points from Malcoln Hill, Illinois (4-3) lost its third straight. Leron Black chipped in with 15 points, and Te'Jon Lucas had 10.
The first meeting between the ACC and Big 10 programs was a taut affair for 30 minutes before Florida State seized control.
FSU will return home Monday to play host to Minnesota in the ACC-Big Ten Challenge. The game is scheduled for 7 p.m. and will air on ESPNU.
---------------------------------------------------------
Talk about this game and the season with FSU's fans on our Seminole Hoops Message Board