{{ timeAgo('2021-04-04 09:51:52 -0500') }}
football
Edit
Seminoles enjoy extended break before finishing spring drills this week
With Florida State University eschewing a spring break this year, like many college campuses, the Seminoles' football team had the opportunity to practice for an entire month uninterrupted.
Head coach Mike Norvell, however, decided that might not be in his team's best interest.
After conducting three or four practices per week since March 9, Norvell has given the Seminoles nearly a full week off surrounding Easter weekend.
***Don't miss out on our great FSU Football coverage. Get your 30-day FREE trial!***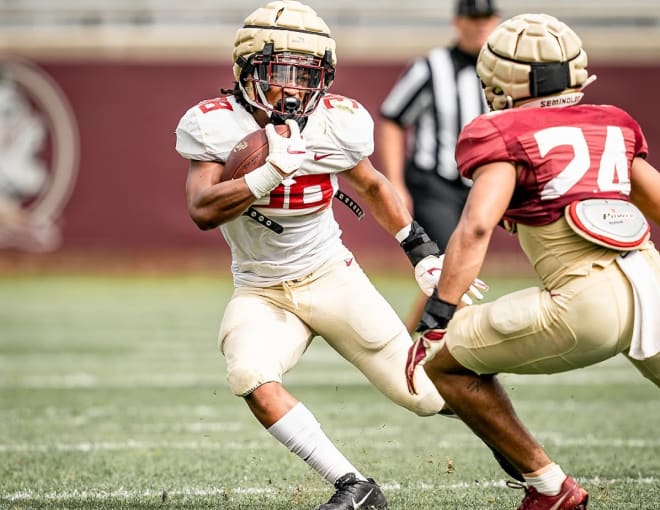 FSU last practiced on Wednesday afternoon. The Seminoles will return for meetings on Monday and then get back on the practice fields on Tuesday.
"This is kind of a half-and-half [approach]," Norvell said.
It's not quite as long a break as if the university had taken a typical spring break, but it's not exactly cramming 15 practices into one month, either.
After conducting scrimmages each of the previous two weekends and then holding an extremely physical practice on Wednesday, Norvell believes his players will benefit from this respite.
"We knew they were going to have a couple of days to regroup and refresh," Norvell said. "Because we've got to have an unbelievable last week here of spring practice. ... It will be good for the guys to get a couple days off. We've been going after it really good."
When the Seminoles return to practice on Tuesday, it will be their 12th of the spring. They will hold No. 13 on Thursday, the spring game on Saturday will serve as the 14th, and they will wrap things up on Sunday.
While several position battles won't be decided until well into August's preseason camp, Norvell said he's excited about what he has seen this spring.
"We're by no means a finished product," the second-year head said. "But I see the proper steps that are going into how we work. And going into how we try to respond to good and bad situations. This team is definitely getting closer. It's embracing the work that is required, and I think the improvements are showing up across the board."
McLendon seizing the moment
If one position group has received consistent praise from Norvell after recent practices, it might be the defensive line.
Norvell has had nothing but positive things to say all spring about senior defensive end Jermaine Johnson, who transferred in from Georgia. Not only is Johnson impressing with his ability to rush the passer and stuff the run, but Norvell says he also has displayed excellent leadership skills and a tireless work ethic.
Redshirt sophomore defensive tackle Fabien Lovett also has received a great deal of praise from Norvell during the past two weeks, as has redshirt junior defensive tackle Robert Cooper.
Frequently lining up with that group on the first-team defense this spring has been redshirt freshman defensive end Derrick McLendon, and Norvell thinks those veterans are helping McLendon raise his level of play and consistency.
"With Leonard [Warner] being out, that's really provided an opportunity for him to seize the moment," Norvell said. "Derrick is really growing from being able to see the example from a guy like Jermaine, and seeing the elevation in Fabien and what he's doing, Cooper ... that is a great example for a young guy like Derrick."
Florida State has been a little short-handed at the defensive end position, with Warner sidelined by a foot or ankle injury and South Carolina transfer Keir Thomas still not cleared to participate.
But McLendon, a former four-star recruit who recorded seven tackles and 2.5 tackles for loss last season, said he's trying to take advantage of his extra opportunities.
"Having 60-play practices instead of 20-play practices," McLendon said. "That's a big jump mentally, but I'm making the jump."
----------------------------------------------------
Talk about this story with other Florida State football fans in the Tribal Council