Seminoles pound Samford again, 13-4, complete the sweep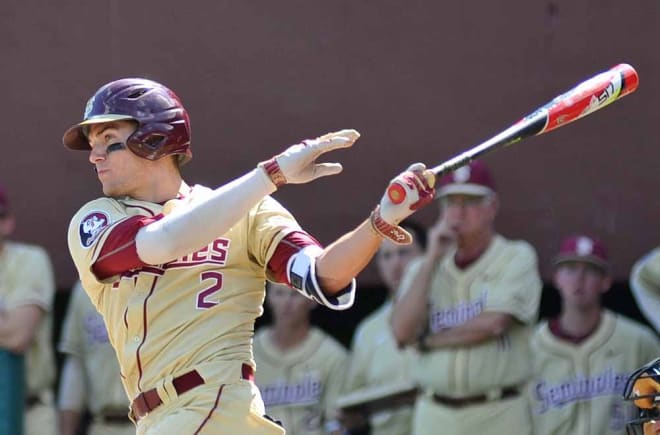 Sparked by an impressive first start by freshman left-hander Drew Parrish and some timely hitting, the No. 5 Florida State baseball team completed a three-game sweep of visiting Samford with a 13-4 victory on Sunday.
The Seminoles (5-2) sprinted out to a 5-0 lead in the second inning and extended it to 8-1 in the fourth, and Parrish never let the Bulldogs get going offensively. He retired the first nine batters he faced and cruised through six sharp innings. The 5-11, 180-pounder from Rockledge, Fla., allowed just one run on two hits while striking out six and surrendering no walks.
FSU was led offensively by sophomore outfielder Jackson Lueck, who drove in five runs, with three coming on a bases-clearing double in the second. Sophomore catcher Cal Raleigh went 2-for-5 with 2 RBIs, and freshman outfielder J.C. Flowers went 2-for-3 with 2 RBIs.
FSU only recorded eight hits in Sunday's game but capitalized on 12 Samford walks. The Seminoles won the three games by a combined margin of 37-7.
FSU's next game is scheduled for Tuesday at Jacksonville University. First pitch is set for 5 p.m. The Seminoles then will return home for a three-game series against Oakland this weekend.
--------------------
FULL RELEASE FROM FSU:
Behind two-hit baseball from Drew Parrish (1-0) in his first career start, Florida State (5-2) completed a weekend sweep of Samford (2-4) with a 13-4 winSunday afternoon on Mike Martin Field at Dick Howser Stadium. Parrish struck out six Bulldogs without allowing a walk in six innings, and Jackson Lueck tied a career high with five RBI on the day.
"The way that we played, the focus we showed, was very impressive," head coach Mike Martin said of the weekend sweep. "I can't say enough about the way we approached it. I'm pleased with the effort. Glad we were able to get everyone in the ballgame again.
"Seven games doesn't make a season, but I'm pleased with how we played these last three."
In his first start, Parrish didn't allow a baserunner until the fourth inning and faced 19 batters in recording his 18 outs. The Rockledge, Fla., native threw just 69 pitches.
"Sometimes you look out there at a guy making his first start in this arena," Martin continued. "He shows signs of intimidation. He wasn't intimidated by anything. He was playing baseball."
"My nerves were kicking a little bit, but I found a way to calm down and pitch the way I needed to pitch," Parrish said.
The Seminole offense got going quick against the Bulldogs on Sunday, leading 5-0 after two innings. Freshman J.C. Flowers made the score 2-0 with a bases loaded single to left field, scoring Rhett Aplin and Quincy Nieporte. After a walk to Taylor Walls reloaded the bases, Lueck knocked a bases-clearing double to left field to make the score 5-0 FSU.
"I felt like I was too aggressive early on, so I was trying to slow myself down," Lueck said. "I wanted to see the ball as long as I could, and I was fortunate to put a good swing on it."
Walls had three walks on the day, increasing his streak of reaching base to a career-high 21 games. He has 13 walks in seven games in 2017.
Parrish's only trouble on the day came in the fourth inning, when Samford's T.J. Dixon doubled to open the frame and scored on an RBI single by Branden Fryman. Parrish settled down after that, forcing a double play to retire Fryman and a popup to catcher Cal Raleigh to end the inning.
In the bottom of the fourth, Flowers walked and senior Matt Henderson reached on an infield single, and both runners advanced a base on a passed ball by catcher Ben Carrick. Lueck notched his fourth RBI of the day on a sacrifice fly to score Flowers, and Henderson followed on a balk by Jones to make the score 7-1. Raleigh hit his second double in two days and scored on a throwing error by third baseman Ryan Crockett.
In the fifth, FSU added a run on Henderson's sacrifice fly to score Dylan Busby, who walked and stole a pair of bases to get into scoring position.
After Parrish retired the side in order in the sixth inning to wrap up his day, Chase Haney entered in the seventh and stranded runners on the corners without any damage.
In the seventh, FSU scored its final four runs on just two hits. Freshman Tyler Daughtry opened the inning with one of his three walks on the day, and Flowers added his second hit with a single to left field. After Daughtry was thrown out at third trying to advance on a passed ball, three consecutive walks by Henderson, Walls, and Lueck plated Flowers to make the score 10-1.
Lueck's walk was his fifth RBI of the day, tying a career high set last season at Wake Forest.
Raleigh followed with a two-run single up the middle that scored Henderson and Walls, and Nick Derr's sacrifice fly plated Lueck to cap the FSU scoring.
In the eighth, Samford scored three runs off FSU reliever Alec Byrd before Drew Carlton came and closed out the ninth inning in his first relief appearance since his freshman year in 2015.
Samford starter Stephen Jones (0-1), a Tallahassee native that played at Chiles High School, allowed seven earned runs in 3.2 innings pitched. In total, the Bulldogs used eight pitchers on the afternoon, allowing 12 walks and striking out nine. In contrast, FSU pitchers walked just two batters and struck out nine.
This is the first time since 2011 that FSU has allowed four runs or fewer in each of the first seven games of a season. With Parrish's quality start against the Bulldogs, Seminole pitchers have combined for a 2.29 ERA in 63 innings.
FSU's starting pitching is averaging a 1.28 ERA in 42.1 innings in 2017 (six earned runs allowed in seven starts).
Up next for the Seminoles is the first road game of the year when FSU and Jacksonville face off Tuesday at 5 p.m. Sophomore Andrew Karp (7.0 IP, 9 K Tuesday vs. USF) will take the mound for the Seminoles.