Seminoles' rally comes up short at No. 15 Miami, 80-74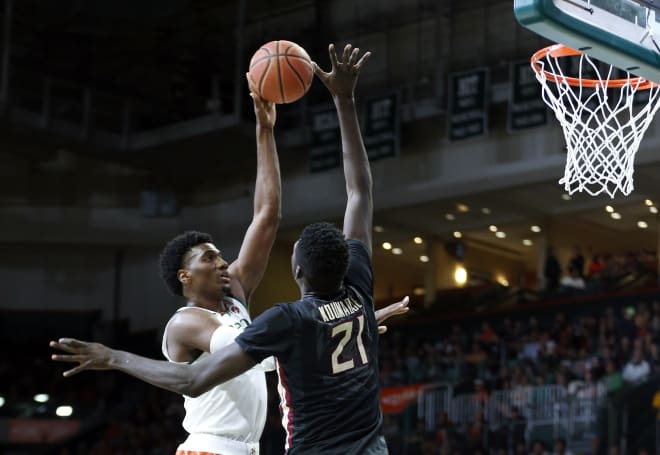 Florida State's brutal early conference schedule has certainly lived up to the billing.
For the third time in eight days, the No. 24 Seminoles squared off Sunday night against an ACC opponent ranked in the top 15 nationally. And after suffering an 80-74 loss at No. 15 Miami, the 'Noles are now 1-2 in those games -- they lost earlier at then-No. 4 Duke and knocked off No. 12 North Carolina at home.
Unlike those other games, FSU trailed by a large margin for most of the way against rival Miami -- the Hurricanes led by 13 at halftime and by double-digits for much of the second half.
FSU (12-3, 1-2) did stage a late rally, cutting the deficit to four points in the final minute, but the Hurricanes (13-2, 2-1) were able to hold on and secure the win.
*ALSO SEE: Game Thread -- Chat, updates, discussion with our Corey Clark
Florida State was led by senior guard Braian Angola with 18 points and sophomore guard Trent Forrest with 12.
Despite the loss, FSU was excited to get junior center Christ Koumadje back from a foot injury. The Seminoles' top post player had missed most of the season before being cleared this past week. Koumadje finished with five points and eight rebounds in his first game back.
FSU returns to action Wednesday night at home against Louisville. Tipoff is scheduled for 9 p.m.
-----------------------------------------------------
Chat with other FSU fans about the win on the Seminole hoops board