Seminoles rally from big deficit to take series opener against Oakland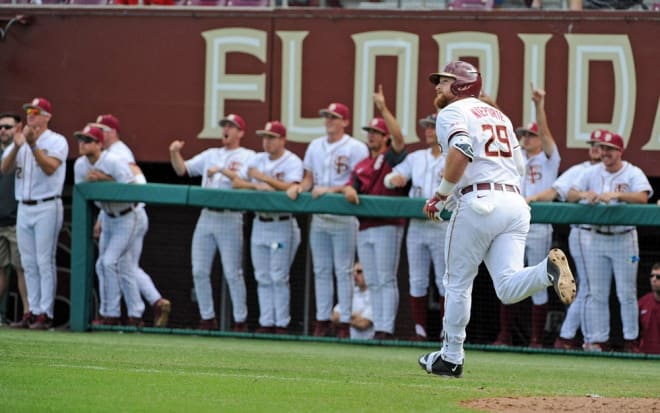 Behind four RBIs each from Quincy Nieporte and Jackson Lueck, Florida State rallied from a seven-run deficit to beat Oakland 18-10 Friday evening at Dick Howser Stadium. It was the largest deficit overcome to win a game for the Seminoles since beating Virginia Tech 18-12 after trailing 10-3 in 2011.
"That ball club played extremely well for four innings," head coach Mike Martin said of the Golden Grizzlies. "Had us 7-0, and then we battled back and got it done. It just goes to show how unpredictable our game is."
Starting pitcher Cole Sands struggled early against the Golden Grizzlies (1-8), allowing a career-high seven runs (three earned) on seven hits in just three-plus innings of work. Oakland raced out to a 7-0 lead through 3.5 innings, leaving a Howser crowd of 4,035 stunned in the series opener.
In relief, senior Will Zirzow pitched 3.0 innings, allowing just one hit and striking out five without allowing a run. His effort in the middle innings gave the Seminole bats time to heat up and win for a fifth straight game.
"I know if I can do my job, this team never stops fighting," Zirzow said. "Knowing the defense we have and the hitters we have, no game is ever over."
Down 7-0, freshman Tyler Daughtry singled through the left side and eventually came around to score on a wild pitch from Oakland starter Jake Lee. The right-hander would leave after throwing 110 pitches.
The 'Noles (7-2) chased Lee in the fifth, scoring four runs with two outs. Taylor Walls and Lueck each recorded outs to begin the inning, but Cal Raleigh, Nieporte and Daughtry all walked, loading the bases for a two-run single from Nick Derr. Derr was the final batter Lee would face, giving way to Nate Schweers. After a passed ball moved Derr and Daughtry up a base, Dylan Busby smacked a double that scored both runners.
On Busby's double, a balk was called that would have scored Daughtry, but the play continued, allowing Busby to record his second double of the season.
Florida State would tie the game in the sixth inning, scoring a pair of runs after again having each of the first two batters record outs. Raleigh's double off the right field wall scored Lueck, who reached on a single, and Raleigh advanced to third on an error by the catcher. After Nieporte was hit with a pitch, Raleigh would tie the game on a balk from Schweers.
In place of Zirzow, Ed Voyles (1-0) pitched 1.1 innings, recording the final out of the seventh inning prior to FSU taking the lead. Connor Fannon (0-1) was tabbed with the loss for Oakland without allowing a hit, hitting Busby and walking J.C. Flowers and Rhett Aplin to load the bases. Fannon was replaced by Jared Burkert, who allowed all three runners to score on a wild pitch and a two-run single from Lueck.
Leading 10-7 with just one out in the seventh inning, Raleigh walked to reload the bases for Nieporte, who cranked his third home run of the season, and second grand slam, over the left field wall to score what proved to be the winning runs for the Seminoles and make it 14-7 FSU.
"My mentality is the same, whether bases loaded or guys in scoring position with less than two outs," Nieporte said. "I'm looking to drive something deep – not necessarily hit a home run. My teammates get on base and I'm just trying to drive them in."
Senior Hank Truluck, pinch-hitting for Derr, hit his first home run of the season and second of his career on a shot off the left field foul pole, providing FSU with a 15-7 lead through seven innings.
Florida State and Oakland both scored three runs in the eighth inning before Steven Wells relieved Voyles and closed out the game in the ninth.
In total, the Seminoles walked 12 times while striking out just five times; eight players combined for 10 hits, and only Lueck (three) had more than one hit; and 10 players scored a run in the game for FSU.
Games two and three of the series will take place Saturday and Sunday at 1 p.m., with both games airing live on the ACC Network Extra (formerly ESPN3).
------------------------------
Talk about this story with other FSU Baseball fans on the FSU Baseball Forum