Seminoles slam Oakland again, 14-6, record series sweep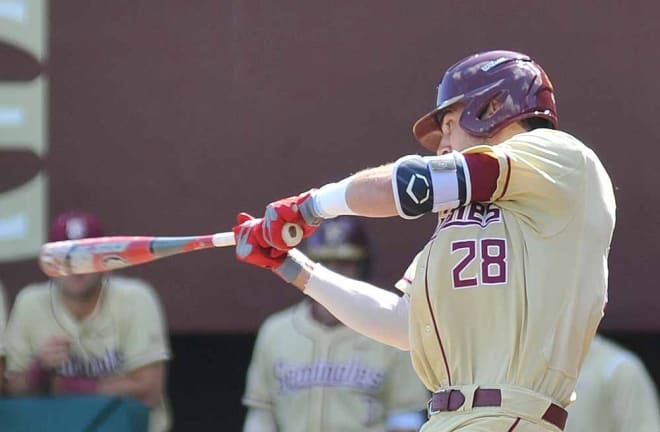 The Florida State baseball team pounded out 13 hits and racked up double-digit runs for the third straight game to record a 14-6 victory and finish a three-game sweep of visiting Oakland on Sunday.
The Seminoles (9-2) were led offensively by Quincy Nieporte (2-for-3, HR, 3 RBIs), Tyler Daughtry (3-3, 3 runs, 3 RBIs) and Dylan Busby (3-4, 4 runs).
Senior right-hander Jim Voyles threw three solid innings of relief to record the victory; it was his first decision in five appearances.
FSU starter Drew Parrish battled through some struggles in his second career start, allowing five runs (four earned) on seven hits in four innings.
Florida State next will play games Tuesday and Wednesday at UCF in Orlando before returning home to open ACC play next weekend against Boston College.
---------------
Release from FSU Sports Information
Freshman Tyler Daughtry was 3-for-3 with three runs scored and three RBIs, and Florida State (9-2) beat Oakland (1-10) 14-6 Sunday afternoon on Mike Martin Field at Dick Howser Stadium. The Seminoles outscored the Golden Grizzlies 44-17 on the weekend, scoring 10 or more runs in all three games of a weekend series for the first time since 2010.
"There's a lot to like about the way we played," head coach Mike Martin said. "Also a lot to improve on. Our pitching was good, and I tip my hat to (Oakland). I was really pleased that we kept battling."
Jim Voyles (1-0) earned the win in relief of Drew Parrish, going 3.0 innings while allowing just two hits and striking out five Oakland batters, one shy of his career high.
Both offenses came out intent on putting crooked numbers on the scoreboard as Florida State led 8-5 through three innings. In the first two games of the series, FSU did not score before the fourth inning.
The Noles struck first on Quincy Nieporte's sacrifice fly, scoring Taylor Walls. Walls reached on his 18th walk of the season, extending his streak of reaching base to 25 straight games.
Oakland took the lead in the second with three runs off Parrish. Tyler Janish had an RBI single, and Zach Sterry had a two-RBI single in the inning. Parrish would go four innings on the mound, allowing five runs on seven hits and striking out five.
The Oakland lead did not last long, as FSU scored five in the bottom of the second. Second baseman Nick Derr was hit by a pitch to lead off the inning, the 11th time a Nole batter was hit on the weekend. After Dylan Busby's single, Derr scored on Daughtry's RBI single. Busby would score on J.C. Flowers sacrifice fly, one of three sac hits (one sac fly, two sac bunts) for Flowers on the day.
Walls' second walk of the day was followed by a bunt single from Jackson Lueck and the ensuing fielding error on the first baseman allowed Daughtry to score. Cal Raleigh hit a sacrifice fly (one of four on the day for FSU), and Nieporte's RBI single made the score 7-2 FSU.
After both teams scored a pair in the third, the bullpen came into play. Behind Voyles' effort in relief of Parrish, the Noles threw Alec Byrd and Drew Carlton for one inning each. In total, the FSU bullpen went five innings, allowing three hits and one unearned run while striking out seven.
For the Grizzlies, Nick Parr (1-2) went 3.2 innings in his third start of the year, allowing seven earned runs and seven walks to just one strikeout. The OU bullpen of Nate Schweers and T.J. Shook combined for 4.1 innings pitched, allowing six runs on seven hits and recording three walks and three strikeouts.
The Noles capped the scoring with four runs in the sixth and two more in the eighth inning. Nieporte had his third RBI of the day on home run No. 4 this season. Nieporte finished 2-for-3 with three RBI and a run scored. For the weekend, Nieporte led FSU with a 1.429 slugging percentage, with two of his four hits going for home runs. He hit .571 with eight RBI, three walks, was hit by three pitches and struck out just once.
As a team, the Noles scored 44 runs on the weekend after scoring 37 in three games against Samford February 24-26. It is the first time since 2010 against Hofstra that FSU scored 10 or more runs in every game of a three-game weekend series.
Next up for the Noles is a two-game series at UCF on Tuesday and Wednesday. Tuesday's game will begin at 6:30 p.m. and Wednesday's will start at 4:00 p.m. FSU returns home for a three-game set against Boston College to open ACC play on Friday.