Seminoles storm back to drop Wake, set school record for ACC wins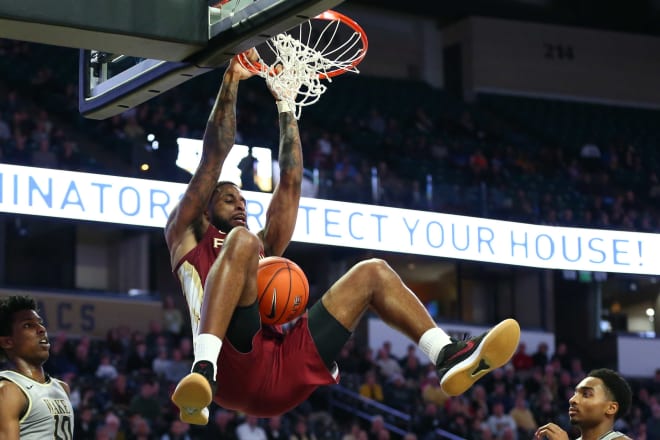 It wasn't the prettiest of starts by any means. Not on Saturday, and not to the ACC schedule in general.
But it was a record-setting ending.
Trailing 14-2 to start the game at Wake Forest on Saturday, the Florida State Seminoles continued to chip away at the lead. They then finally put their foot on the gas midway through the second half, going on an 18-0 run that sparked a 65-57 comeback win over the Demon Deacons in Winston-Salem.
With the victory Florida State, which began ACC play with a 1-4 record, finished the regular season with a 25-6 mark overall and a 13-5 record in conference play. The 13 ACC wins is the most by an FSU team in school history.
Like many of the previous 12 victories this season, it didn't come easy.
Florida State struggled mightily shooting the ball in the first half, connecting on just 1 of its first 11 3-point attempts and hitting just 9 of 28 from the floor. Meanwhile, Wake wasn't any better from the floor in the first 20 minutes, but the hosts were an amazing 16 of 16 from the free-throw line to take a 31-24 lead into halftime.
That advantage was still 45-40 with 10:10 remaining. But that's when Trent Forrest started the game-changing run. He hit a turnaround bank shot for a bucket. Then he found P.J. Savoy for a 3-pointer from the corner to tie the game at 45.
Forrest then made a short jumper. Phil Cofer scored on an offensive putback. M.J. Walker buried a 3, and then Terance Mann put his imprint on the game with a basket while being fouled. He missed the free throw but got the rebound and hit a little shot in the lane.
Mann then made two free throws on the next possession, and the Seminoles were in control.
Florida State played 11 players on Saturday. All 11 scored. Only one player was in double-figures, and that was Forrest with 11.
In the first half, Walker, Mann, Forrest and Cofer combined for exactly 0 points.
In the second half, they had 34.
Christ Koumadje, who was the only starter to score in the first 20 minutes, finished with 8 points and 10 rebounds and three blocks.
Wake Forest, which scored on in its first four possessions of the game, was just 16 of 61 from the floor overall.
Florida State was 24 of 56 overall (43 percent), and after hitting just 2 of 13 3-pointers in the first half the Seminoles were 4 of 8 after halftime.
The Seminoles, who have a double-bye in the ACC Tournament as the No. 4 seed, will play again on Thursday afternoon in the quarterfinals against an opponent to be determined.