Seminoles turn back pesky Manhattan, roll to 83-67 victory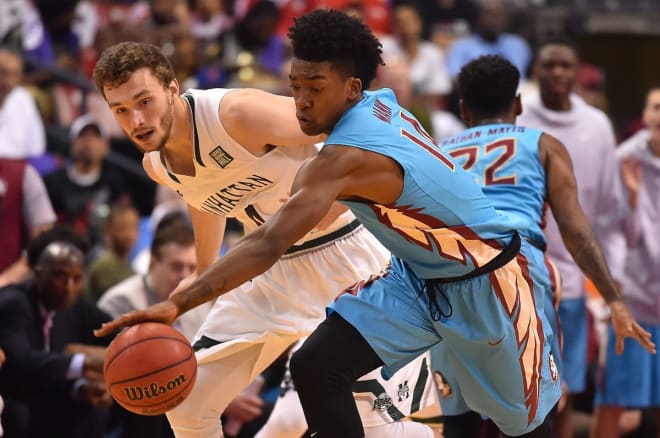 Box Score: FSU 83, Manhattan 67
SUNRISE, Fla. -- The No. 23 Florida State men's basketball team turned up the defensive pressure in the second half Saturday and blew open a close game, rolling to an 83-67 victory over pesky Manhattan in the Orange Bowl Classic.
FSU improves to 11-1 with the victory, with one more non-conference game remaining before the start of ACC play. That ties for the best record through 12 games in FSU history.
Manhattan falls to 3-8, but not before throwing a minor scare into the Seminoles in the first half.
By shooting nearly 60 percent from the field, the Jaspers went into halftime trailing by just five points. But FSU picked up its defensive intensity in the second half, limiting the Jaspers to just 27.6-percent shooting in that period.
FSU got balanced scoring, but sophomore swingman Dwayne Bacon led the way with 16 points. Freshman guard Trent Forrest scored 10 points off the bench, and junior Xavier Rathan-Mayes scored 10 as well. Three other Seminoles scored nine -- sophomore Terance Mann, freshman Jonathan Isaac and junior Phil Cofer.
The Seminoles were playing without freshman point guard C.J. Walker, who has a minor knee strain.
FSU's next game is Monday at home against visiting Samford.
------------------------------------------
Talk about this story with other Florida State basketball fans in the Seminole Hoops Talk