Signee update: OL Baveon Johnson not waiting to put in extra work
Baveon Johnson, the nation's No. 1 center prospect, already is working hard in preparation for his summer arrival at Florida State. In our latest Signee Update, Johnson explains how he's getting ready for the transition to college, what he expects to accomplish as a freshman and why he has loved the Seminoles since he was a young child. Johnson also discusses the quality of talent that comes out of Polk County in central Florida each year.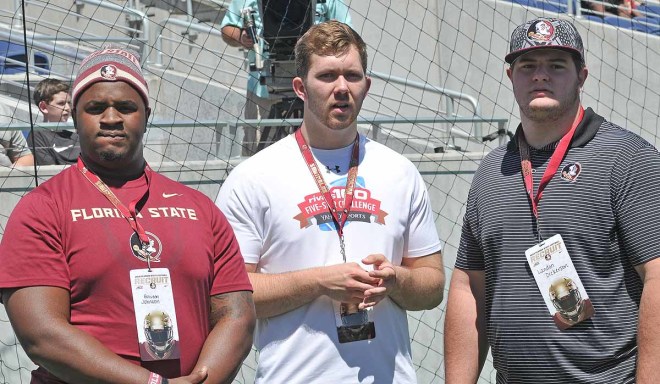 Position: Center
Redshirt: TBD
Jersey preference: No. 51
Roommate: OL Mike Arnold
Major: Mathematics
Arrival Date: June 18
School that finished second: Alabama
Alabama and other schools tried to make a push for Rivals100 center Baveon Johnson, but Johnson said his heart has always been with the 'Noles. He said he grew up a major fan of Florida State, much like current Seminoles safety Derwin James, who also is from Polk County.
"The first visit I went over there was actually with Derwin James," Johnson said. "And it felt like family -- home. Now when I got the offer, I didn't want my recruitment to end because I wanted to experience the different places. But I knew once I got that offer I was going to FSU."
Now that the fun of the recruiting process is out of the way, Johnson has gotten down to business and talks with Warchant.com about what he's been doing since National Signing Day.
So far, he said, his primary focus has been on slimming down and also learning FSU's playbook.
"I'm now at 325 pounds. I was at 347 pounds," Johnson said. "I've just been eating a lot better and running a lot, sprinting. I just needed to get my weight where I wanted it to be. I still want to drop more weight and get down to 315 pounds when I get to FSU."
Johnson said he also has been diligent about studying the plays and other materials he has received from FSU offensive line coach Rick Trickett.
Click here to read more from Baveon Johnson, including what position he will play in college, his thoughts on a recent conversation with a former Seminole legend, FSU's success with recruits from Polk County and more.
Other 2016 Signee updates
RB Amir Rasul: Miami product brings more than just speed to FSU
TE Naseir Upshur: Philadelphia product's love of FSU grows after unique commitment
LB Keion Joyner: Joyner finally makes his awaited visit, talks grades, FSU, more
WR Keith Gavin: "I feel it's my turn now"