Streak over as cold-shooting Seminoles fall at No. 8 UNC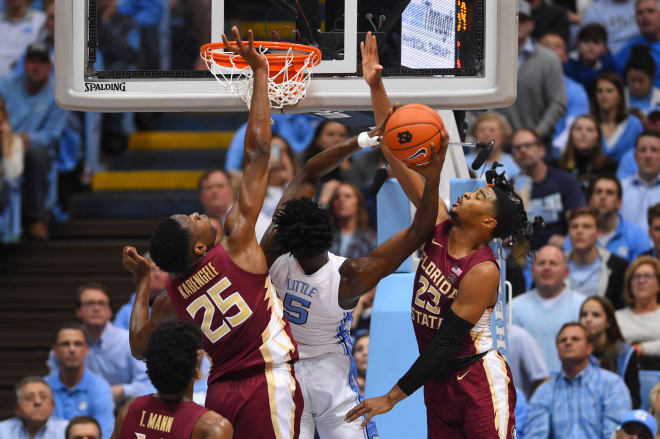 Playing North Carolina in Chapel Hill was always going to be a difficult game for the Florida State Seminoles.

But hitting just one basket in the final 10 minutes of the game made it impossible.
Florida State's school-record eight-game winning streak was halted on Saturday in a 77-59 loss to the red-hot Tar Heels, who have now won 10 of their last 11 games.
The Seminoles are now 21-6 on the season and 9-5 in the ACC. North Carolina is 22-5 and 12-2.
When RaiQuan Gray drilled an open 3-pointer with 10:33 left, the Seminoles were only down 58-54. But Luke Maye answered right back with a 3 of his own just 11 seconds later to spark a game-clinching 16-1 run.
Maye also banked in a 3 from the top of the key during that stretch and Cameron Johnson made a contested 3 from the corner as well.
Meanwhile, Florida State missed nine straight shots and didn't hit another field goal until Devin Vassell's 3 with 1:58 left. By that time, the Seminoles were down 15 and the game was over.
David Nichols led the Seminoles with 16 points. Terance Mann added 10 points, six assists and four rebounds. Leading scorer Mfiondu Kabengele, who got into foul trouble, was limited to eight points and six rebounds.
Florida State, which had one its four previous road games by double digits, shot just 30.5 percent from the floor overall, including less than 25 percent in the second half.
The Seminoles were also out-rebounded 47-32.
Not a great recipe to beat one of the most talented teams in America.
Johnson had 18 and 10 for North Carolina. Freshman Nasir Little, who came into the game averaging 9.3 points and 4.2 rebounds, had 18 and 8 for the Tar Heels. Maye finished with 15 and 11.
The Tar Heels shot 42.6 percent from the floor and were 7 of 20 from 3.
Florida State's starting trio of M.J. Walker, Phil Cofer and Trent Forrest were a combined 3 of 22 from the floor and 0 of 9 from 3-point range. Forrest, who hobbled off the floor in the second half after apparently re-aggravating his turf toe injury, finished with 6 points, 4 rebounds and 2 steals.
He did return later in the half.
Florida State plays again on Monday night against Notre Dame.