Sunday conversation with Bobby Bowden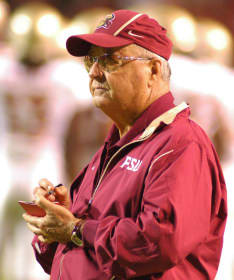 Florida State football coach
Bobby Bowden
spoke with members of the media
via conference call Sunday afternoon following FSU's loss to Maryland. The
following is a transcript of that conversation:
Here is the rest of the transcript of that interview:
Q: Can you tell us the process of how Drew was injured and how much he could
have played last night.
BB: This is the way I understand it, somebody had something in the paper or
somewhere I heard he was hurt in his room or something. We were out there
practicing on Wednesday and I was up in the tower and I noticed while we
were running plays that he was sitting over there on the bank with ice in
his ankle. I was thinking 'what in the world has happened here.' So then I
stood up on the tower and Xavier got all the reps, I noticed he was going
with the first team and Drew was not there. When I came down I asked what
was the problem with Drew and the trainer said he was just warming up and
it's kind of like he tripped and something was wrong with his ankle. And I
said 'well, you think he will be okay for Saturday?' He said, 'yea, I think
he will.' Anyway the next day I thought he would be out practicing but he
didn't do anything again. Then in talking to the trainers they said we'll
do what we need to do to it but we were sure he would be ready by Saturday. By
Friday, we didn't workout but the response was he was better. Daryl
(Dickey) and Jeffrey (Bowden) informed me that we will probably need to
start Xavier in the ballgame because the doctors are a little concerned
about Drew if he plays. He could get knocked out for the year or so and so.
So I said 'let's wait until warm-ups and let's warm-up and be sure. I
think he's less likely to make mistakes so let's warm-up before the ballgame
and see.' We warmed up before the ball game and everybody agreed, including
the doctors, that Drew should be held out. That's the way that went.
Q: Did you try to simplify the gameplan for Xavier or were you confident
with the practices during the week that he would be able to handle it?
BB: I don't think we changed a thing.
Q: When will you make the decision on who starts Saturday?
BB: When will we make the decision? I'm not sure, if it's close it (the
decision) will probably be as late as we can make it. If we feel like we
ought to do this or do that. We will have to wait to see how Drew's ankle is
and then go from there. But I feel much more secure now by on what I saw
happen the other night. Makes you feel like you have two quarterbacks
instead of one. Now comes how are you going to use them.
Q: How will you go about making that decision?
BB: It might be that we can't answer that. It might be the doctor says that
Drew is not ready and the answer is already there by the doctors. It could
be that Drew is ready to go again and so is Lee and we'll have to decide
which one is going to get the first reps. We don't have to decide who's
going to play until gametime. I don't think it's a drastic situation.
You've got a first team quarterback that couldn't play, then you've got a
second teamer that got in there and played lights out. It's a nice problem.
Q: That was probably as good a game a quarterback has played for you in a
long time.
BB: It sure was. It reminds you that some of the great days that Chris Rix
had. He had some great days like that, just not every week. That was an
amazing thing. We put him (Lee) in for one quarter at Duke and he got three
interceptions in one quarter. When we put him in the fourth quarter he
played real well. The question is 'how is he going to play now?' In the
past it's kind of been that way but that's the first time he really made
some things happen. I was wanting him to run and yet when I put him in the
game he was reluctant to run. He'd run and kind of get to the sideline. I
wanted him to run, take off and try to score. He did that yesterday and
nobody told him to do that, I didn't tell him to.
Q: When Antone (Smith) was talking today, he mentioned a lot about the calm
Xavier had in the huddle. Was that one of the things that surprised you the
most about Xavier considering some of the off and on performances he's had
in the past?
BB: In the huddle? No, it didn't surprise me a bit. He's calm. He's a
calm individual. What disturbed me is what happened when he snapped that
ball and when you get in trouble what you do with it, and the game Saturday
he did the opposite of what I've been seeing.
Q: Xavier said, and some of his teammates confirmed this, that he had
practiced very well with the ones and the twos on Wednesday and Thursday.
Have you built up some comfort, even knowing that Drew might play, from what
you saw those two days of X playing?
BB: Yes, watching him work Wednesday and watching him work Thursday, I
watched him very closely. I usually spend most of my time watching the
quarterbacks. I watched him closely. I felt, after Duke, I said it looks
like he knows what we're trying to do and he was doing it pretty good in
practice, so yes I felt much better about it. After watching him work both
Wednesday and Thursday, (quarterbacks coach) Daryl (Dickey) and (offensive
coordinator) Jeff (Bowden) both felt better about him.
Q: Defeat is obviously deflating, but did you feel there was something
exciting or invigorating about the offense last night? Is that something of
a silver lining in a season with some goals that have already disappeared?
BB: Well it was. I think we may have had as many drives for scores as we
did in any game this year, except the ones like Duke and Rice, where the
other team was out-manned. They didn't give us nothing, ya know? What was
the shortest that we drove? They didn't turn it over a time did they? So,
anyways, we had to drive a long way. We haven't done that, that frequently
and that was encouraging. I looked at the film and we lost the game on our
kicking game. That's the thing that disturbs me the most, and I'm gonna
address it with our coaches when I meet with them in the morning. We have
got so many guys on our kicking team that would normally never be playing,
that are going down on the punts and going down on the kickoffs and missing
tackles. I think we're simply gonna have to put some starters on there. You
know, we did that with (Geno) Hayes in the Duke game. We put Hayes on the
kickoff team because we got ripped the week before against N.C. State. They
brought that kickoff back 60 yards and we had our walk-ons in there on
instead of them. So (linebackers coach) Kevin (Steele) said to me you might
want to put the first-teamers back in there because we can't afford to give
up that kind of yardage. So we started Hayes against Duke and he gets hurt.
That's the one thing you're scared of. If you have a big lead, you get him
out. Usually the people you want on your kickoffs are backs and linebackers
and we had so many of them hurt we had to put in a lot of walk-ons. When I
look at that game there, if we could've won the kicking game I think there
is no doubt we would've won the game.
Q: Is it fair to say that even if Drew does become healthy, that Xavier has
forced a difficult decision on you guys?
BB: Um, yeah. Yes, the only way I address it is that it's a good problem,
but it is a problem, so there is gonna be a lot of disappointment anyway you
go. So all of your kids have to have great unselfishness, but we'll
see what happens. Again, if Drew don't get better there ain't a choice.
Q: You have usually had the policy that a starter can't lose his job due to
injury. I want to know how you weigh wanting to be faithful to a kid that
when he comes into a situation like that and provide something for you that
you might not usually have. Is that part of the difficulty in that decision
weighing these two things?
BB: I don't know where that statement came from. We used to have that rule
that you can't lose your job to injury. The guy had to beat you on the
field. Now, we stuck by that sometimes, but sometimes we haven't. That's a
rule that's convenient, so we're gonna play the guy that we think can help
us win.
Q: I know coaches don't like to talk about quarterback controversies, but is
this something the team can rally around with real competition?
BB: The competition probably will help. Even though he had a tremendous
game, and surprised everybody. He gave us running, but we still lost the
game, so you still have to keep that in mind. What are we gonna do about
that? I don't know. I think I'll have to have input from the coaches and
we'll have to watch practice this week to see what we're seeing.
Q: Xavier never came to you and said I want to transfer, but a lot of kids
in his position would look to leave. So is Xavier a little different in
that regard. Has the surprised you?
BB: Did it surprise me? No. Had he left, that wouldn't have surprised me.
I always say stick with it, stick with it, stick with it. I can give him a
good example, that's what history can give you. I'd say look, remember we
had old Casey Weldon and we had Brad Johnson here? Casey beat Brad out in
the middle of their junior year. Casey beat him out in the Auburn game when
he went in and led us to a lot of scores, and then so Brad had another year
of eligibility so he stayed with it. Now the pros are gonna find you no
matter where you are, pros are gonna find you. My first year at Florida
State, I had a quarterback that was on the B team, and he got drafted. So,
anyways, Brad got drafted and Casey got drafted. Brad's still playing, and
Casey played for a certain amount of years. It just happened that one of
them was better off as a college quarterback. I tell them that. Men, this
is what happened in the past, don't get impatient. If you got he stuff they're gonna find you no matter where you are. You don't have to transfer to some little old school, or go out west or somewhere else, just stay right here. Plus, you never know what's gonna happen. If the other guy gets
hurt, you're starting, and that's what happened. I think he had enough
maturity not to leave. I remember we had a quarterback here when we had
(Danny) Kanell. Kanell had one more year, so he left and I never heard from
him again. Nice kid, great kid, but I never heard from him again. So what
I'm saying is that he could've gotten discovered here as easy as he could've
somewhere else. Lee is smart enough to see that, and mature enough not to
do anything stupid.
Q: Did doctors give you any indication that Drew would be able to get on the
field tomorrow?
BB: I didn't talk to them. You know, unless its something tricky, I would
think he'd be about ready. Randy Oravetz explained it to me like there is a
foreign object in there like when you get a chip on your knee and it gets in the joint and doesn't bother
you, then all the sudden it will fall into a position where you feel like
your knee is coming off, but then the next day it could be fine again. So
that could be the type of thing he has in his ankle. He's got something
floating around in there that has got into a bad position, and locked it up,
and it will come floating right back out. I don't know.
Q: In addition on Xavier, you said recently he hadn't practiced well. What
did he do differently in practice that encouraged you on Wednesday and
Thursday?
BB: Let me give you an example. I watch the quarterbacks a lot. I watch
the quarterbacks a lot. Ok, they go through their warm-up exercises, then
they go through their individual drills where they throw passes to the wide
receivers, with nobody on them. Then we go through throwing passes with the
defensive backs, just the receiver going out by himself with the DB. Then
we have skeleton. The defense puts their secondary and linebackers out
there, and obviously receivers and backs and we throw skeleton practice.
OK, so lets say out of 10 throws in those drills, Drew is eight out 10. OK,
if that was true, which these (numbers) aren't accurate I'm just giving you
an example. If those figures were true, invariably, Xavier would be five or
six out of 10. Not as consistent. Miss that easy throw there, threw it
five yards over his head, you did this, you did that. You threw it behind
him. You did that. These are the things I see up in that tower. When I see
a guy hitting everybody, then I know he's about ready to go. Now last week
when he practiced by himself, did he do that? No, but he did a lot better.
Q: You are in an unusual situation right now to have a team that is not
playing for a conference championship. What will you focus on this team in
terms of motivation for the rest of the season?
BB: Still trying to complete the season on a winning note, you know? We got
four games at home now, then at the end, you got one of the best football
teams in the country. Wouldn't it be great if you could win games then play
in a great in that game at the end of the year? There is still enough down
there to motivate you to want to play hard. And that is the one thing our
kids have done. They have played hard until the last minute, and they did
it last night. It isn't the first time they did it. They also did it
against Clemson. They did it against NC State. They did it against Boston
College that beat us, you know? So it's encouraging to me to know they've
kept their heads up we'll have our team back, and some of those guys that
are in the hospital. I hate that. I can't stand that wait until next year
deal, but who knows, it might happen next week.
Q: I know in the past there has been criticism on Jeff or on the
quarterbacks, but it seems like this is the first year any is being directed
at you personally. Does that disappoint you, to know everything you have
done for the program?
BB: I guess I'm gonna have to dangle Jeff out there a little bit more. I
need to get the hook back in his mouth and dangle him out there. Ya'll don'
t get after me. Get after Jeffrey. (laughing) If I'd been coaching 10
years, all that would bother me. I've been through this. I went through it
at West Virginia. I went through this in '82, '83, '84, '85. My fourth
year here we were undefeated. My fifth year here we played in the Orange
Bowl and we played in our first two major bowls every body thought we were
on our way, then the next five years we struggled. People didn't like it
then. So, like I said, I've been through this before and it's part of the
game, now do it I like it? No, nobody likes it. The guy that gets
maligned is Jeffrey. That is ridiculous. Here last night we had twice
as much offense as Maryland and (Maryland) coach (Ralph) Friegden is
recognized as one of the best offensive coaches in the country and I agree
with it, he is. But the most maligned is Jeff. He wasn't my son it wouldn't be happening.
Q: Coach did you have time to look at that last play and see what went
wrong?
BB: I sure did. I looked at it over and over. We had to kick it at a left
angle, because we were on the right edge. It looked like they got a little
penetration and the guy got his hand up and our kicker had to aim it at that
line. It could be we didn't kick it high enough. That just shows you the
importance of that ground and the ball. When we grounded that ball, not
only did we lose a down, but it set us back 15 yards and you now normally
the longer you have to kick it, the lower you have to kick it to get it
there. There is no doubt our kicker didn't get it up as high as he should
have, but the guy on the hand on it. The star of the game for them is their
number 40. He's the one who broke through on fourth-and-1 and stopped it.
He's the guy that got his hand up. I think he got his hand on the ball on
that block kick. I've seen him making other key plays too. There would be
kicks in he past where we would've gotten it up higher and over that guy,
but that one we were probably a little bit low with it. The only problem in
the film that I looked at, none them were ground level, where I could really
see the height of the kick. I did see some penetration from their number
40, but somewhere between there we should've either got in higher, or we
should've kept him out of there.
Q: (Kicker) Gary (Cismesia) has been on a roll this year. Do you think
this will affect him?
A: No, I don't think it will affect him more than the Penn State game did
where he missed an extra point and field goal in overtime. You know I think
he'll learn from it, like any other learning experience.
Q: You have mentioned problems through out the season with the offense and
the defense, and now the kicking game last night. Is it tough not to get
any consistency with any one of those three?
BB: When you don't have consistency do you worry about the players'
confidence when things start going wrong in the game. Well, again I haven't
recognized that. Our kids keep fighting. It's not like we fold up tent in
the middle of the third, or fold up tent the other night. We were back
20-7, you know it looked like they had momentum and might kill us, but we
came right back and scored and kept doing it all night, and we've done that
most of the year, so I haven't seen any indication of that. A lot o times
when I'm grading film. I see walk-ons covering punts. I see offensive
players covering punts. When did they learn how to tackle? You know we
gotta have speed, but if they don't tackle when they go down there it's
inconsistent. Then I look at our defense and we have four freshmen. Four
dadgum freshmen. Did you see that missed tackle last night where we would've had the guy for a 6 or 7 yard loss, and we didn't tackle, we didn't break
down, we didn't get under control and he gets a first down? Then we get a
penalty for face-masking. That's something freshmen do. When you gotta
cover four of them up. I'm amazed that's something Mickey can do.
Q: Was there any thought of kicking the on-side kick at the end of the first
half after Carr scored and you kicked off from further up?
BB: Oh yeah, we talked about that. It could be that they get the ball on
the 55 or something like that, then they're in a position to do something.
I think most people would just kick it out of the end zone where they don't
have a choice to do something.
Q: Don't you think people are gonna be bombarding you with questions about
the quarterbacks, and that Xavier earned his spot tonight?
BB: Oh yeah, they're gonna have some fun with that. You're gonna have fans
of all of them, and you have to make sure as a coach that you don't let the
fans popularity affect your judgment as a coach. We got to see what's the
best now. This is what I debated with the coaches before Saturday night
before they told me we should start Xavier. I said hold it, Xavier goes in
there and he has a bad day and we get behind. How are we gonna put a
crippled quarterback in there and expect him to pull it out? Now, start
Drew, and he cant move good enough, and its obvious he cant do it, now you
come in there with the other guy and you got nothing to lose. When we come
in after warm-ups, we'll decide. Meanwhile I talked to the doctor, and he
recommended that we hold Drew out.
Q: I know close doesn't count in your sport, but you've lost close every
time.
Well what if we lost 40, 50, 30, and 25. Would that tell you something?
Am I happy? No we have 4 losses. But again, don't cut your wrist. Don't
throw your team away. Don't sell them out, because one of these days, I
told them the other night before the Maryland game. Men this is the game we
've got to turn it around. Now, we got beat, but dadgum we fought it to the
line. Now next week, somewhere along the line this group is gonna do it. I
don't want to wait until next year. I want to do it this year. That's the
motivating thing. These kids are very attentive. We've got too many on
crutches that can't come out and contribute.
Q. Coach, it doesn't seem that, compared to the past, your defense is not
forcing as many turnovers. In three of your losses there hasn't been any.
A. It's killing us. I said earlier that the kicking game is killing us,
but you gotta have turnovers. You know, if we don't give Boston College
that pass for a touchdown. If we don't give Boston College that roughing
the punter, and that fumble where hey get it on the 1. They don't beat us.
Now, you take that one fumble we had last night, they took it and scored.
We didn't get any kind of field position, but again we got so many guys out
everywhere on defense, they're having a hard enough time lining up and
playing football, but that is where we are way down in the statistics in
turnovers.
Q. How does the youth and injuries contribute to the lack of turnover
production?
A. Big, big, big. They don't know when to go after the interception
instead of the tackle, or when to go for the tackle instead of the
interception. They want to scoop up the ball and run with it, rather than
dive on it. There is so many things like that, but they haven't learned it
yet, but it will come. They have talent to learn it with.
href="http://floridastate.rivals.com/forum.asp?sid=1061&fid=1079&style=2">Football Message Board or on the
Tribal Council