Ta'Niya Latson, O'Mariah Gordon out for season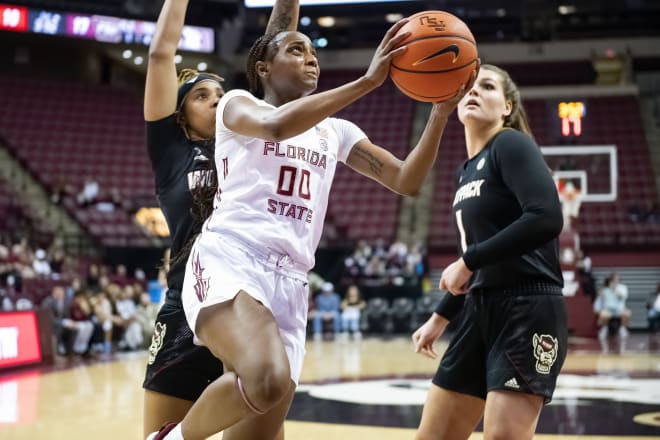 Florida State will be without two of its top players in Ta'Niya Latson and O'Mariah Gordon for the NCAA Tournament, a school spokesperson announced on Thursday morning.
Latson is the ACC rookie of the year and scored in double figures in 29 of 31 games. She averaged 21.3 points and 2.9 assists per game. Latson did not play in the ACC Tournament against Wake Forest due to injury.
"It was something that cropped up right before the ACC Tournament, "FSU coach Brooke Wyckoff said at a press conference on Thursday in Iowa City. "She was day-to-day. It was not a season-ending injury. Our medical team and our group as a whole, along with Ta'Niya, just decided that she wouldn't be ready for this tournament unfortunately. We're going to miss her but we're still really excited about this matchup and this opportunity and ready to go."
Gordon will also be out for the remainder of the NCAA postseason due to injury. She averaged 6.9 points.
The injuries leave the No. 7 seed Seminoles without two of their top guards and distributors in the NCAA Tournament opener against No. 10 seed Georgia on Friday at 1:30 p.m. ET in Iowa City on ESPN2.
FSU will lean on senior Sara Bejedi (11 points, 2.3 assists) for scoring and running the half-court offense. The Seminoles are also down to eight players now due to the injuries.
"We've had 10 players all year," veteran forward Erin Howard said. "We've had a small roster. But we've been here before. ... I don't really think there's a pace that we have to change at all."