TE Kourtzidis to transfer from Florida State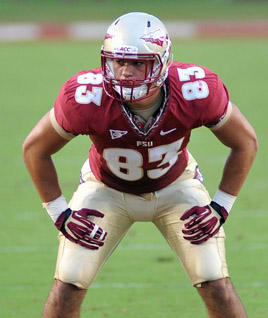 Sophomore tight end
Christo Kourtzidis
will transfer from Florida State, his father told Warchant.com on Thursday.
Akis Kourtzidis said that Christo met with FSU coach Jimbo Fisher and requested a release from his scholarship on Tuesday night. Kourtzidis is expected to be released from his scholarship, Warchant.com has learned.
Kourtzidis is flying home to California today.
"It was a tough decision for him, a gut-wrenching decision," Akis said. "It had been weighing on his mind ever since he had the (shoulder) surgery."
Given the severity of Kourtzidis' labrum injury and the surgery date relative to fall camp, Akis said that it was likely his son would not be close to 100 percent until halfway through the 2013 season and there was a possibility he could miss multiple games to start the year. He also said the distance from home combined with the possibility of re-injury while playing in 2013 were key factors in the decision.
Kourtzidis injured his shoulder during the Orange Bowl on Jan. 1 but battled through the injury to participate in six spring practices including three in pads.
He underwent surgery
for a torn labrum on April 4.
Kourtzidis participated in eight games as a freshman, catching one pass for 13 yards.

Fisher was asked about the tight end situation during the ACC Kickoff in Greensboro, N.C. on Monday when it was believed that Kourtzidis would still be part of the equation.
"Well Kerr has got to come on, and then we also (can use) some of our big lineman. You can flip-flop, bring extra linemen in the game, do different things, create those edges," Fisher said. "We'll have to work and make sure we do have a plan."
As of Monday, Fisher said he had no plans to have a scholarship player switch positions to tight end, but the thought could change with just two scholarship tight ends.
The plan for Kourtzidis is to return home and continue rehab on his shoulder. Akis said that his son will not play in 2013 as he recovers from the injury and sits out a season due to NCAA transfer rules. Father and son have had no discussions about a future destination.
"I've been a Florida State fan and remain a Florida State fan," Akis said. "It's disappointing, but we have to do what's best for Christo."