The never-ending road trip: FSU Basketball on Day 18 and counting
There has never been a road trip quite like this.
No other Florida State basketball team has been away from home as long as this current squad has been. And while it has been trying at times, the Seminoles aren't eager to come back to Tallahassee anytime soon either.
The Seminoles left on March 9 to head to Greensboro, N.C., for the ACC Tournament. Their first game was canceled because of a positive COVID-19 test in the Duke basketball program.
They won their second game, against North Carolina, to advance to the ACC Championship game against Georgia Tech on Saturday night, March 13.
After losing that game, the Seminoles stayed in Greensboro until Sunday night, watching the NCAA Tournament Selection Show from a restaurant in their hotel lobby. They then boarded a plane and arrived in Indianapolis, along with 67 other teams, for the official start of March Madness.
***Don't miss out on our great sports coverage. Get your 30-day FREE trial!***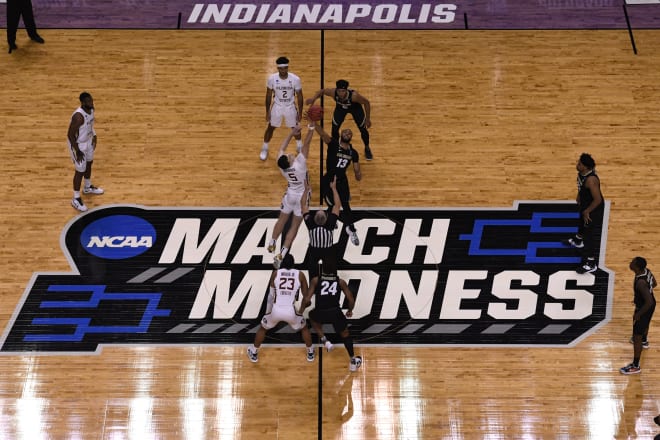 They've been there now for 11 days. And they will be there for at least four more, as they prepare to play Michigan in the Sweet 16 on Sunday (5 p.m. ET, CBS).
Nothing about this season has been normal, of course. But this stretch -- three weeks away from home, quarantining as soon as you get to the hotel, no family time, no outside time (unless approved by the NCAA), no restaurants -- has been unlike anything these players and coaches have ever gone through before. And will likely ever go through again.
"I do think our guys started to feel some kind of way," FSU head coach Leonard Hamilton said on Thursday, when talking about the cooped-up nature of the trip.
It's not just that the Seminoles -- and every other team in Indianapolis -- have been on the road for so long. It's that they've been on the road and had to, for the most part, stay inside.
In fact, when they first arrived in Indianapolis, they weren't allowed to go outside of their hotel rooms until the entire travel party had tested negative for the coronavirus. Multiple times.
"You sit in a hotel room long enough, you start going crazy," redshirt junior Wyatt Wilkes said.
The NCAA realized this, of course.
So, this week it organized multiple outdoor events for the remaining 16 teams.
The Seminoles have visited the Indianapolis Zoo. They've been to Top Golf.
"We've got a lot of good golfers out there," senior guard M.J. Walker said. "I'm going to include myself in that conversation. Wyatt Wilkes was pretty good, Justin Lindner, C.Y. (assistant coach Charlton Young), Coach (Steve) Smith are pretty good. Anthony Polite. We've got a lot of guys with pretty good touch with the golf club."
The players also were allowed some outside time at Victory Field, the stadium for the Indianapolis Indians, the Triple-A affiliate of the Pittsburgh Pirates. They were even provided soccer balls, footballs and whiffle balls to have some fun on the diamond.
It might not sound like much. But when you've been stuck in a hotel for two weeks and counting, any outside time is very much appreciated.
"Getting them out on the field, letting them kick around, take their mind off of basketball, and get to play some games they enjoy, going to the makeshift golf outing they had (on Wednesday) that the NCAA provided for them," Hamilton said. "And I'll say this ... the NCAA has done an unbelievable job with planning this. Things have not been perfect, but I cannot say how impressed I am with how they've put this tournament together."
When it was announced the entire NCAA Tournament was going to be played in one city, it was understood that any team who made a deep run would have a road trip for the ages. To minimize the risk of a COVID outbreak, Florida State and other teams went directly from their conference tournament sites to Indianapolis
Which means they are closing in on three weeks away from home.
"I packed for at least two weeks clothes-wise," Wilkes said. "At least. I always pack pretty heavy, even on a regular-season trip. You just never know.
"We were told we were going to be able to do our laundry here and everything like that, so I'm not loaded down. But I definitely packed a healthy portion of my clothes."
Said sophomore center Balsa Koprivica: "Usually I just wear the team gear anyway. And they do our laundry like every five days. So I just packed a couple of bags and a suitcase."
Koprivica said it could last him two more weeks for sure.
And that's the thing about this trip: There's no end in sight if the Seminoles keep winning.
A victory on Sunday means they would play again Tuesday night -- exactly three weeks since they last stepped foot in Tallahassee -- in the Elite Eight. And if they win that game, they're in the Final Four next week.
Whoever wins the NCAA Tournament will likely have been away from home for a solid month. No family. No friends. Just each other.
"This tournament will come down to which team will start to dislike each other faster," Wilkes said. "That's really what this is. The team that stays together is the team that wins. The team that fractures and breaks apart is going to struggle. The fact that we all work together and get along and everybody is such nice guys is really helpful in that aspect."
The NCAA has tried to make it as easy as possible for the competing teams. Each school has its own hotel ballroom, which also serves as a weight room, meeting room, dining area, film room and TV room.
And the Seminoles also have their own court at the massive Indiana Convention Center, which is connected to the hotel. So, they can have shooting practices each day.
Like every team left, they're trying to make the most of life in the bubble.
No, it's not ideal. To be in the same city for two weeks or more. To be away from home for as long as a month. To not be able to spend time with your family.
But as Koprivica and Wilkes both pointed out, this certainly beats what they went through last year.
"If this is what it takes for us to play, (being away from home) is probably the least concerning thing we could deal with," Koprivica said. "A year ago, we weren't sure we were going to play a tournament this year. So, it's just great to be able to play in the first place."
Said Wilkes: "Sometimes you've got to make sacrifices in life. It's a finite amount of time. At the end of the day, this can only go so long, and there's time to see your family afterwards. When you've got a goal and mission this big, you can make some sacrifices."