Thrasher quick to make impact on athletics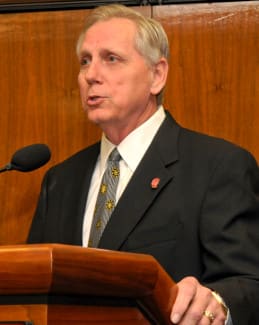 Before he took office as president of Florida State University in November, John Thrasher put together a list of initial objectives. By prioritizing those projects, Thrasher figured he would be able to hit the ground running once his hiring was approved by Florida's Board of Governors.
Not many of those first items of business were related to athletics, but he admits that one was near the top of the list: Negotiating a hefty, new contract extension with head football coach Jimbo Fisher. So once Thrasher took office, he immediately gave athletics director Stan Wilcox the green light to start working with Fisher's representatives on a new deal.
"That was something I had on my list of things I wanted to do," Thrasher explained last week during a lengthy interview with Warchant.com. "To me, and I'm not an expert [on football], but I know stability's important in a program. And I know he wanted to stay here, I really do. Deep down, he wants to stay here and raise his family here. He loves Tallahassee, I think. He loves to hunt, he loves to fish, he loves the quality of folks that are here, the support he's gotten from the community [with the Kidz1stFund]. I think all those things made a difference.
"Money's big now in college football - no question about it," Thrasher added. "It's a lot of money. But I think he wanted to be here. Eight years, to me, is what I was really focused on, more than anything. Stan did a good job, though, of negotiating that with his agent."
FSU still hasn't released the terms of that new contract, but it will in fact be an eight-year deal. The salary, which is expected to exceed $5 million per year, will make Fisher one of the highest-paid coaches in college football.
That's not to say Thrasher gave Wilcox a blank check to keep Fisher in Tallahassee. As he settles in as president of his alma mater, the longtime politician, businessman and attorney said he understands how important it is to remain competitive in athletics while also being fiscally responsible.
"You have to balance that," Thrasher said. "You have to keep up … to a certain point. You can't go crazy."
He pointed to the salary of Duke men's basketball coach Mike Krzyzewski, who reportedly earns about $10 million per year, as an example of the exorbitance that Florida State should not even attempt to compete with.
"We're not going to do that," Thrasher said. "And I don't think Jimbo would expect us to do that. But there's got to be a balance. We've got to have a strong booster program, which I believe we do. I think Andy [Miller, FSU's longtime CEO of Seminole Boosters Inc.] does a great job in that regard. But we've all got to be on the same page in terms of how we address the future, too."
Sharing his vision
While making it clear that athletics is only one piece of the university puzzle, Thrasher does have a vision for how he wants the department to operate. He has shared some of those thoughts with Wilcox and his senior leadership team, and he plans to get a closer look at the program during a meeting later this month.
"We're going to go over priorities, we're going to go over budgets," Thrasher said. "And I'm going to give them some ideas about what I feel about the future and how we address some of those various things."
When compared to his two most recent predecessors - Eric Barron (FSU president from 2009-14) and T.K. Wetherell (2003-09) - Thrasher's emphasis on athletics appears to sit somewhere in the middle. Wetherell was a former FSU football player who liked to keep close tabs on the Seminoles' programs, while Barron came from an academic background and had to learn the landscape of big-time college athletics on the fly.
Thrasher is an avid sports fan but is quick to clarify that he's not an expert by any means. And he said he knows very well that while athletics draws more headlines, it's not the driving force of the university.
"The face of Florida State University is a multi-faceted face," Thrasher said. "Sports is certainly one part of that, and we have to be cognizant of that."
In just his first three months on the job, Thrasher already has seen some of the positives and negatives that come with the territory. He has been irritated by some of the overly critical media coverage of quarterback Jameis Winston and the Seminoles' football team, and yet he has been elated by some of the exposure the university has received as a result of that success in football.
He points out that more than 28 million people watched the Rose Bowl.
"We got an opportunity to put a 30-second spot on about Florida State University [during that game]," Thrasher said. "You can't buy that."
And despite the scrutiny the university has received during the past year, Thrasher believes FSU's brand is as strong as ever. He cites the 20,000 applications the school received in its most recent enrollment cycle, for just over 4,000 spots.
"It's not just about athletics," he said. "It's about the kind of education that they're getting. The opportunity to get a good job when they leave."
Familiar with athletics
Although he was disappointed about the Seminoles' season-ending loss to Oregon, Thrasher said he is thrilled about the direction of the football program under Fisher.
He described FSU's recent 29-game win streak as "incredible."
"I think anybody that wins 29 games - I think anybody that wins 13 games in a season and goes undefeated --- is remarkable in this day and age. There's such parity out there," Thrasher said. "… You lose every now and then. You just do. When Bobby [Bowden] had his run of 14 years being in the top five, that's a remarkable run. I don't know if that will ever happen again in the era we're living in. I'm not a football expert, but I've watched it a long time. That was a remarkable run.
"Jimbo's now on a remarkable run, I think, in respect to the kind of quality people that he's recruiting. I think the future for Florida State is really good. I'm glad he's agreed to stay and that we've extended his contract. That gives our program a lot of stability."
FSU's 15th president says he is equally proud of the Seminoles' success in other arenas. A soccer ball that was signed by the players and coaches on FSU's 2014 national champion soccer team sits on display in his office. He and his wife, Jean, recently had the entire team over to their house for a celebratory dinner.
Part of the reason Thrasher has been able to hit the ground running with athletics was his stint as chairman of FSU's Board of Trustees from 2001-05. During those years, he was involved in the ACC's decision to add Virginia Tech, Miami and Boston College. He also was in that seat when the NCAA took aim at FSU by including the Seminoles on a list of "hostile and abusive" mascots and nicknames.
The NCAA ultimately removed FSU from that list when Wetherell and the Board of Trustees filed an appeal, citing support from both the Seminole Tribe of Florida and the Seminole Nation of Oklahoma.
While not quite as outspoken as Wetherell, Thrasher already has shown that he will stand up for the Seminoles when warranted. He has come out swinging against media outlets that he believes have been unfair in their reporting of the Winston saga, and he isn't shy about voicing concerns about the first year of the College Football Playoff process.
When he was asked to speak at the Tournament of Roses President's Ball in California, Thrasher couldn't resist the temptation to tweak the playoff committee, which repeatedly dropped the undefeated Seminoles behind teams who had suffered defeats. From the dais, he joked that he didn't think FSU would earn a postseason berth because, "it didn't look like we had a quality loss."
Arkansas athletic director Jeff Long, who chaired the playoff committee, was in attendance at the event.
"He kind of laughed under his breath a little bit," Thrasher said. "The truth was I think we were a little bit disrespected in that process. But I think it worked. Down the road, they may need some tweaks to it."
Bullish about the future
Thrasher said he doesn't have any strong opinions about the future of the playoff and whether it will eventually be expanded to eight teams. Like all university presidents, he said he has concerns about extending football season even further. But he said he imagines Wilcox and other athletic directors will begin researching those options in the next year or two.

"I think that's a viable thing," Thrasher said. "They're working hard on it. Whether we can get it up and running by 2016, I don't know. But that's the goal. … We're excited about that. And I'll tell you, that would be a big boom to us in terms of revenue to do that. We're going to work hard on that."
As it turns out, Thrasher's political clout could help make that venture become a reality. Because every state has its own laws and cable networks, Thrasher said the ACC's consultant wanted to know if he could help the conference clear any potential obstacles in Florida.
He does, after all, have more than 20 years' experience in state politics, including a term as Speaker of the House.
"I think I'm probably in a pretty good position to help out there, at least right now," Thrasher said with a chuckle. "I have a little bit of shelf life left with those guys down there."