Time to say thanks to Tim Pickett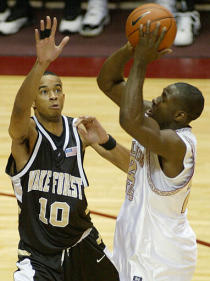 This column was published in the latest issue of the Osceola. Click here for subscription information.
Here's why you have to love guys like Tim Pickett.
He is, without question, the biggest man on the Florida State campus right now. He has name recognition all over the country. He gets invited to throw out the first pitch at an FSU baseball game. He doesn't have to introduce himself to anyone in this town; they already know him by name.
Yet, Pickett still can poke fun at himself. He can still make you laugh at the things that make him human.
Take a look at what happened last Thursday, the very morning after FSU beat Wichita State in the NIT.
Pickett, as you already know, hit the biggest shot of the game. You can call it a miracle shot and no one who saw it in person will debate you. He caught the ball, he pump-faked and kicked his heels to his butt so they wouldn't hit the ground. Somehow, as he was hanging in mid-air, he delivered the shot that kept FSU's season alive.
And yet, less than 12 hours later, Pickett was seen on Stadium Drive behind Doak Campbell Stadium pushing his car.
"Just one of those things," Pickett said and shrugged his shoulders.
That's college athletics at its finest, isn't it? On Wednesday night, he's making the most unlikely shot this FSU program has seen in years; on Thursday morning, he's pushing his broken-down car out of harm's way.
Pickett's weekend turned a little more humbling on Saturday, when he was asked to throw out the first pitch at the FSU-Maryland baseball game.
He stepped to the pitcher's mound, picked up a rosin bag, shook it a few times and promptly overthrew 6-foot-8 catcher Adam Waleskowski. And he laughed at himself for the errant throw, just like the 4,200 fans at Dick Howser Stadium did, too. Seriously, how many guys with NBA egos could laugh that one off?
Pickett is a guy you can embrace. He's got a smile and a laugh and a personality that immediately grabs you. He sits at the table for post-game press conferences, answers one question and then makes a move to get up and leave.
"Is that all?" he asks as he pushes back in his chair. "OK, fellas. Take it easy."
He never leaves, of course. He'll stay and answer any question and he'll find a way to compliment his teammates and his opponents along the way.
Pickett pokes fun at his teammates, both publicly and privately. But it's always in good fun. And it's always genuine. He laughs with them far more often than he laughs at them.
Pickett is a guy this basketball program can be proud of. Not just for what he's done on the court and not just because he will graduate this spring.
More than anything else, Tim Pickett is a regular guy with a great sense of humor and the ability to make other people feel good when they are around him.
The fact that he can hit a jump shot from the third row of the bleachers -- and can probably do it blindfolded -- makes him even more special.
One of the all-time greats?
I'm not the right guy to name Pickett's place in FSU history. Let's just say he is one of the best basketball players to put on a Florida State uniform in a long time.
We could debate if he has made a bigger impact on FSU basketball than Bob Sura or Sam Cassell or George McCloud or Mitchell Wiggins or Charlie Ward. With a respectful acknowledgement of FSU legends Ron King, Otto Petty and Dave Cowens, we could try to make a case that Pickett is one of the best
players to ever wear an FSU uniform.
But that would get in the way of what we should really be doing now.
It's time to tell Tim Pickett thanks.
Pickett has almost single-handedly brought FSU basketball back from the dead. He has breathed life into a program that was a laughingstock in the state, in the Atlantic Coast Conference and around the country.
This is a program that lost home games to Furman and Western Carolina. This is a program that made the annual play-in game in the ACC Tournament a regular event.
He hung 30 points on North Carolina in the Civic Center this year, and every one of those points made it possible for FSU to pull off that improbable overtime victory. He matched that with another monster effort against Wake Forest, leading FSU to another upset of a Top 10 team. And he topped both of those efforts with what may be the best performance ever turned in by an FSU player in ACC play.
Remember that game against Georgia Tech, when he hit shots from everywhere on the floor? I re-watched that game three weeks ago and the rewind button made it look even more impressive. He made shots that no one should have made. Guys hanging on his arm, guys bumping him as he came through screens, guys with hands in his face -- didn't matter. Pickett delivered.
I know FSU lost the game against N.C. State in the ACC Tournament, but you should have heard the buzz in the Greensboro Coliseum when he nailed three straight 3-pointers to open the second half. He made the arena his personal playground -- and fans from other ACC schools were more than happy to applaud his efforts.
When FSU needed a shot at the end of that game -- and everyone in the Coliseum knew Pickett had to take it -- he still made a shot. The Wolfpack defense was set to stop him and he still found a way to get open. He drilled a 3-pointer to give the Seminoles their final lead of the game. That's big time.
And I can't remember an FSU guy hitting shots like that before.
Tim Pickett has made it fun to talk about basketball again. He's made it fun to talk about FSU basketball in March. Truthfully, how many people can say that?
A simple goal
You know why I like Pickett so much? Because he never set out to be the star of the show. He came to Tallahassee with one goal in mind.
"I just wanted to show people I could play," Pickett said. "That's all I wanted to do here. Show people that I could play."
I think we can safely say he accomplished that goal.
Guys will come in to this program in the coming years with more impressive resumes from their high schools or their junior colleges. And guys may leave with more points or with more steals.
But I don't think we'll ever see a guy who played harder than Tim Pickett. When you watch some players go as hard as they can for as long as they can, you actually feel sorry for them. You can tell they are about to crash physically and mentally.
Tim Pickett makes playing hard look like fun.
"The thing that separates him from a lot of people is that he really enjoys working hard," FSU coach Leonard Hamilton said. "Some people have a tendency to want to play in their comfort zone. Well, Tim's comfort zone is 100 miles per hour.
"Most people like to coast when they get to a certain point where fatigue sets in. Tim never backs off. When most people get fatigued, he seems to put it in another gear. And those types of people are very rare at any level."
Hamilton spent a year coaching in the NBA. He has sent literally dozens of players to professional basketball leagues. He's been around the game long enough to answer the question:
"Tim Pickett is a pro," Hamilton said. "There is no question in my mind that he has all the potential to play at the next level. He's a tremendous defender. Nobody shoots the ball any better. I expect him to separate himself at the next level. I'm sure he'll have things to learn, but he'll be doing it with a zeal that people call passion.
"It's a passion with him that he enjoys working hard. In our society in all walks of life, that's not something everyone does. He enjoys it. Playing hard for him is fun. That's really special to see."
We've got at least one more chance to see the Tim Pickett show in person.
And we've got at least one more chance to tell him thanks for showing us all how the game is supposed to be played.
All out. All the time. And with a smile on your face.
FSU plays host to Iowa State in the second round of the NIT on Tuesday at 7 p.m. Tickets are available online at Seminoles.com, or by calling the ticket office at 888-FSU-NOLE or (850) 644-GoFSU. General admission tickets are available for $12.00 for adults and $4.00 for youth (18 and under) and FSU students. General admission tickets can be ordered online or by phone.