West Coast 'Noles: Former FSU players highlight new 'Hard Knocks' in L.A.
This will be a different type of year for HBO's popular "Hard Knocks" series, but it's shaping up to have a very familiar feel for Florida State fans.
The documentary-style program, which typically follows one NFL team through training camp, is following two teams this season -- the Los Angeles Rams and the Los Angeles Chargers.
The season premiere, which aired Tuesday night, alternated between footage from the two training camps. And there are a combined five former FSU players on the two rosters, including two of the most high-profile players in the NFL.
The Rams feature star cornerback Jalen Ramsey and rookie running back Cam Akers. Not surprisingly, Ramsey was one of the featured attractions of the initial episode.
The Chargers have star safety Derwin James, rookie tight end Gabe Nabers and rookie offensive tackle Ryan Roberts. Nabers and Roberts are both with the team as undrafted free agents.
FOOTBALL PROMO: 25% off, $25 eCard to Garnet & Gold and 3 free months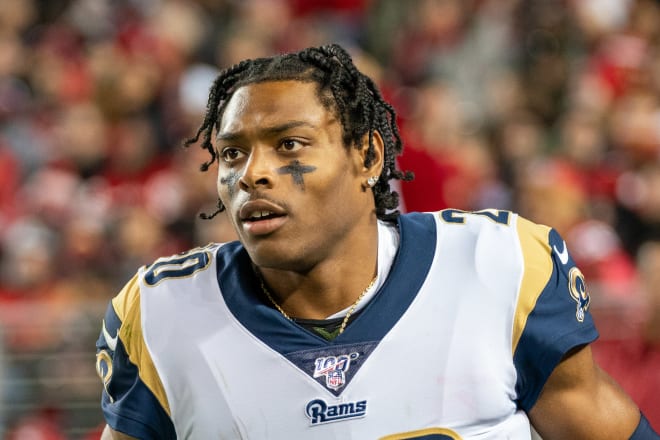 Here's a viewer's guide to the main appearances by the Florida State alumni in Tuesday's show:
*** Around the 13:20 mark, Derwin James arrives at Chargers camp and gets his temperature checked before entering the facility. The teams' protocols regarding COVID-19 are a primary focus of the first show.
*** A couple minutes later, James gets the nasal swab treatment as part of a coronavirus test.
*** Around the 17-minute mark, Cam Akers arrives at the Rams' facility. He tries on a mask with the Rams logo and checks out his appearance on his phone.
*** Around the 25-minute mark, Gabe Nabers makes an appearance.
*** About 30 seconds later, Nabers is shown struggling to keep his masks on during practice and has to get help from an equipment manager.
*** Just past 32 minutes into the program, Jalen Ramsey shows off his impressive space in the team's locker room. The attention then turns to Ramsey trash-talking some wide receivers in practice, and then there is a lengthy video feature showing highlights from last season and earlier in his career with the Jacksonville Jaguars.
*** Around the 34-minute mark, Ramsey gets into a little spat with reporters about questions surrounding his contract, and he ends up cutting the interview short.
*** Around 35:30, Ramsey comes back to the interview at the request of the Rams' public relations staff.
*** At 41:25, Nabers cracks up some teammates with a little off-color humor.
*** Around 42:25, James shows off his new sunglasses to head coach Anthony Lynn, who then playfully steals them.
*** At 48:15, Ramsey asks about a player who tested positive for COVID-19.
And that was a wrap for the first week. "Hard Knocks" will air on HBO each Tuesday through Sept. 8.
----------------------------------------------------
Talk about this story with other Florida State football fans in the Tribal Council