Where are they now Alphonso Carreker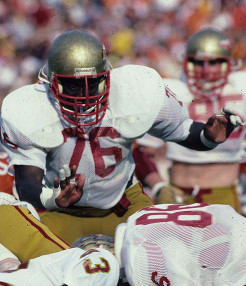 There aren't many former Seminoles that have experienced playing in the Super Bowl. Deion Sanders did it, so did Peter Boulware and a few others. One more member of the exclusive club is former defensive end Alphonso Carreker. The former 'Nole started in Super Bowl XXIV and recorded one sack and one tackle.
But playing defensive end wasn't the plan when he started college ball. Carreker came to Tallahassee to play tight end, but it was a position he never was able to play.
"When I came there, I came as a tight end, not a defensive end," said Carreker, "I came to catch the ball. They tried me out on defense and offense and we had a couple guys go down with injuries the first couple weeks."
Growing up in Columbus, Ohio, Carreker was supposed to go to Ohio State. That's what kids from Ohio do. But there was a changing of the guards in Columbus, and something about it just didn't appeal to Carreker.
"I visited various schools," he said. "I would have loved to go to Ohio State, but that was the year Woody (Hayes) left and it wasn't appealing to me. I grew up watching Ohio State. I think when Woody left, I had thought about going somewhere far away from home. I liked Michigan and West Virginia. I spoke with Lee Corso at Indiana. I liked when I came to FSU the atmosphere, and that they put the ball in the air.
"I got down there, I enjoyed the guys and the sun and everything was a big factor. When I left Ohio it was cold, when I got down there it was the mid 70's. The campus was small, but it was very unusual for me to see anything like that. I had never been that far south."
It was more the guys than it was Bobby Bowden that made the decision easy. While some players come to FSU just to play for the legendary coach, Carreker admits that Bowden had nothing to do with his decision. And it wasn't until much later that he realized what kind of impact Bowden had on the college game.
"I was a little different, I wasn't a college buff guy," said Carreker. " I had heard of Coach Bowden, but the mystique hadn't sunk in. We all met with him as a whole and met with him one on one at his house. The guy is a charmer, he's Coach Bowden. He made me feel at home, plus he talked to my mom on the phone and my mom liked the southern thing that he has. My whole thoughts of going to Florida State was to catch the ball, but I never got that opportunity.
"I've got a great opportunity to make some money. I'm paying for it now, I have no regrets. They gave me an opportunity."
From FSU, Carreker spent seven years in the NFL, playing for the Green Bay Packers and the Denver Broncos. He was the 12th overall pick in the 1984 draft by Green Bay. In his career, the former FSU All-American put up 24 sacks in 94 games and called it a career in 1991. That was the year after he was inducted into the Florida State Sports Hall of Fame.
These days, Carreker lives in Marietta, Georgia, just outside of Atlanta. His playing days are over and one of his two daughters is about to graduate from high school. It doesn't seem that long ago that Carreker left FSU, but it's been 24 years.
"I got out of football, I worked for Reebok for awhile, got out of that, and got into the mortgage business for the last 13 years. I've been taking a little sabbatical," said Carreker. "My daughter graduated from high school which makes me feel old. I'm like everyone else, seeing where the economy is going to go. I'm board of directors in Marietta, through our players association, we have here in Atlanta, they keep us busy with some kind of charitable event.
"Through the association I keep in touch with a lot of guys in the NFL or guys abroad. There are 300 or 400 retired guys that live here. As far as alumni, there are some guys I keep in touch with, Jamie Dukes, Issac Williams, there are some guys that live here, Bobby Butler. His son is going to USC. There's a host of guys you run into."

Lee Gordon is an Anchor/Reporter at WCTV in Tallahassee. Prior to his return to the Capital City, Lee spent three years as a Sports Anchor/Reporter at WTEV-WAWS in Jacksonville and prior to that was Sports Director at WCTV from 2000-2004. Lee has worked for Warchant.com for 5 years and brings over a decade of experience to our staff.