Where could FSU football go bowling this holiday season?
The final week of the regular season is here. Before we know it, bowl season will be upon us.
For the first time since 2019 and just the second time in the last five seasons, the Florida State football team will be playing in a bowl. And there's a chance that it could be an even more prestigious bowl than many of us thought.
The chaos that was Week 12 of college football opened a potential path for FSU to play in the Orange Bowl or even potentially the Cotton Bowl as an at-large team. In order to play in the Orange, Clemson would have to make the College Football Playoff and FSU would have to be the next-highest-ranked ACC team.
In order for FSU to make the Cotton Bowl, it would have to jump higher into the CFP rankings to be considered as an at-large. If you want to see FSU in a New Year's Six bowl, the general rule for rooting interests is cheering for USC to lose to clear a path for Clemson making the CFP and for teams above FSU, especially those right above FSU, to lose this week or in conference championship week.
Most of the college football bowl projections don't yet have FSU playing in a NY6 bowl. Where do the analysts have FSU going and who do they have them playing this week?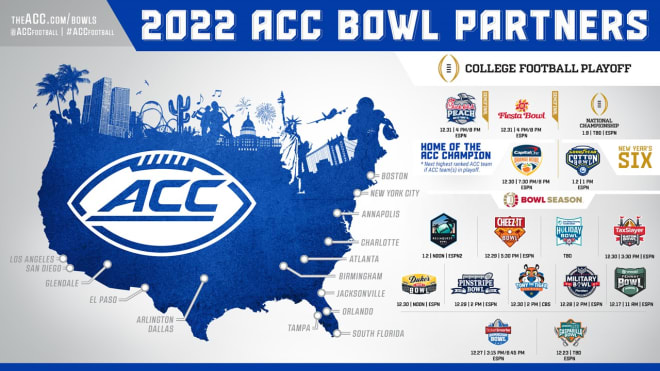 ESPN has two analysts projecting bowls each week and Kyle Bonagura and Mark Schlabach are again split this week.
Bonagura has FSU playing Utah in the Holiday Bowl in San Diego while Schlabach has FSU staying close to home and taking on Kentucky in the Gator Bowl.
CBS Sports' Jerry Palm has FSU staying on the east coast but not in the state of Florida. He projects FSU to play Purdue in the Duke's Mayo Bowl in Charlotte on Dec. 30.
Brett McMurphy projects FSU to also play in the Holiday Bowl, taking on Utah. Action Network also provides odds for this projected game and says that FSU would be favored by 2.5 points over the Utes.
Erick Smith of USA Today Sports also has the Seminoles staying in-state and taking on Texas in the Cheez-It Bowl in a battle of two major college football brands.
Stewart Mandel and Scott Dochterman of the Athletic have FSU also playing in the Cheez-It Bowl, but playing Oklahoma in another battle of major brands in the sport.
Richard Johnson of Sports Illustrated is going in a different direction. He also has FSU playing Utah, but doing so in the Sun Bowl in El Paso, Texas.
Athlon Sports writer Steven Lassan agrees with a few other prognosticators that FSU will be playing Utah in its bowl. He has the Seminoles and Utes facing off in the Holiday Bowl.
Bill Bender of the Sporting News agrees with CBS Sports that FSU will stay in the South to play in the Duke's Mayo Bowl. He has the Seminoles taking on the Illinois Illini in Charlotte.