Why Subscribe
to Warchant?
Breaking News
Enjoy Premium articles and exclusive team coverage written by expert analysts.
Exclusive Forums
Discuss all aspects of the team with members of the community.
Fan Contests
Think you can outsmart the analysts?
Prove it. Win prizes.
Join for free with limited access.
Sign Up
Already have an account?
Log In
From the Publisher...
Top five reasons to become a Warchant member
Before you decide to sign up for a premium subscription, please take a few minutes to read through what we feel are the top five reasons to become a premium subscriber, and also check out some of our customer testimonials. If you have any questions, please e-mail us directly at support@warchant.com.
1. Experience Matters
Warchant.com is not only the largest and longest-running website covering the Seminoles, we have the LARGEST and MOST EXPERIENCED staff of full-time professionals dedicated to writing about Florida State sports and recruiting. While most other sites are run by bloggers and part-timers, many of whom don't even live in Tallahassee, Warchant.com's staff has OVER 50 YEARS of combined experience covering the 'Noles on-site in Tallahassee.
2. Warchant is fully dedicated to recruiting coverage
Warchant.com is the ONLY FSU media outlet with a full-time recruiting analyst based in Tallahassee. Michael Langston has covered recruiting in the state of Florida for two decades, and he has specialized in FSU recruiting since 2010. And unlike many fan-operated recruiting sites, we strive for accuracy over speculation and rumors as evidenced by Langson's documented
90-percent accuracy rate
when projecting where recruits will sign.
3. Professional video and digital media
Warchant.com is the only FSU media outlet with a full-time staff member dedicated to providing high-quality digital content. While other sites have writers shooting video with smartphones, Warchant uses professional television-quality equipment and has an experienced videographer overseeing all aspects of video production. That includes practice highlights, interviews, features, studio shows and press conferences. Our director of digital media, Aslan Hajivandi, is a Florida State graduate and a former sports director at television stations in Alabama, Mississippi and Montana.
4. In-depth and quality team analysis
Warchant.com boasts three full-time staff members who have been reporting on Seminole athletics for decades. When founder Gene Williams launched Warchant in the mid-1990s, it was the first-ever online site dedicated to providing coverage of FSU football and recruiting. Since then, Warchant has grown to be one of the largest and most successful team sites in the country. Managing Editor Ira Schoffel, who joined Warchant in 2014, has been reporting on college athletics since 1991 and Florida State since 2002. Senior writer Corey Clark has 20 years of experience writing about sports for several newspapers, including the Tallahassee Democrat, before joining Warchant in 2017.
5. Incredibly active message board community
Warchant's message boards are the world's most active venue for Seminole fans to interact with each other. The Tribal Council is the main hub, with thousands of FSU fans exchanging information, debating hot topics and discussing the latest news surrounding the Garnet and Gold. The forums also provide subscribers an easy avenue to ask questions directly to Warchant staff members.
Customer satisfaction
Once you become a member, you'll see why Warchant.com is considered not only the top site in the Florida State sports market, but one of the top independent team sites in all of college sports. In addition to having over 10,000 loyal Seminole fans as subscribers, Warchant has an extremely high retention rate. We bring the news to you first and make sure your membership needs are promptly met.
You deserve quality content
We appreciate the opportunity to earn your business, and we are eager to provide you with the quality content you deserve. Please do not hesitate to contact me directly with any questions.
Gene Williams
Owner and founder of Warchant.com
gene@warchant.com
Subscriber testimonials
BudFox64 - User since 1997, member since 2006. Drives my wife crazy as its always being looked at. But there is no better resource if you love FSU sports than Warchant. Worth every penny and then some.
bigsteveo22 - Warchant provides us with very great detail that pertains to FSU athletics. The content goes beyond just the product that is put on the court/field, but rather to the inside workings of the Athletic department. I make it a point to start my morning off by checking Warchant to see what is going on with the Noles and to read the great articles that are written by the Staff. Very satisfied that I became a subscriber!!!!
Nolesrule - Warchant is the place I've been going for over 20 years for the latest and most accurate FSU information available. The Warchant writers/reporters are top notch and their football recruiting coverage is second to none. The message boards on this site are great as well. Some very knowledgeable posters share interesting information and insights regarding FSU. Warchant.com provides everything I'm looking for in a Florida State website.
Mitchbrown3000 - Warchant is hands down the best source for FSU information. Journalistic integrity is top notch and they don't release info unless they have verified information with their sources. They have in Depth analysis of the program and all of its sports and give that info in a multitude of ways. Example, podcast, practice videos, articles reviewing the team position by position, pre game notes, YouTube videos of the game prediction, recruiting notes, and more. The staff Gene has assembled is the best in the business with their knowledge and personalities that they each bring makes this well worth the money spent. Love you guys, keep up the great work.
James_Nole - Warchant is a wealth of real information for its subscribers. I have been a member of other pay and free sites and can state unequivocally that Warchant's information and staff are more professional and correct than any site on the internet.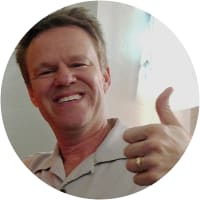 Gene Williams
Have a question?
What will I get with a premium subscription to Warchant?
What will I get with a free account?
How does the billing work?
What if I want to cancel?