Bacon-led Seminoles knock off No. 21 Gators, 83-78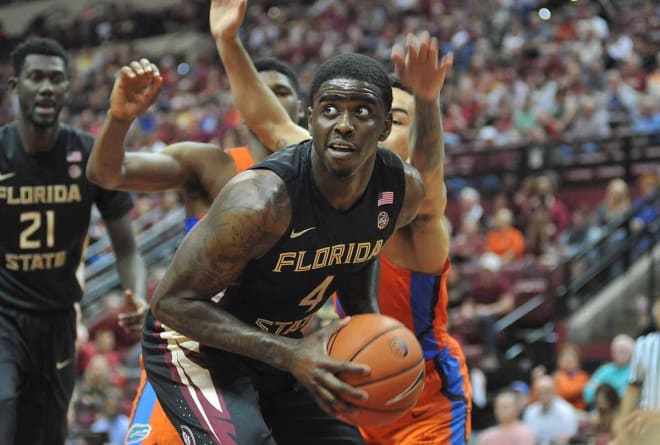 This one was about validation.
After cruising to nine relatively easy victories already this season, the Florida State men's basketball team needed a win against a high-profile opponent to bolster its non-conference resume. On Sunday, the Seminoles got it.
After a jittery first 10 minutes against No. 21 Florida, FSU settled down to take a two-point lead at the break, opened it to double-digits in the second half and then held on for an 83-78 victory before a crowd of 10,029.
"It means a lot for the school," FSU forward Terance Mann said of the Seminoles' victory. "And for the fans -- they get to talk [trash] to the Florida fans. It means a lot for the school."
FSU, which improved to 10-1 on the season, was led by Dwayne Bacon with 24 points and Mann with 16 points and 10 rebounds. The Seminoles have now won three straight games against their arch rivals.
UF falls to 7-3 following earlier losses to highly ranked foes Duke and Gonzaga.
"The thing that concerned me the most was the fact that they've been in some real, real tough games," FSU coach Leonard Hamilton said. "They've learned how to play well in grind-it-out type games. And I was very concerned about the maturity level of their team, as compared to ours.
"And in the first half … we were a little indecisive."
The Seminoles struggled most when their youngest players were on the floor. Freshmen Jonathan Isaac, C.J. Walker and Trent Forrest, all of whom have been key players so far this season, combined to hit just 2 of 7 shots in the first half and commit three turnovers with one assist.
As a team, FSU committed nine turnovers in the first 20 minutes, and the Gators converted all of those miscues into points at the other end -- 18 of UF's 34 first-half points came off turnovers.
But FSU put together a nice run just before halftime to take a two-point lead into the break, and the Seminoles looked like a different team in the second period.
Sparked by Bacon, who scored 16 of his 24 points in the second half, the Seminoles opened up a 50-42 advantage less than five minutes into that period and eventually led by as many as 13.
Bacon, who hit a game-winning shot against UF last season, was practically un-guardable in the second half. With an assortment of jump shots, fadeaways and drives to the rim, he hit 7 of 11 shots in that period.
"When he walked on the court for warmups," UF coach Mike White said, when asked what made Bacon so difficult to defend. "He's really, really talented."
"That's 'Bake' -- he's gonna make tough shots," FSU guard Xavier Rathan-Mayes said. "And opposing teams are gonna have to live with Bake making tough shots. That's our guy. He's gonna make big shots for us, and we're just happy to have him on our team."
The Seminoles' other hero was a little more unexpected. Mann, a 6-6 sophomore, set season highs in both points and rebounds while recording his first career double-double. Before Sunday, his top point total was 12 against Iona, and his high rebounding mark was seven against Winthrop.
Mann's biggest rebound Sunday came in the final minute.
With FSU clinging to a 77-74 lead, Mann skied above UF's Canyon Berry to pull down a defensive rebound and draw a foul with 42 seconds to go. He then hit a pair of free throws to push the Seminoles' advantage back to five points.
"I just didn't want them to come back and win," Mann said. "I just needed that ball."
For all of Bacon's and Mann's heroics, it definitely was a team victory. Nine different Seminoles played at least 12 minutes, and virtually all of them contributed.
* Isaac, who was coming back from a three-game absence due to a hip injury, rebounded from a tough first half to score nine points and grab six rebounds.
* Senior center Michael Ojo scored eight points and snared seven rebounds.
* Forrest came back strong to score six of his eight points in the second half.
* Rathan-Mayes added seven points and three boards, and junior Braian Angola-Rodas added six points and three rebounds.
"This is the type of game that will help you grow up a little bit," Hamilton said. "The good thing about our team is there is so much room for improvement, because we are so young. … So I'm encouraged the potential is there for us to keep getting better."
------------------------------------------

Talk about this story with other Florida State basketball fans in the Seminole Hoops Talk