Betty Cook: The Mother of Them All
MIAMI -- Visitors to the unassuming yellow house in North Miami open the front door and are immediately met by the small, brown wooden end table just inches to the right of the entrance.

The table itself is rather ordinary. The intrigue comes from the objects located on the surface.
There are three small candle jars with candles melted down to their nubs. They'd probably last through only a few more vigils before being replaced. Placed on a rectangular, coral green dish, the candles sit in front of a well-worn Bible.
On this rainy South Florida afternoon, the Bible is opened to the Book of Psalms, between chapters 22 and 29. The words in one of those chapters read: "Test me, Lord, and try me, examine my heart and my mind; for I have always been mindful of your unfailing love and have lived in reliance on your faithfulness."
So much has happened in this home.

It is where Florida State's star junior tailback, Dalvin Cook, grew up in his teen years. It's where sophomore receiver Da'Vante Phillips called home after his mother was killed in a drive-by shooting.

Dressed in all black, Betty Cook sits on a brown couch with reading glasses perched atop her long flowing braids.
"Sometimes, all kids need to know is somebody loves them," she says. "Somebody is there for them. Sometimes, that's all they need to know."
For years, Betty Cook has been delivering that message.
She has given up her own personal space so others could have a safe haven.
She also routinely sacrifices free time to make peanut butter and jelly sandwiches for the entire Miami Central High football team. Not once. Or twice. But four times a week.

Aside from Phillips and Dalvin Cook, her grandson, those sandwiches have fed others such as Seminoles sophomore defensive back Calvin Brewton and redshirt sophomore defensive tackle Fredrick Jones.

Her strength comes from her faith. She reads scripture daily and lights the three candles that sit in front of two photos of small children wearing football uniforms. In one of those photos is her son, Anthony Jones, a sophomore receiver at nearby Florida International University.
The young man inside the second homemade picture frame is Dalvin.
"It's been quite an experience," she says. "I enjoy the boys. I enjoy spending time with them and I'm extremely proud of all of them. They've worked very hard and they've given it their all."

'I'm not only your mom, but I'm your best friend'
Betty Cook is a mother of three. She also has grandchildren, godchildren and those she's "adopted" and considers to be her own.
She was born in Miami and has never left. She's never had any desire to leave.
Raised by a single mother, Betty is the youngest of nine children. A Miami Jackson High graduate, she has spent 15 years at Gordon Food Services, where she is a meeting coordinator.
She is a member of the 59th Street Pentecostal Church of God in Miami.

Much of what she learned as a child, she's applied to her own family. And she's done it in the same yellow house where she has resided for 19 years.

"Just the way that I was raised, I carried it over to them," Betty says. "It seems to have worked. They're all in college now. They weren't in the streets. They ended up with full scholarships to Division-I schools."
To this day, Betty says she doesn't know what happened between Dalvin and his mother. But he moved in with her when he was 13 years old and has considered it home ever since.
Dalvin was, and still is, a private person. "He's a man of few words," Betty quips.
As for raising him, she jokes that he "ate a lot."
There were rules. And Miss Betty, as she's known by many, would make sure everyone in the home understood those rules. And the consequences for breaking them.
"You got a hard talking to," she says. "You got a real talking to. You got a real conversation from Miss Betty. ... Some of the words, we can't say right now."
But even if one of the children found themselves on the wrong end of a Miss Betty special, they still had a friend.
"I've told all of them, 'I'm not only your mom, but I'm your best friend,'" she says. "And there's nothing in this world we can't talk about. Even if it's a [bad] situation, you need tell me the truth about the situation, and we work the situation out.
"You let me be the adult in the situation, and you be the child. ... You're still a kid, so you need to stay in a kid's place, and then I'll take care of the rest."
Dalvin found himself in a major "situation," as Miss Betty would put it, just last summer.
His father was in the hospital after undergoing a minor surgery. Betty was in the waiting room when she saw on the ESPN ticker that Dalvin had been charged with misdemeanor battery after allegedly punching a woman outside of a Tallahassee nightclub.
"I immediately called him," she recalls, "He goes, 'Ma, I did not touch that girl.' I know my kids. And I know when they're lying to me. I know when they're telling me the truth.
"And when Dalvin said to me, 'Ma, you know I'll tell you the truth. If I did it, I would tell you. Ma, I did not touch that girl.'"
Betty says that was all she needed to hear.
Dalvin turned himself into authorities and was quickly suspended by the university.
FSU opened fall camp in August without him. During media day, the Seminoles took one team photo with Cook and one without him.
The case went to trial later that month. After 10 hours of testimony, the jury needed 30 minutes to determine Dalvin was not guilty.
"It came to light," she says. "He did not do anything."
But the ordeal was difficult on many levels.
"I would go back and forth [between Miami and Tallahassee] because I knew that he was up there, and even though he knows he didn't do anything, they had suspended him from the team," Betty says. "The way they handled the situation -- and I have nothing against Florida State University -- but the way that they handled the situation, I really didn't approve of. Because you're basically saying he's guilty on a misdemeanor charge, but you have nothing to prove it.
"So you suspended him from the team. You took a picture with him with the team. You took a picture without him with the team. And I understand what they're doing. They're doing it to protect themselves, and I don't have any problem with that. But until you get proof that he's done wrong, I didn't like the way the situation was handled."
It made her feel that some at the university saw Dalvin as expendable.
"The same night that the case was over, they were on the phone calling him, 'Oh, report to practice tomorrow,'" Betty recalls. "Yeah, of course. He's the man that's going to get you where you need to go. Without Dalvin, you know for yourself, a lot of those games they would have lost. Dalvin basically carried that team on his back."
Despite missing the early part of camp, Dalvin would go on to set numerous records that fall, rushing for 1,691 yards and 19 touchdowns. He helped the Seminoles to a 10-3 record and an appearance in the Chick-Fil-A Peach Bowl.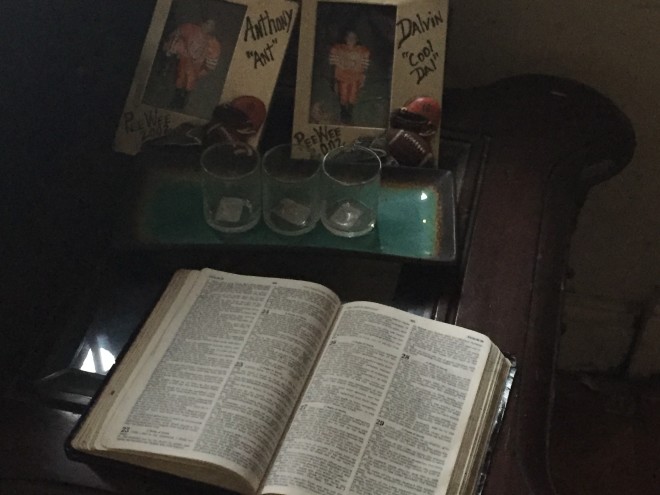 'But after God is Betty Cook'
South Florida is simultaneously big and enigmatic. Each of the area's counties has its own unique qualities.
Palm Beach, aside from rural areas like Belle Glade, possesses tremendous wealth. Private homes will sell for millions and millions of dollars. There's even a market for equestrian realty.
Broward is South Florida's conduit in that it has a mix of every socioeconomic class.
Miami-Dade is a bit more drastic. Million-dollar condos dominate one of the nation's more picturesque skylines. And South Beach, with its art deco buildings, exotic people and fast-paced nightlife, is the image most associate with the area.
This is not Betty and Dalvin's Miami.
Shootings have been rampant in neighborhoods like Liberty City, Opa-Locka and West Little River, where Central High is located. Central's regional semifinal win over Carol City in November was stopped with three minutes left in the game after multiple gunshots were fired in the stadium's parking lot.
A recent poll of Miami-Dade voters listed youth gun violence as one of the two biggest challenges facing the county.
"There's a distinct difference between what you see on TV and these kids' reality," says Central alum Gregory Bethune, who has been the school's principal for five years. "Miami is a very beautiful place. South Florida is a tourist attraction. Where these kids live, the only thing it attracts is despair and tragedy.
"They are from another side of the tracks. And for these young men to make it out and get a college degree ... a large part of their family members have not made it out of high school."
Central has captured five of the last six Class 6A state football titles. It's a school that has become a pipeline for FSU, with players like Brewton, Phillips, Jones, Cook and Devonta Freeman all making the move from Rockets to Seminoles. FSU also has a commitment from Dalvin's younger brother, James, a 2018 running back.
Bethune, who is a descendant of civil rights advocate and educator Mary McLeod Bethune, praises Florida State for giving kids the opportunity to break out of their challenging environment.

"Kudos needs to go to the university," Bethune says. "One of the things we always say is, 'We need to give thanks to God.' But after God is Betty Cook."
Bethune and longtime Central assistants Dwight Jackson Sr. and Alex 'AJ" Snipes can attest to the following:
Betty Cook has fed children so they would not go hungry. She has housed children who needed a home. She has clothed those who could not afford it.
"[People] think, 'Miami Central,' and they think football. They don't think about the ins and outs of income," says Snipes, who has been at Central for nine seasons. "We're not sitting in gated communities with two parents in each household and kids who have central air conditioning in their rooms with two-car garages."
These conditions are what inspired Betty Cook to make peanut butter and jelly sandwiches for the entire team.
Every day during her lunch break, she would go to a bakery and purchase 10 loaves of bread. She would come home after work at 4 p.m., make the sandwiches and put them in plastic bags so she could give them to the players.
To this day, former Miami Central players come to her house so they can have one of her sandwiches.
"She'll sacrifice a light bill to make sure they gotta eat," Snipes says. "How many people do that in this lifetime? It's a 'me first' time we live in now."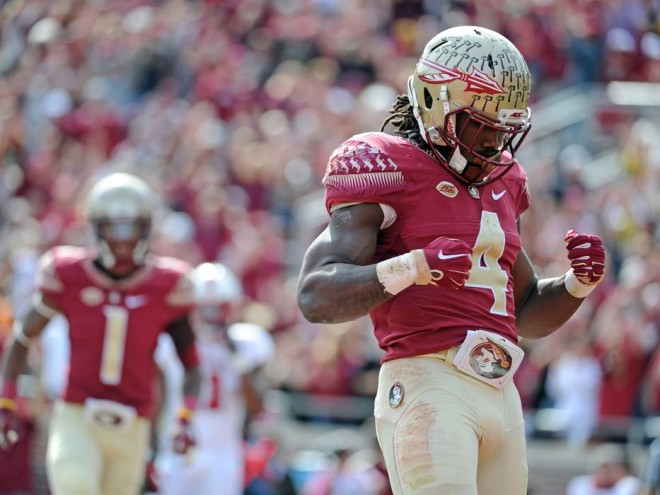 Contributions go well beyond food
It was January 2013 when Da'Vante Phillips learned his mother had been killed in a drive-by shooting.
One of the first calls he received was from Betty Cook. She extended an invitation for him to come live with her and Dalvin.
Phillips moved in and stayed there until he went to Florida State in 2015.
"Even before Da'Vante's mom was killed, I had a bond with Da'Vante," Betty says. "I would talk to him when he was having problems. He would talk to me. So I already had that bond built with him.
"Once that happened, it was like he needed somebody. I told him, 'You can talk to me about anything. You know I'm here for you. You know the door is open, so why don't you come on in here and have the support?'"
Betty describes Phillips as a friendly person who likes to have fun. After his mother's death, though, there was a change in his personality. She says it took at least two months before he gradually returned to his normal self.
"There was always that open door of communication between him and I," she says. "If something was bothering him, he would come and talk to me."
Phillips did learn, however, that when it comes to her children, what Miss Betty says is law. And it's final. Even if it applies to what happens on the football field.
"She rules with a steadfast, firm grip," Snipes says, while remembering a practice when Phillips didn't do as he was told and was kicked out. "When she got there, she said, 'I don't care what Coach said. You're wrong if you said anything back. I don't care if Coach said climb in a tree. This is his team, and you should go climb that tree. You know Coach would not put you in harm's way.
"It wasn't, 'No, let me hear what happened ... it was there's a problem, and you're wrong.'"
At the end of that day, Betty would remind Phillips -- as she does with all her children -- that she loves him. Their relationship is still extremely strong.
"He's just like my son," Betty said. "And I treat him that way."

Phillips isn't the only child she has welcomed into her home. Betty has a godson, Tavius Brown, who also lived with the family. Brown would go on to sign a scholarship to play at Howard University.
"She took in Da'Vante. This was before he became Da'Vante. It wasn't like she was taking in a superstar. He didn't have one catch," Jackson remembers. "She took in Tavius Brown, who did not have one catch. She saw through that ... she takes you in until graduation and makes sure you graduate."
Jackson describes Betty as a problem solver. When Central football players have needed clothing, she has donated some that Dalvin no longer needed. One time, the clothes were too big for the child in need.
"She takes them home, sews them and then brings them back the same day," Snipes says. "She told me, 'No, Coach. Just put them in the office and tell [him] you got the pants. I don't want anybody to know.' She didn't want the credit."
Bethune describes Betty as a "mother to the team."
"We had 15 coaches, and she might have been the 16th coach," adds Jackson.
She is still involved with the program in a number of ways.
Over the past few seasons, Betty has helped with a number of fundraisers. At a school like Central, it seems the needs never end. Right now, the Rockets are raising money to buy rings for their 2015 championship team. So far, they have raised $650 of the $35,000 needed, according to a GoFundMe page.
"She believes in doing right by these kids," says Jackson, who also is a funeral home director. "I do it (coach football) to keep these kids off my table. She does it without reservation. She'll give you a chance, and if you don't take advantage, she'll let you know."
'I want to make her happy'
When Dalvin and Anthony were playing youth football, Betty would spend six days a week being involved with the sport.

She was the team mom for both of their teams. Now with Dalvin in Tallahassee and Anthony in Miami, her main goal is to see them play as much as possible.
Betty attended quite a few FSU games in 2015. This year, she'll be at a couple home games and when the Seminoles open the season against Ole Miss in Orlando. She'll also be there when FSU comes to South Florida to play Miami.
"Oh, of course I'll be at Sun Life," she says with a smile.
Betty already has visited Dalvin and Da'Vante a few times since they've been in Tallahassee. And she's done more than just watch games.
"When I go up to Tallahassee, I'll clean up [Da'Vante's] apartment, Dalvin's apartment," Betty says with a laugh. "Oh, I do. I dust. I mop. I clean. I do everything for both of them.
"I go to the store. I buy and make sure they have stuff they need in the house."
She says she does those things so her boys don't have to worry. Especially with what's at stake for the upcoming season.
FSU returns its entire offense and several key players on defense. The Seminoles could very well challenge for the fourth national title in program history. As for Dalvin, he sustained a torn labrum during spring practice, underwent surgery and is expected to return prior to the start of camp in August.

Dalvin also is regarded as one of the favorites to win the 2016 Heisman Trophy. And depending upon how his season goes, it could lead to him declaring for the NFL Draft after his junior year.
"Dalvin just loves the sport. Dalvin is focusing on getting to a level in his life he wanted to be at, and that's in the NFL," Betty says. "That was his dream. And he's fulfilling his dream. ... Right now, he's focusing on, 'I know this year is my last year, and next year I can be at the level I want to be on.'"
Jackson and Snipes are among the many people in South Florida who want to see Dalvin Cook make it in the NFL. Part of it has to do with seeing a young man achieve a lifelong goal. The rest centers on them wanting Betty to have a better life.
"I think everyone is pulling for one of those kids to make it," Snipes says. "Not because they have great talent, but because everyone wants to see her sit down and enjoy life. Knowing her, she won't stop working and she'll work by making sure they give back."
Although Dalvin keeps a pretty low profile off the field, the public was given a tiny glimpse of his personality last December when he went to the Nicklaus Children's Hospital in Miami to give basketballs, balloons and footballs to patients.
When speaking with reporters, Dalvin is open and cordial; he answers questions thoughtfully and will provide details. But he isn't overly gregarious.
"Dalvin is just low key. He's a mellow type of guy. He doesn't hang around a whole bunch of people," Betty says of her grandson. "A lot of the players will go to his apartment, but I think he'll be fine. If fame was something that would blow up Dalvin's head -- after his first [successful] year at Florida State, his head would be too big to carry on his shoulders. We know that."
Success on the field is not new to Dalvin. His numerous youth football awards are scattered around Betty's living room, including a mini-Heisman Trophy he was given for his Optimist League performances.
And he has always been a leader. During his senior season at Central, backfield mate Joe Yearby, who now stars at Miami, broke his leg during a game.
"Dalvin walks out there, stands over him and says, 'Folk, we don't get hurt. Get up,'" Snipes recalls. "Yearby stops crying, grabs his helmet and jogs off the field. That same night he had to have surgery and was in a cast the next morning."

The coaches say Dalvin's commitment to team knows no bounds. During one game against Homestead, they asked him to play cornerback against then five-star receiver prospect Ermon Lane, who now is a teammate at FSU. Dalvin didn't hesitate.
As a senior, he rushed for 1,940 yards and 24 touchdowns while also recording three interceptions en route to a state championship. He also was named Florida's Mr. Football. But for much of his career, Dalvin was listed as Yearby's backup and never once complained.
"We all know he can run the ball. This kid did not start at running back until Yearby got hurt, and he didn't care," Snipes says. "He said, 'All I need is touches, but not carries.'"
Like his grandmother, Central's coaches say, Dalvin has always been selfless. Always willing to do anything he could to help the team.
In the coming months, those attributes could make Dalvin a national champion, a Heisman Trophy winner and perhaps a first-round pick.
Or simply a young man who wants to do right by his grandmother.
"He said, 'My main objective for the year is to keep my head clear, do what I need to do and make my grandmother proud,'" Jackson recalls. "He said, "I want to make her happy. The only thing I want is for my grandmother to be happy.'"
---------------------------
Talk about this story with other Florida State football fans in The Tribal Council