Clark: This is a game unlike any other in the Hamilton Era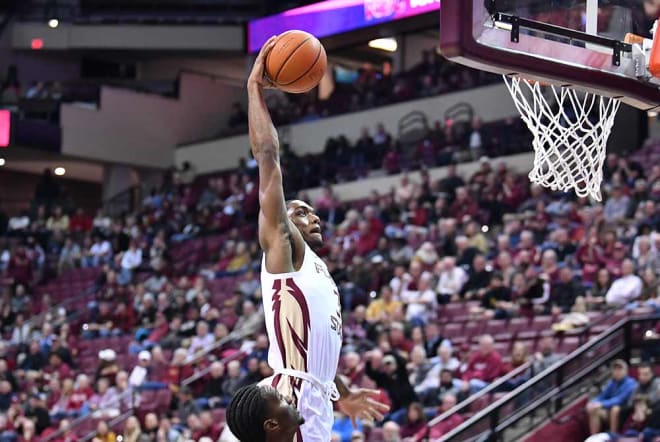 No matter how the game goes, whether his team knocks off No. 1 Duke or gets dunked on by Zion the Great and his fellow Blue Devils, it's going to be a really special moment for Leonard Hamilton's program.
Because this almost feels like a culmination.
We're getting close to two decades now that Hamilton has been the steward of Florida State men's basketball. And make no mistake, there have been some monumental moments -- an ACC Championship, a Sweet 16, an Elite 8, plenty of wins over Duke for that matter -- but there has never been anticipation and hype and excitement surrounding one of his games like we have for this one.
Not even close, really.
I just did a quick search on Stubhub to see what tickets are going for on the secondary market. The lowest price I saw on floor level was $220. The highest was $1,949. That's per ticket, folks. The average, for tickets in the lower level, is more than $300.
This is astonishing.
I'm not sure I thought I'd ever live to see the day where Florida State basketball tickets were this HOT a commodity. It's incredible.
On Friday, Hamilton even joked that he was ignoring phone calls from friends who he knew were looking for tickets.
"Where were you for North Florida?" Hamilton said with a wide smile.
There are several reasons for this level of excitement and anticipation, of course.

First and foremost: It's Duke. The Civic Center is always packed when the Blue Devils come to town. Well, to be fair, the student section is typically packed for all ACC games. For years now, the students have been doing a great job in that regard, even though they're given not-great seats.
But Duke is one of the games where you know the season-ticket holders are going to show up as well (unless, of course, they're trying to make a few thousand dollars by scalping em!).
Plus, there's the Zion Factor.
If you don't know about him, well, you apparently don't watch ESPN. Because he's essentially taken over the network, so much so that I'm surprised they haven't done a marketing campaign to rename it EZPN.
The kid is incredible. Hamilton said he's the best athlete to come into the ACC since Michael Jordan. He's a phenom. A generational type talent that will likely be the No. 1 pick in the NBA Draft in June. And I have to admit I'm really, really, really excited to get to see him in person on Saturday.
So that helps with the anticipation -- and high ticket demand -- for this one as well.
But there's another element here, too. One that makes this one so special for Hamilton, his players, coaches and anyone who truly cares about Florida State basketball.
The hype surrounding this one isn't just about Zion and R.J. Barrett and all the other lottery picks that will be on the floor. It's about Florida State.
The excitement isn't just because Duke has great players -- Duke always has great players -- but it's because of Florida State, too.
The Seminoles are really good. They're 13th in the country, 13-2 on the season and coming off an Elite 8 appearance last year (just like Duke). They aren't the Washington Generals. And they aren't the Wake Forest Demon Deacons, who the Blue Devils obliterated earlier this week in their first true road game of the season.
Duke is going to have to play well to win. Because Duke is playing one of the better programs in the country.
That's what Florida State basketball is now. And the fans have noticed.
That's why this is such a cool moment in the Leonard Hamilton tenure.
Sure, even if Steve Robinson was coaching this team, Saturday's game would be close to a sellout. Because of the Duke show.
But it wouldn't feel like this. It wouldn't sound like it's going to sound on Saturday (not unless the game was close in the second half). It wouldn't have the highest secondary market ticket prices in FSU basketball history.
That's due largely to Hamilton. And his players. And his coaches.
What they've accomplished the last 2 1/2 years -- winning 26 games with lottery pick Jonathan Isaac, an Elite 8 appearance the following year, a 13-2 start to this one -- has been prologue for this moment.
For the first time since I started covering this program a decade ago, we have a Saturday afternoon basketball game with the anticipation and excitement of a big-time football game.
Fans are traveling, like really traveling, to be here for this one.
There will be tailgating. There will be a massive line for the students to get in. Hours before the game.
The Civic Center has had sell-out crowds before. And Hamilton has won a whole bunch of games. So it's not as if this is anything completely outlandish for the Florida State team.
In fact, to a man, each of the Seminoles interviewed on Friday said they were treating it like any other game. And for the most part, I believe them. After all, this is a team that was a few possessions from getting to the Final Four a season ago. They shouldn't be overwhelmed by the moment.
"Everyone around us has been thinking about it," FSU senior Terance Mann said after Wednesday's home win over Miami. "Like it's the national championship game or something. It's just another ACC game, though. And you know, win or lose, we're going to be all right."
P.J. Savoy and David Nichols both echoed those sentiments on Friday.
Yeah, they know it's the No. 1 team in the country. But they also play in the ACC. Big games are part of the deal when you play in this conference. And they both said they're treating it like any other game.
Which is exactly what they're supposed to say and how they're supposed to prepare.
Still. With the hype of Zion, with EZPN broadcasting nationally, with a Florida State team and fan base that truly believes it can win, this atmosphere is going to be unlike anything the Seminoles have played in front of at the Civic Center in a long time. Maybe ever.
And that has a whole lot to do with what kind of program Hamilton has built.
That's why, win or lose, this is going to be such a special moment in the history of Florida State basketball.
Because the Seminoles have earned it.
Contact senior write Corey Clark at corey@warchant.com and follow @Corey_Clark on Twitter.
----------------------------------------------------
Talk about this story with other Florida State football fans in the Tribal Council