From 'Pooh Bear' to stardom: Derwin James and the theory of his evolution
HAINES CITY, Fla. -- After one season of college football, Derwin James is the anointed.
He's expected to be the next Jalen Ramsey, who could actually be better than Jalen Ramsey. He's said to be the next great Florida State defensive back, who perhaps could be the greatest Florida State defensive back.
Talk to those who know him, coached him, coached against him or watched him. For them, it's not hyperbole. It's the assembled details of a 20 year-old whose first words as a child related to sports, who could push a lawnmower at the age of 5, who walked away unscathed after being hit by a car on three separate occasions, and who has the star power to make people forget an NFL player is in their presence.
What might be the most unbelievable part of all, however, could be the fact that this football-playing phenom -- who as a freshman tossed aside a 6-foot-6, 300-pound offensive lineman like a rag doll on national television -- is known to his family members back home by perhaps the most unlikeliest nickname of all.
"Pooh Bear."
"When I first had Pooh Bear, I looked at him and he had a head full of curly hair, hair all over his arms and back -- he was really hairy," said Shanita Russell, Derwin's mother. "And then he was so plump. He looked like a little bear to me. That's what he looked like. And his nursery was done in Winnie the Pooh.
"So with Winnie the Pooh and him looking like a bear, that's how I named him, 'Pooh Bear.'"
Shanita, with a big laugh and a smile, provides assurances her son does not have friends named Eeyore, Piglet or Tigger. And while her son loves food, he does not crave honey in mass amounts. But as only a mother can, she says she will always view her child as Pooh Bear.
Others view him much differently.
James and his 6-foot-3, 211-pound imposing figure grew in stature after one of the most impressive freshman campaigns in recent memory. He played in all 13 games and started the final eight to end the 2015 season with 91 tackles, 9.5 tackles for loss, five pass breakups, two forced fumbles and two fumble recoveries.
He was named a Freshman All-American by numerous publications and was a third-team All-ACC selection.
Because of this, James is seen as one of the biggest reasons why the Seminoles can challenge for a national championship in 2016. FSU returns its entire offense and most of its defense. James is part of a cavalcade of stars including junior tailback Dalvin Cook, offensive tackle Roderick Johnson and defensive end DeMarcus Walker.
What James specifically brings are diverse qualities that are far from normal. His size makes him capable of covering bigger receivers and tight ends. His speed allows him to stay with smaller, more agile targets. And his combination of strength and agility can create unique opportunities, such as being used as an edge rusher in specific packages.
Those around the Florida State football program believe Derwin James could end up being among the best of the best.
Those back home have known it all along.
"I wanted to see what type of athlete he would be," recalled former Haines City football coach Jake Chapman. "When I saw, I said, 'You know what? This is going to be the one. This is going to be the kid that changes everything.'"
'You know he's built Ford tough'
Shanita's favorite story about her son are his first words.
They weren't "Mom" or "Mama."
"His first words at four months was, 'Ball,'" said Shanita, whose story left a shocked look on the face of her husband, Chad, and their daughter, Shaderrika.
"Ball. His first word ever spoken was ball. ... Back in the day, they had the balls inside the aisles at Publix. He would be in the buggy, and he would get out and get a ball. I had to stop taking him to the store because [he would get] so many balls."
Though not the biggest baby at birth -- his mother said he weighed seven pounds -- Derwin grew quickly. One family member said he looked more like a "sumo wrestler" than Winnie the Pooh.
The family eventually learned the secret to his increasing size.
"I took Derwin off the bottle and my sister, who already had her baby, noticed that her son was sucking up all the milk but not gaining any weight," Shanita recalled. "Derwin was still sucking baby formula because he was taking the baby's bottle and drinking it."

Later, they put Derwin in the same bed as his cousin. At first, it looked like he was playing with younger relative.
"But all along, he's just trying to keep him quiet so he can suck the bottle!" she said. "He would take [his cousin's] bottle and drink all the milk. He was so big already, but he was really big because he was getting extra milk from him. That's him as a baby."
When he wasn't eating, Shanita said, Derwin was always active. As a baby, he was so strong he could move an end table by himself. By the time he was 5 years old, he was pushing the family lawnmower. Once he hit middle school, he was mowing his neighbors' yards -- simply because he liked cutting grass.
Though mostly quiet as a child, Derwin was drawn to sports from the beginning. The family remembers him always being outside, playing one thing or another. They say he typically steered clear of trouble, although he did manage to get hit by cars on three separate occasions while riding his bicycle.
"He survived. The cars took the brunt of the damage," joked Chad, who is Derwin's stepfather. "So you know he's built Ford tough. He got hit. Three times. As a kid. On the bicycle."
Chad and Shanita have tried to create a fun home environment for their three children, but there are rules. One of the reasons why Derwin had "car trouble," Chad said, was because he was always racing home when it started to get dark outside to make his curfew. He wanted to play for as long as he could, but he didn't want to disappoint his parents.
It's a close-knit family. On the day the Russells welcomed a reporter into their home, Chad returned from taking their youngest son to his football game. Shanita was searching for a place where the family could celebrate Derwin's birthday before he returned to Florida State. A few hours later, they were back at the football game, where they would meet Derwin and one of his teammates.
Football is a serious matter in their household.
Several of Derwin's trophies, including his Under Armour All-America Game helmet, are spread throughout the living room. They have two pairs of Derwin's cleats from his freshman year at FSU at different ends of the family's entertainment center.
Both Chad and Shaniita knew early on Derwin had athletic talent, but even they were surprised by how quickly he emerged as a star.

"When he was in Pop Warner ... and this is Pop Warner, now," Chad said. "Everybody, the coaches from other teams, everybody, knows who Derwin is. It's Pop Warner. How does everybody know who this young man is, what he is about, when it comes to football? It was like he was put on a pedestal in Pop Warner."
'Physically gifted from a young age'
If anyone can speak to Derwin James' talents on the football field it would be his cousin and Tampa Bay Buccaneers running back Mike James. He has walked a similar path, having been a Polk County high school star who went on to play at an ACC school and is now plying his trade in the NFL.
"He was physically gifted from a young age, and our family is not surprised," Mike James told Warchant. "It kind of runs in the family a little bit, but he's the best one in our family. Yeah, I would say that. That's how much I believe in him."
Here's some perspective on why Mike James' comment is a bold one. This is a family with three members currently in the NFL. Mike plays for Tampa Bay, while cousins and former FSU stars Karlos and Vince Williams are with Buffalo and Pittsburgh, respectively.
Derwin "Blue" James, who is Derwin's biological father, was also a star at Haines City.
"I've seen him work, and I know how good he can be," Mike James said.
Polk County has produced more than it share of athletic star power. Nestled between Orlando and Tampa, it's a county with 13 communities, and practically all of them have produced famous athletes.
Former Baltimore Ravens star linebacker Ray Lewis played at Lakeland Kathleen. Chicago White Sox pitcher Chris Sale was a standout at Lakeland High. Lake Wales can claim recently retired NBA star Amar'e Stoudemire and MLB all-star closer Wade Davis of the Kansas City Royals.
Several athletes, including former NBA all-star Tracy McGrady and Lewis, were born in Bartow.
Frostproof, a town of less than 3,000 people, is responsible for former Tennessee and NFL running back Travis Henry. Even Fort Meade, a town of less than 6,000 residents, is home to Pittsburgh Pirates all-star outfielder Andrew McCutcheon.
Derwin is one of a handful of players on the Florida State roster from Polk; others include freshman offensive lineman Mike Arnold, junior receiver, Ja'Vonn Harrison freshman offensive lineman Baveon Johnson and senior fullback Freddie Stevenson.
Seminoles defensive line coach Odell Haggins, an All-American during his playing days, is also from Polk County.
Wayne Gandy, a first-round pick of the Los Angeles Rams in 1994, might be Haines City's most prominent figure. As a youth, Derwin would attend Gandy's summer camps.
In the not-too-distant future, he might be on a similar path.
"I really didn't hear of him at the youth level, but he started at Auburndale, and they were talking him up," said Lakeland Ledger sports writer Roy Fuoco, who has covered high schools in Polk County for 20 years. "Soon as he was on the high school scene, everyone was drooling over him since he was a freshman."
Derwin's family, who had moved away from Haines City for a few years during his youth, moved back before his junior year. And his return added much-needed credibility to a struggling Hornets program, which had endured a revolving door of head coaches.
Chapman, who took over at Haines City before Derwin's senior season, had a feeling his star player might transfer again to a more established football power. After all, Derwin had already committed to Florida State and become a high-profile national recruit.
"When I met him, he said, 'Coach, I know things are crazy, but I am going to stay here with you,'" Chapman recalled. "When he said that to me, and to hear him speak, it told me the type of person he was."
Chapman described Derwin as both a "natural-born playmaker" and a leader who never put down any of his teammates.
For Chapman, it was a pleasure to coach him. For opposing head coaches, it was a different experience.
Lakeland head coach Bill Castle is the all-time winningest football coach in Florida high school history. He enters 2016 with a 399-86-0 career record and is one of the top 25 winningest coaches in American high school football history.
He has coached -- and coached against -- the biggest names to come from the area.
"Derwin is one of the top athletes to come out of Polk County," said Castle, who owns six state championships and was named the Florida High School Athletic Association's Coach of the Century. "They used him mainly against us on defense when he played. If I had him, he'd have probably carried the ball at tailback until his tongue dropped.
"He was so athletic. They ran him on some fake kicks. You knew it was coming. You just could not stop it. He is one of those rare athletes that come along every now and again."
'Is this a joke?'
Derwin's stepfather, Chad, grew up in West Palm Beach, and like so many in South Florida, he loved the Miami Hurricanes. All that changed in 1992.
Chad already had some feelings for Florida State because he had family members in Tallahassee. Then once he started watching Charlie Ward at quarterback, he transformed into a fan of the 'Noles.
The love was shared throughout the rest of the family as well -- with practically everyone except for Derwin's cousin Mike James, who would go on to play for the 'Canes.
"I tried to talk to him [about Miami], and he did not hear any of what I had to say," Mike James recalls with a laugh. "I said, 'Hey, it's Miami. Go look at it.' He did not even consider it."
Derwin's college recruitment was over before most players get started.
Chad and Shanita remember the morning they were still in bed and received an important phone call from their son, who was a high school freshman at the time.
Derwin made them guess where he was at. They knew he was in Tallahassee and on the FSU campus. Then came the news he was in head coach Jimbo Fisher's office and was just handed a scholarship offer.
"Me and the wife looked at each other and asked, 'Is this a joke?'" Chad said. "Because we didn't really take it seriously. We didn't think it would happen like that, but it did."
Derwin committed to FSU in February 2012, and from there, every move he made was tracked. By the time he was a high school senior, Rivals rated him the No. 1 safety in the nation, the No. 3 player in Florida and the No. 5 prospect in America.
And even though he never wavered from the Seminoles, some tried to spread rumors that he was.
"I remember later someone saying to me during his recruiting process, 'I've heard Derwin is going to decommit,'" said Neal Duncan, senior business development manager for Polk County Sports Marketing, which oversees the county's All-Sports Award and Hall of Fame museum. "I said, 'Oh really? Well, he may do that, but he's going to have an expense in getting that tattoo off his arm.'"
The tattoo Duncan referred to is the mark of FSU's logo featured prominently on Derwin's left arm. It is an extension of how he was raised to be a Seminole fan.
"When we won [the national championship] in 2013, this is what I said. I told Pooh, 'If we win this national championship, I'm going to get the logo [tattoo]," Chad said. "We won, but he beat me to the punch because he got his a week later!"

Chad, on this particular Saturday afternoon, is wearing a garnet shirt with garnet-and-gold socks along with garnet-and-gold Nikes.
He might not have quite as many tattoos as his stepson, but he does have the FSU logo, spear and other designs on his left forearm.
"He committed as a freshman, and at that time, we didn't realize it was going to be that early," Chad recalled. "As far as us as a family talking about the process, there was no process. It was Jimbo saying, 'Come here. You're going to play with me.'
"That's why I say it was all a blessing. That was our dream school. For it to happen like that, it felt like God had taken care of everything."
'People were scared of him and I don't know why'
It takes some doing, but Shanita and Shaderrika can remember the one time Derwin actually got in trouble.

There was a fight at school, and they said Derwin was trying to break up the fight. Because he was involved, he faced disciplinary action.
Shanita did not take it well.
"This was my question, 'If my son is seeing a girl getting beat to death by a guy, you want him to just walk away?'" Shanita recalled. "The administrator said, 'Yes,' and to walk away and call for help. I said that's against everything I've ever taught him. We went back and forth and for me, that was the hardest thing.
"I have a daughter. And if a guy is beating her to death, you want my son to walk away? I don't accept it."
Shaderrika, 17, says her brother used to act like he was too cool to care about her, but he's actually protective of his younger sister. And while she will make jokes about him -- the way siblings often do -- whenever someone asks for a photo, she has plenty of Derwin on her phone.
"People were scared of him [in high school], and I don't know why," she says.
When reminded of his size and his physicality on the football field, she says, "He's so nice though! He's such a nice person!"
Chad and Shanita say their son can be friendly to a fault.
Chad said there was a time outside the Moore Athletic Center when Derwin signed autographs for at least four hours. Then in April, after the FSU spring game in Orlando, Derwin signed autographs for two hours.
"He gives too much. Anybody who wants anything from him, he'll give it to them," Chad said. "It does not matter. That's how he is. Always been like that."
This is only a part of Derwin's personality.
He's a fashion freak, according to his mother and sister. While he likes certain brands, he's more interested in trying to look good instead of being trendy.
"He doesn't care what anybody else thinks, he wants to look good for him," Shaderrika said. "He hogs up the bathroom. So you might as well not even use the bathroom. He hogs up the bathroom like a girl. He seems tough, but he cares about how he looks. He'll care about his image."
Shaderrika said her brother also is passionate about food: "Anything you're cooking, he's eating."
He also listens to all kind of music. But don't ask him to sing or dance.
"He can't sing. He can't dance," Shanita says with a laugh.
"He's so stiff!" Shaderrika chimes in as a cackling Chad can be heard in another room. "He used to try to draw cars, but it didn't work so good. He's just an athlete."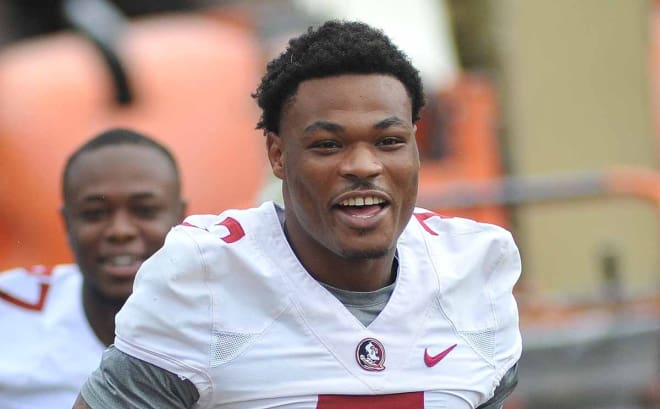 'Someone is always watching you now' 
As Mike James explains what makes his cousin a standout athlete with limitless potential, a few of his Buccaneers teammates stop by to listen.
One of them is quarterback and former Florida State star Jameis Winston. The other is former LSU star and receiver Russell Shepard.
"Definitely a top-10 player," says Shepard, who watched Derwin at a summer camp. "He's the No. 1 safety."
Or as Winston put it, "He's the No. 1 defensive player."
NFL.com draft analyst Lance Zierlien wrote in late July he considers Derwin to be the third-best true sophomore in the nation, behind UCLA quarterback Josh Rosen and Alabama receiver Calvin Ridley.
"James came to Florida State with much fanfare and immediately cranked out production like a seasoned veteran," Zierlien wrote. "He'll hit you, and showed the range to make plays in coverage. What could stand out to NFL evaluators is his ability to disrupt around the line of scrimmage."
Chapman, who coached Pittsburgh Steelers linebacker Ryan Shazier at Plantation High (Fla.), said Derwin's ability to be successful goes beyond his talent. His drive for constant improvement coupled with his intelligence makes him complete.
Fuoco, who has interviewed Derwin and his family members many times throughout the years, said there's an awareness not typically seen in most.
"I remember talking to [Derwin's father] as a senior, and I asked what he did in his spare time. He said he wanted to stay away from the bad elements," Fuoco said. "Said he did not want to get into trouble. I think he kind of passed that along to Derwin. He's very low key and well spoken. Mike James was the same way."
Mike James said he actually has talked with his cousin about this, and they've developed a strategy. The plan is for Derwin to get good grades, never be at-risk academically, and to have fun but be safe.
As his popularity soars, Mike James cautions, so will the challenges.
"We went to an Orlando Magic game, and he got bombarded with people," Mike James said. "To get all that attention, he looked at me and I told him to soak it up. … They were treating this dude like he walked on water. I was even surprised. People walked past me and asked, 'Is that Derwin James?'"
* Bonus tidbits: Read reporter Ryan S. Clark's excerpts on The Tribal Council
The attention has seeped into everyday life for the entire family.
Shanita said she has been at her job for 11 years, and people who never spoke to her are now realizing who her son is. By her own admission, she keeps a tight circle and has stressed to her son to be aware of his surroundings.
"I emphasize to Pooh Bear all the time, someone is always watching you now," she said. "Someone is always watching you. So you have to always be mindful of what you do because you're always being watched. Just think about it. Everybody knows him."
Shanita had a feeling this time would come. She remembers watching a football game on television a few years ago when she had somewhat of a revelation.
Realizing her son would play football at that level one day, she wanted the announcers to say, "That's Derwin James from Haines City."
The family had left Haines City when the children were young. But after living in Winter Haven and Auburndale, it was time to move back. So they returned before his junior year.
"I didn't want them to say 'Auburndale, Florida' because that's not where we're from," Shanita said. "I wanted them to say 'Haines City, Florida.' So when Derwin is playing on TV, they say 'Haines City,' and people will know he's from Haines City.
"Haines City is where we are from."
------------------------
Talk about this story with thousands of Florida State football fans in the Tribal Council