Former FSU stars call for more physicality, simpler schemes on defense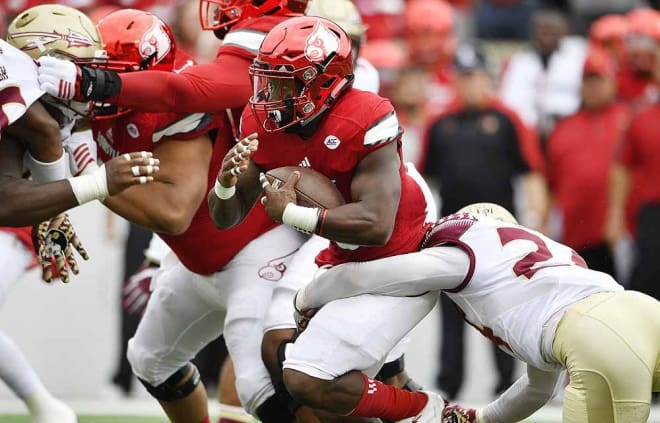 Florida State's fans weren't the only ones stunned by the Seminoles' porous defense in Saturday's blowout loss at Louisville.
A trio of former FSU defensive standouts -- Travis Johnson, Bryant McFadden and Chris Hope -- shared some tough criticism of the Seminoles' players and coaches during Monday's Florida State Huddlecast podcast, which is hosted each week by McFadden and Johnson.
While repeatedly saying that they didn't want to "bash" the current players after a bad outing -- "We've all been there," Johnson said -- the former FSU and NFL veterans said there were a number of troubling aspects about the game.
"The most disappointing part that I saw was a lack of aggressiveness. Our intensity isn't there," said Hope, a safety who was a member of FSU's national championship team in 1999 and went on to an 11-year NFL career. "Guys have to realize that Florida State is the benchmark, regardless of if we're No. 1 in the country or not. Guys get drafted off of how well they play against Florida State. It's as simple as that.
"The quarterback from Louisville (Lamar Jackson), he did great in his first two games. But this game, they're saying he has the Heisman in his living room already."
Jackson racked up 362 yards of total offense and five touchdowns in the 63-20 victory, and he did much of his damage on read-option running plays. Even though Jackson was the ACC's leading rusher coming into the game, there were several instances where FSU's defensive ends and linebackers converged on the running back up the middle and allowed Jackson to keep the ball to the outside.
"Why do we have three guys taking the dive?" Johnson asked on the podcast. "The dive can't hurt us … No. 8 (Jackson) can hurt us. No. 8 can hit us in the mouth. Let's play him first. We can rally to the dive."
That issue was perhaps most frustrating to Johnson, who starred at defensive tackle at FSU before being selected in the first round of the 2005 NFL Draft and playing six years in the league.
Hope and McFadden, who was a second-round pick in 2005 and went on to be a seven-year NFL veteran, were more vocal about the miscues in the back end of the defense. They both pointed out the number of times opposing wide receivers have been able to run free due to blown coverages. And they said those issues extended well beyond this one game.
"We can't consistently have communications issues, especially defensively in the back end of the secondary," McFadden said. "How many times are we gonna see guys running scot-free, wide open by themselves?"
"Either we haven't been coached well enough, the guys aren't getting it, or the guys don't care to do it the right way," Hope said. "Because we have too many blown coverages."
* Also Read: Gene Williams' Five Takes column on the defense, personnel, more
Hope acknowledged that the three former players "weren't perfect" during their college days, either. They all were members of the 2001 Florida State team, which suffered an embarrassing 41-9 loss to North Carolina.
But McFadden said this isn't about one game. He said they're concerned because they've seen a trend of these types of breakdowns for the last couple of seasons.
"That is not Florida State football," McFadden said.
When it comes to stopping the run, the former FSU stars said, it's imperative that the defenders stop leaving their gaps and trying to make plays that are their teammates' responsibilities. They said there needs to be more trust among the players.
Hope repeatedly said there also needs to be more aggression. Mistakes can be tolerated, he said, if they're made with the best intentions.
"We play some undisciplined football on defense," said Hope, who made the 2008 Pro Bowl and won a Super Bowl when he played for the Pittsburgh Steelers. "And I know when I was there, when I played at Florida State, we played undisciplined. But it was in the area of being too aggressive. Maybe jumping offsides and trying to get to the quarterback. Hitting and roughing the passer, things like that."
That intimidating style of football was a hallmark of Mickey Andrews' FSU defenses, and all three players said they'd like to see something similar from the current 'Noles.
When speaking about Louisville's Jackson, Hope reflected on FSU's 2000 national championship game against Michael Vick and the Virginia Tech Hokies. While Vick was able to rack up many yards and points, he wore down in the latter stages of the game due to the physical pounding he took from the Seminoles.
"Michael Vick made plays -- don't get me wrong -- in the national championship," Hope said. "But every time he made a play, we made a play. And we put our pads on him. He didn't walk out of that game not being hit. He didn't walk out of that game like it was a 7-on-7 practice. He walked out of that game remembering what Florida State was about."
With nine games remaining in the regular season, Hope, McFadden and Johnson said the Seminoles need to get back to basics and clean up their fundamentals. They also suggested that if there is going to be this much confusion among the players, perhaps the coaching staff should simplify their game plans.
By doing that, they said, FSU's players might compete with more reckless abandon and let their talent take over.
"Our guys are better than your guys," Johnson said. "We're better than y'all. Let's line up, bow your neck and earn your check. At the end of the day, we need to get back to attacking."
Despite all of their frustrations, the former stars said they still have hope for the rest of the season. Johnson pointed out the 1998 FSU team, which Hope played on, suffered an early 24-7 loss to N.C. State before righting the ship and winning every other game in the regular season.
"We ended up playing in the national championship game against Tennessee," Johnson said.
Click here to listen to the complete podcast featuring Johnson, McFadden and Hope.
Warchant subscribers react to this article on our Tribal Council message board