FSU confirms football team will resume practicing Tuesday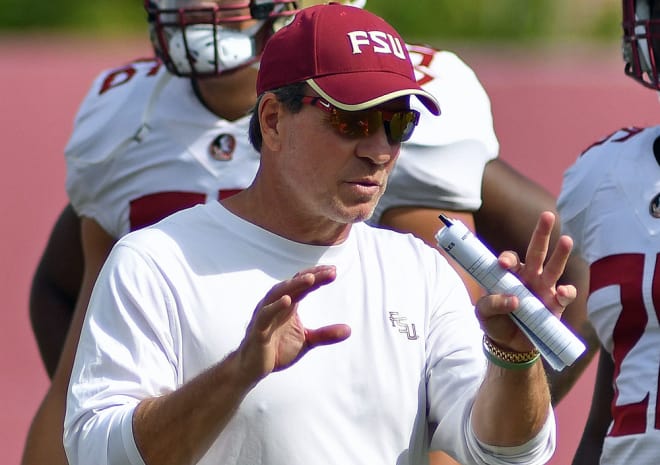 As the rest of Florida begins recovering from Hurricane Irma, so do the state's college football programs, including Florida State. The team will resume practicing Tuesday afternoon, a university spokesman told Warchant.
This will be the team's first practice in nearly a week. FSU's last practice came Sept. 7, days before its originally scheduled home opener against Louisiana-Monroe which was originally set for Sept. 9 at Doak Campbell Stadium.
FSU announced later that evening it was cancelling the game and the contest would not be rescheduled because both teams did not share an open date later in the season. The decision came hours after Gov. Rick Scott announced he was closing all state K-12 public schools, state colleges, state universities and state offices in preparation of the storm.
FSU becomes the latest school in Florida to move forward since Irma swept through the state. Florida will host Tennessee at 3:30 p.m. Saturday in Gainesville, the Southeastern Conference announced Tuesday.
A Florida A&M official told the Tallahassee Democrat on Monday the school will play Saturday against Tennessee State at Raymond James Stadium in Tampa. On Monday, a Miami official told the Miami Herald that the team has not yet set a practice schedule but the Hurricanes will still host Toledo on Sept. 23 at Hard Rock Stadium.
As for FSU, the entire team remained in Tallahassee during the storm and everyone is expected to attend practice, the spokesman said. FSU will not hold media availability after practice but the team could meet with reporters later in the week, the school official said.
The same spokesman also said Seminoles coach Jimbo Fisher will still speak at 10:50 a.m. Wednesday during the Atlantic Coast Conference Coaches' Teleconference. Fisher's call-in show will also go ahead as planned and take place at 7 p.m. at the Four Points Sheraton in Tallahassee.
FSU won't play for nearly another two weeks until noon on Sept. 23 when it hosts North Carolina State at Campbell Stadium. The team's new home-opening game will be televised on ABC and/or ESPN 2.
The Seminoles were originally scheduled to host in-state rival Miami this Saturday. The game was moved to October 7 due to concerns related to Irma.
"As important as football is to all of us, these kinds of events provide perspective when you're talking about life-threatening evens and the aftermath ramifications," ACC commissioner John Swofford said in a statement released late last week regarding the FSU-Miami game. "It quickly became clear that it was in the best interest of our players, coaches and fans to reschedule next week's Miami at Florida State game.
"Typically, it's not easy to reschedule games, but in this instance, there was a clear path to adjust quickly and effectively."
-----------------------------
Talk about this story with other Florida State football fans in the Tribal Council