FSU takes multi-pronged approach to reviving season ticket sales
This is the second of three stories examining Florida State's financial predicament, which saw the Seminoles register a $3.6 million deficit in 2017-18, with additional shortfalls expected in '18-19 and '19-20.
Part I -- FSU faces financial crunch, but Coburn sees light at end of tunnel
Part II -- Seminoles take aim at lagging season ticket sales
Part III -- A closer look at College Town and what it does for FSU Athletics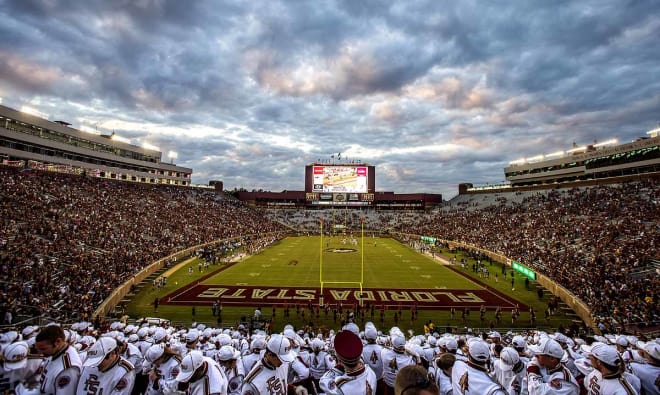 It will always be one of Bobby Bowden's classic punchlines.
When the legendary head coach speaks about the challenge of drawing fans to Florida State home football games back in 1976, when he was first hired, he invariably explains that he received 10 free tickets to every contest as part of his contract.
After giving away eight tickets to friends and family, the story goes, Bowden got the idea to leave the remaining two tickets under his windshield wiper when he parked at Tallahassee Mall. The tickets were free to anyone who wanted them.
"When I got back to the car, there were six tickets there!"
Of course, it didn't take Bowden long to make Florida State one of the hottest tickets in college football. During his wildly successful career, Doak Campbell Stadium expanded from about 40,000 seats in the mid-1970s to over 80,000 in the early 2000s.
It was a simple case of supply and demand. More interest meant more seats, which translated into more money flooding into the program. And as long as the Seminoles were winning at incredibly high levels, which they did for a couple decades, Doak would transform into a massive concrete cash register on autumn Saturday nights.
When FSU started to struggle in the early 2000s, however, the athletics department and Seminole Boosters Inc., had to cope with some harsh realities.
Because of Tallahassee's geographic location, because of the scarcity of hotel rooms, because so many of the school's alumni reside in cities five or more hours away, filling that stadium with a less-than-stellar football team became a much different proposition.
Paying a few hundred dollars for a season ticket and forking out another $1,000 or more for travel and accommodations -- six or seven times over the span of three months -- is one thing when the program is riding high. It's an entirely different story when FSU is middling around .500 every year, as it was in the late 2000s.
Fast-forward one decade, and the Seminoles find themselves in a similar position.
Despite a great deal of media buzz surrounding the hiring of Willie Taggart heading into the 2018 season, the Seminoles sold only 32,194 season tickets last year (not including about 6,500 premium seats sold in the Champions Club and stadium suites).
That was a precipitous drop from four years earlier, when the Seminoles sold 45,000. And it played no small role in the financial crunch that the athletics department is currently experiencing.
In a sit-down interview with Warchant.com and the Tallahassee Democrat, FSU interim athletics director David Coburn confirmed that the Seminoles operated at a deficit of $3.6 million during the 2017-18 fiscal year, and a similar shortfall is expected in 2018-19. The results could be even worse in '19-20 if FSU doesn't figure out a way to reverse the negative trend with season tickets and identify new revenue streams.
It certainly didn't help that FSU went 5-7 in Taggart's first season.
"When our fans ask me what can I do to help, the answer is you can buy season tickets, you can come to the games and you can support the boosters," Coburn said. "That's what we need from them. And we have to have their support now as we get through this short-team challenge, because it gets better down the road."
After that 2019-20 campaign is in the books, Coburn is convinced that FSU's athletics department will move back toward profitability -- or at least the break-even point, which is a challenge for most college athletics programs. The Seminoles expect to see increased annual revenue from the ACC's new linear television channel, which launches this fall, and they're implementing a number of initiatives aimed at boosting attendance at Doak Campbell.
Perhaps the most important of those measures is improving the quality of the home schedule, particularly in odd-numbered years when the Seminoles play rival Florida in Gainesville. The lack of big-name opponents in those odd years has long been a source of frustration for season ticket holders.
This fall, for example, FSU is playing two non-conference home games -- they're against ULM and Alabama State. Two years ago, the Seminoles' only non-ACC home games were against ULM and Delaware State. FSU did schedule compelling non-conference games in both of those seasons, but they were played at neutral sites -- Alabama in Atlanta and Boise State in Jacksonville this fall.
The last time FSU hosted a Power 5 non-conference opponent during an odd-numbered year was 2011, when the Seminoles took on Oklahoma. Since then, it's been a steady stream of schools like Texas State, Chattanooga, Nevada, Bethune-Cookman and Idaho.
Coburn said that approach has to change, and FSU currently is in talks with several "big-time" football programs to visit Doak in 2023, '25 and '27. The Seminoles already have Notre Dame coming to town in '21 and '29 as part of its partial membership in the ACC.
While former head coach Jimbo Fisher wasn't a fan of playing high-profile home-and-home matchups -- he was more interested playing those types of opponents at neutral sites for large paychecks -- Coburn said second-year head coach Willie Taggart is open to them if they make sense strategically.
Specifically, if the opponent's campus is located in an area that would be helpful in attracting future players.
"Willie will play anybody you want to play in this geographic area where he's recruiting," Coburn said. "He's all in. Now he wants them back here, or he wants them in a good neutral site with a lot of money. He has been really good to work with about that, and a lot of other things, to be honest with you."
Coburn added that it also is becoming easier to find Power 5 schools who are willing to play home-and-home series because ticket sales are lagging across the industry.
"Everybody is in the same boat," he said. "I think our fans are going to find those games exciting."
The Seminoles also are working several other angles to improve the game day (and game weekend) experience. They're planning to improve cell phone and text messaging services by bringing 5G technology inside the stadium. And while they're not yet planning to introduce widespread alcohol sales, Coburn said there likely will be a beer garden "or two."
One challenge FSU can't necessarily "solve" is the location of campus and the distance many alumni have to travel to take in a home game. Unlike the University of Florida, for example, where fans from Orlando, Jacksonville or Tampa can make it over for an inexpensive day trip, most FSU fans who travel have no choice but to book hotel reservations -- with exorbitant rates and frequent two-night minimums.
A quick check of Marriott's official website shows that a Saturday night stay at a Springhill Suites for FSU's Homecoming game against Syracuse this fall runs $499. A room in TownePlace Suites is $427. For customers booking two nights, they can get into a Courtyard or Residence Inn for slightly less than $400 each night.
Because FSU has no control over that industry, the Seminoles are encouraging fans to consider other options, including lodging services such as Airbnb. Coburn also noted that Tallahassee is expected to have about 1,200 new hotel rooms in the area by 2020.
"That's going to make a difference," he said. "And more options to hotels are popping up every day as technology makes that easier."
Like many schools, FSU also is looking to make season tickets more attractive by reducing prices in certain areas of the stadium. While the most desirable available seats in the lower bowl cost $330 (plus a $500 donation to Seminole Boosters), others are as low as $199 (with a $25 donation).
The Seminoles also recently hired veteran sports event marketer Paul Phipps to help guide their sales efforts. Phipps has worked for FSU in the past and brings expertise from positions in NASCAR, the NBA and other professional sports leagues.
"He has brought a lot of good ideas to the table already," Coburn said. "Some are going to help this coming fall and more will help the following fall. I think, quite frankly, we've made some pricing and strategic mistakes [in the past], and we are working hard to correct those."
While many of FSU's new initiatives will be forward-thinking, such as offering smaller ticket bundles for fans not willing to commit to season tickets and offering "experiential packages" that feature amenities such as field access, the Seminoles also want to capture some of the home-grown sentiment that was prevalent during the early Bowden years.
Instead of relying heavily on digital communications and print mailers, Coburn said Seminole Boosters, "is about to launch an old '70s-style campaign to sell tickets and increase booster contributions."
That means knocking on doors, making phone calls and offering perks for fans who can recruit others to become boosters and buy season tickets.
"They're going back to the personal approach that used to work for us back in the day when Andy [Miller, CEO and president of Seminole Boosters] and those guys were building this organization," Coburn said. "I think that will help a great deal. It has been effective for us in the past. The bottom line is we need our fans to stay with us. That's my message: We need them to support us."
If FSU can execute all of those plans, Coburn believes the Seminoles will get back on solid financial footing within the next two years. Of course, he also knows that they need to perform better on the field as well.
Each of these other issues -- the lack of quality WiFi in the stadium, the expensive hotel rooms, the unspectacular home schedule -- become much more palatable if the team is successful.
"In the short term, we have to sell tickets," Coburn said. "That means we have to move the football and stop the other team. We are working on it."
Coming later this week: A closer look at College Town and what it does for FSU Athletics
----------------------------------------------------
Talk about this story with other Florida State football fans in the Tribal