LB Matthew Thomas will report to Florida State Saturday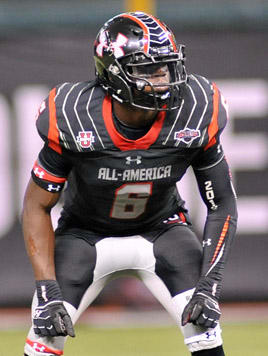 Matthew Thomas
' wild post-national signing day saga will end at Florida State after all.
Thomas, a five-star linebacker and one of the jewels of FSU's 2013 recruiting class, released a statement to Warchant.com that says he will report to Florida State on Saturday.
"After meeting with coach Fisher and his staff and gathering all the information I have decided to honor my commitment to Florida State," Thomas said in a statement released to Warchant.com. "I also want to be close to my family and I want be part of what they are building at Florida State. I'm looking forward to winning games at Florida State and building towards my future."
All members of FSU's freshman class enrolling this fall are expected to report by Saturday.
Thomas inked a letter of intent with the Seminoles on national signing day in February, but uncertainty about began in May. Thomas, a Miami native, told the Miami Herald that he was having second thoughts about attending FSU in a story published May 7.
"I've told (FSU) it's nothing personal. I just didn't make the decision I really wanted to on Signing Day," Thomas told the Herald.
While speculation on Thomas' final destination ramped up in recent weeks, the confusion accelerated in the past 24 hours as Thomas' father Billy Thomas was quoted by multiple media outlets saying that his son planned to enroll at Southern Cal. USC was one of Thomas' three finalists on signing day.
"I asked him if he did everything he had to do in terms of paperwork and contacting the NCAA," Billy Thomas told USCFootball.com, the USC Rivals.com affiliate, on Monday. "Matthew said he put in his paperwork that he wanted to be released from Florida State and was just waiting for Florida State to contact him back."
FSU coach
Jimbo Fisher
has declined comment on Thomas since Thomas' public comments in May, but it is believed that the school had no plans to release Thomas from his National Letter of Intent. If Thomas enrolls at another school without a release from his letter, he would have to sit out one year and lose a season of eligibility.
Thomas declined further comment when asked to elaborate about his statement. But when asked if he was ready to get the saga behind him, Thomas said "most definitely."
"I'm on board, I'm here and let's win some games," Thomas said.