Mike Martin wins National COY, contract extended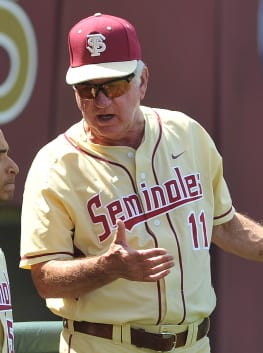 After leading his team to the College World Series for the 15th time and finishing with at least 50 wins for an astounding 24th time, Florida State head coach Mike Martin was named the Baseball America National Coach of the Year on Friday.
He also agreed to a three-year contract extension.
Florida State Athletic Director Randy Spetman announced the contract that will take the Hall of Fame coach through the 2015 season.
"We are very pleased to be able to keep coach Martin in the same position he has been in for more than three decades," said Spetman. "Our baseball program not only consistently wins but also excels in the classroom. Not only did this year's team make it to the semifinals of the World Series, but they placed a school record and ACC-leading nine student-athletes on the All-ACC Academic team. With his contract ending June 30, we moved quickly to continue the consistency at the top of our program we have enjoyed since 1980."
FSU has made the postseason in all 33 seasons with Martin at the helm, his most recent performance may have been one of his best coaching jobs yet. This marks the first time Martin has won the Baseball National Coach of the Year honor.
During what was considered by most outside the program as a rebuilding season, Martin led a very young team to a 50-17 record, tied the ACC record for league victories with 24, and earned the No. 3 overall seed in the NCAA Tournament.
Martin was named ACC Coach of the Year for his team's performance and he eclipsed the 1,700-win plateau during the season. He currently sits at 1,723 career victories.
Coaching for his Alma mater, Martin has been a part of Seminole baseball in some shape or form for 40 of FSU's 65 seasons. Martin has been involved in 2,705 games at FSU as a player, assistant coach and head coach, winning 1,990 games, or 75.9% of FSU's total victories.
"Obviously, the way I feel about Florida State has been printed before," said Martin. "This is where I want to finish my career. I am not saying that this is going to be the last contract that I am ever going to sign, that decision will be made by Florida State."